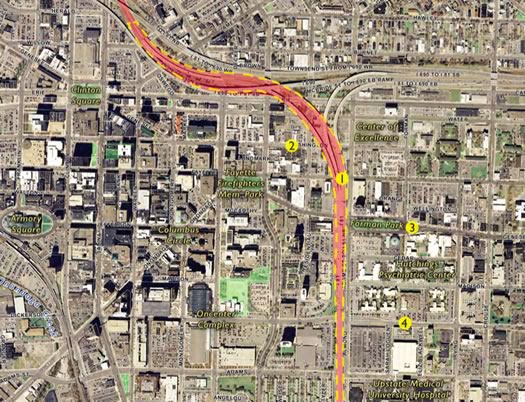 Related to the I-787 discussion that pops up now and then: There's an interesting situation in Syracuse regarding what to do with the the elevated portion of I-81 that cuts right through the middle of that city. The thoroughfare is falling apart, so something has to be done -- and the options have been narrowed down to either: turn the stretch into a six-lane boulevard through the city, or completely rebuild the elevated highway. [I-81 Challenge] [Syracuse Post-Standard]
Some of the numbers involved in the decision are eye-popping: both the boulevard and reconstruction of the 1.4 mile stretch could cost as much as $900 million, according to the Syracuse Post-Standard article linked above. Other options -- such as burying the road -- have been dismissed because they'd cost in the $1.5 billion range.
The situation in Syracuse has ended up polarizing along city/suburb poles, with the county legislature and developers opposing the boulevard because of concern it would make it harder for suburban commuters to get in and out of the city. In a recent op/ed, David Rubin -- a former dean at Syracuse University, which sits right along I-81 -- called the project "the most important civic decision of the past 60 years or more" and argued for the boulevard plan. [Syracuse Post-Standard] [Syracuse Post-Standard]
Case studies: The state Department of Transportation and the Syracuse Metropolitan Transportation Council have collaborated on an ongoing public discussion about the project called "The I-81 Challenge." It produced a report that includes a bunch of case studies of how other cities have dealt with the reconstruction or reconfiguration of urban freeways. If you're interested in the future of 787, the case studies are interesting reading.
Earlier:
+ "The Life and Death of Urban Highways"
+ The Albany 2030 plan included a goal of evaluating possible alternative designs for 787
+ The Stakeholders org released a report in 2011 that imagines the Albany waterfront with a boulevard
+ The removal of 787 in downtown Albany was on Martin's urban wish list
map: I-81 Challenge
Hi there. Comments have been closed for this item. Still have something to say? Contact us.