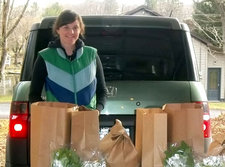 FarmieMarket -- the local online farmers' market -- announced today that it's expanding in the Hudson and Mohawk valleys. Starting June 12 it will serve customers in Columbia, Greene, Otsego, Herkimer, Montgomery and Fulton counties.
The roots of FarmieMarket were planted in 2010 when Sarah Gordon started Heldeberg Market to connect farms in the Hilltowns of Albany county with customers in Albany County via online ordering and weekly deliveries. She expanded to all four core counties of the Capital Region in 2011 under the FarmieMarket banner. Last year FM expanded to include Dutchess and Ulster via a base in Poughkeepsie.
Gordon grew up on a farm -- her dad runs a grassfed cattle farm in Knox. The online farmers market idea grew out of thinking about how to connect the farm with new customers.
Earlier on AOA:
+ Interesting in 2011: Sarah Gordon
+ Touring the Hilltowns, a farm at a time
photo courtesy of Sarah Gordon