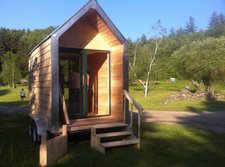 A few months back we mentioned that Green Island based Ecovative Design was "growing" a tiny house using its mushroom tech. Well, the house is now finished.
Ecovative is using the house as a test of ideas as it works toward getting into producing building materials. That idea has been bubbling for a while, but the company temporarily held off on it while it pursued the creation of packaging material (and hooked up with companies such as Dell and Steelcase). The overall aim for both types of products is to provide a eco-friendly alternative to styrofoam.
Now Ecovative is selling DIY kits to create mushroom-based insulation, or an entire tiny mushroom house. The insulation material is $8 per cubic foot. And the basic kit for the house is $8000 (the deluxe kit is $12,000).
Earlier and elsewhere:
+ Fast Company: This Tiny House Was Grown From Mushrooms
+ Ecovative in the New Yorker
photo: Ecovative