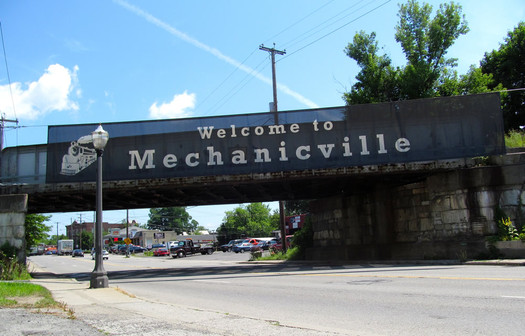 By Casey Normile
The Capital Region is full of cities, towns, villages, and hamlets. And some of these places -- like Albany or Saratoga Springs or Troy -- get lots of attention. This series isn't about those places. It's about those other spots -- the "in-between" places.
Next up: Mechanicville and Stillwater -- a city and town (and village) alongside the Hudson in Saratoga County.
If you haven't visited in a while, or ever, here's a quick look at the side-by-side river places.
Location:
Eastern Saratoga County, along the Hudson River, the town of Stillwater to the north (which includes a village of Stillwater), the city of Mechanicville just the south. If you draw line due west from Mechanicville to the Northway, it'd mark roughly the halfway between point between the Twin Bridges and Saratoga Springs.
US Route 4 runs north/south through both Mechanicville and Stillwater -- as Central Ave in Mechanicville, and Hudson Ave in the village of Stillwater.
Population:
Mechanicville: 5,212
Stillwater (town): 8,245
Some numbers:
+ The city of Mechanicville is just .84 square miles. It's the smallest city, in terms of area, in the state (according to figures from the Census Bureau).
+ Median age: Mechanicville - 37; Stillwater (town) - 41.
+ Median household income: Mechanicville - $39,668; Stillwater (town) - $71,909.
+ Average commute: Mechanicville - 21.9 minutes; Stillwater (town) - 28.2 minutes.
History
Stillwater
Stillwater was established as a town in 1791 and a village in 1816. But it was in 1709 that Peter Schuyler built the first fort there, recognizing the need to protect the river landing.
In 1777, during the Revolutionary War, Stillwater was the site of the famous Battles of Saratoga (both of them), regarded as a turning point in the American Revolution.
Stillwater was also the birthplace of Abigail Fillmore, wife of President Millard Fillmore.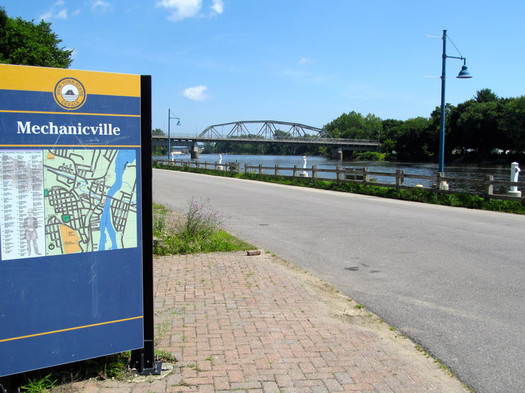 Mechanicville
The name Mechanicville comes from the millers, carpenters and butchers that settled the area. Back then, those trades were known as "mechanical arts." Mechanicville's shining moment was during the Industrial Revolution as a hub for railroads, factories, paper mills and a part of Erie and Champlain Canal systems.
In 1897, a hydroelectric plant was built there to take advantage of the Hudson River. It supplied electricity to GE to in Schenectady -- one of the plant's designers was Charles Steinmetz. It's said to be the oldest continuously operating hydroelectric power plant in the United States. (Though apparently it was turned off during a dispute between Niagara Mohawk and preservationists in 1997.) It's still operating today.
With the decline of the railroad, local industries eventually failed or moved and Mechanicville became a residential community.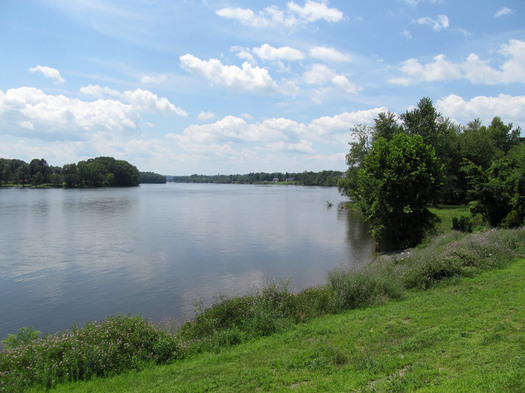 The Hudson River at Stillwater.
Today
Mechanicville and Stillwater are no longer strongholds for armies or militia, but they are pleasant spots along the river. Mechanicville is the busier of the two, with most of the restaurants, supermarkets, and other conveniences. And Stillwater village can be summed up in one word: waterfront. Most houses have a lovely large porch, or a deck that overlooks the Hudson River. There's even a waterfront dentist office and a marina with its own bar.
Highlights
+ The Saratoga National Historical Park is in Stillwater. It's a reminder how important the area was in the American Revolution. It's also great for cycling, cross-country skiing, and impressive views of the Hudson.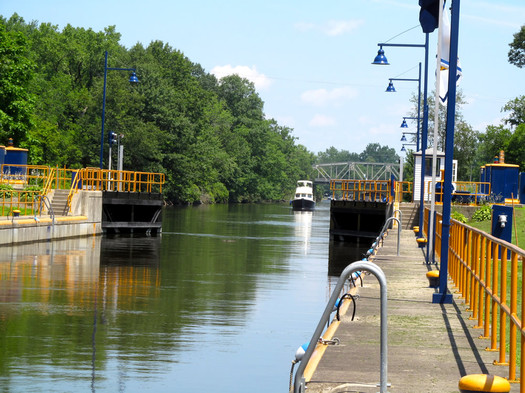 Lock 4
+ Lock 4 State Canal Park isn't actually in Stillwater -- it's just across the Stillwater Bridge in Rensselaer County. It offers pathways over and around Lock 4 to watch boats heading up to Lake Champlain or down the Hudson. Locals bring a picnic and watch the boats go through the lock, which is interesting to watch. It's open when the canal system is open, usually May 1-November 30.
+ Stillwater Wood has been in business for over 39 years. It's a woodworks shop where you can buy unfinished furniture.
+ Blu Tea Company recently opened in Mechanicville and offers a comfortable tea house to those looking for an oolong.
+ The Mechanicville Country Living Center is another interesting shop down the road. There you can get hardware, rent lawn and construction equipment, or just any little thing for a weekend home improvement project... but it's also kind of a pet store. They have chicks, lizards, goldfish and geese. It's a one-stop shop of sorts.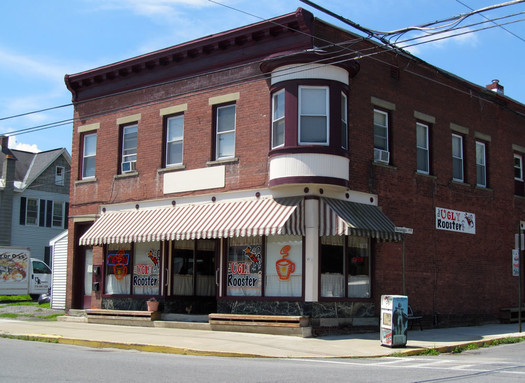 Places to eat
+ The Ugly Rooster Cafe, Mechanicville: Home of the Colossal Pancake Challenge. They also offer other non-pancake food. It's a funky place known for its breakfast menu.
+ Bubbles Restaurant, Mechanicville: a mainstay for summer. Not only can you get a homestyle meal, but the ice cream stand is right next door!
+ Faldoni's Deli, Mechanicville: a small deli in the heart of Mechanicville. Amy Mengel of Stillwater adds: "My husband is from Philadelphia and he says their cheesesteaks are the real deal."
+ Tour de Stillwater Pizza: Stillwater features three pizza places within two minutes of another of the main road, Hudson Ave. If you're up for pizza and a nice stroll, try a slice at Dom's Pizza, head to Frankie O's Pizza and Pasta, and then finish your tour at Moreno's Pizza.
In a few words
Amy Mengel isn't originally from Mechanicville or Stillwater, but has lived there for the past eight years. When she's not touring the area on her bike, she's been learning about her adopted hometown:
Mechanicville is ITALIAN. We learned this when we were moving into our house in mid-August, on what turned out to be the Feast of the Assumption. This is a big deal. Every house was flying an Italian flag. Canon-blast fireworks started going off in broad daylight. (This is the home of the Alonzos, after all). We had no idea what was going on or why we were under siege. I think we even got stuck in the middle of an Assumption parade. I vaguely remember a tuba.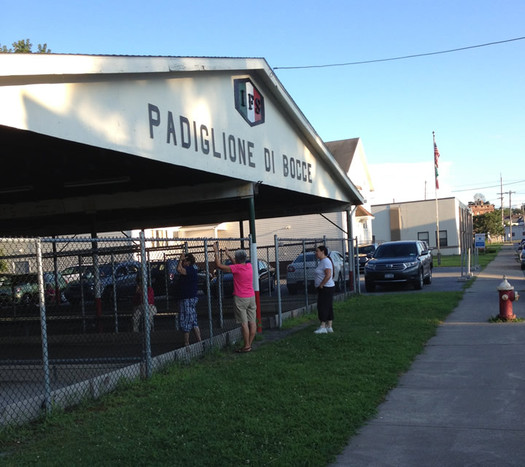 Ladies night at the Mechanicville Padiglione di Bocce. / photo: Amy Mengel
Mechanicville has a Padiglione di Bocce; not a bocce pavilion, a padiglione.
My house is in the town of Stillwater but the Mechanicville school district and mailing address. I always struggle when someone asks me where I live -- which should I say? What connotations go along with each? For a while I said Stillwater, I think because I'm a country girl at heart. 
Both places are full of good hearted, hard-working people. There's no fanciness or pretense.
____

Earlier on AOA: In-between places: Ballston Spa
Say Something!
We'd really like you to take part in the conversation here at All Over Albany. But we do have a few rules here. Don't worry, they're easy. The first: be kind. The second: treat everyone else with the same respect you'd like to see in return. Cool? Great, post away. Comments are moderated so it might take a little while for your comment to show up. Thanks for being patient.