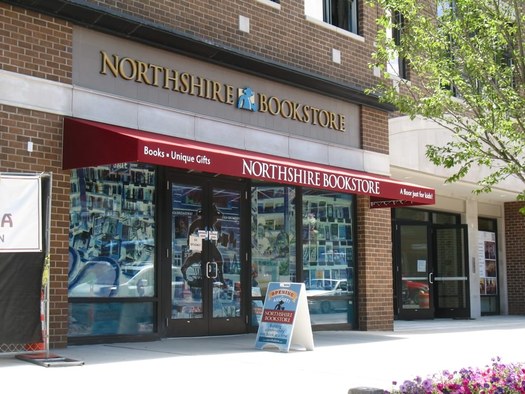 Today's a notable day for Capital Region book nerds because it's the opening of the Saratoga Springs location of the Northshire Bookstore. The 9,000-square-foot store on Broadway in the heart of downtown is just the second location for the much-admired Manchester, Vermont independent.
The last decade or so has been tough on book publishers and bookstores. The big national chain stores have either fallen (Borders) or are teetering (Barnes & Noble). The rise of e-readers has cut into sales of hard-copy books. And Amazon and Apple have been engaged in various attempts to control the pricing of books.
Given all that, we were curious why -- and how -- someone would open a new bookstore. So we stopped by the Saratoga Northshire location on Friday to get a peek at the new store, and talk with co-owner Chris Morrow about why they picked Saratoga Springs, how they made it happen, e-readers, and the future of the bookstore.
There are a handful of large-format photos above -- scroll all the way up. The photos are from this past Friday as the store was still being set up.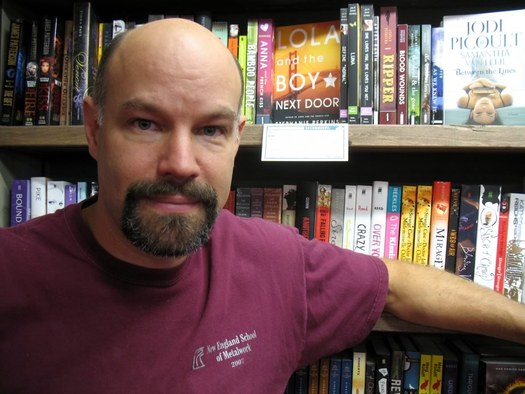 Northshire co-owner Chris Morrow. His parents started the Northshire Bookstore in Manchester, Vermont in 1976.
You're well established in Vermont, in Manchester, 30some years now. Why open in Saratoga?
Saratoga has a real need for a good bookstore. When they lost their Borders bookstore two or three years ago, I kept getting emails and letters from people asking me to look at opening a store here. And I ignored the first few. And then after a while, there was a pattern. So I thought I'd come over and just look around, because I hadn't been here in a long, long time. And I was immediately impressed with the city and the people. And thought there might be an opportunity here.
So I started researching and writing a business plan and talking with lots of people. And became convinced that Saratoga Springs could support a good, large, high-quality independent bookstore.
What was it about Saratoga that convinced you?
A combination of the demographics, the traffic here, the growth here, and the interests of people. It's clearly an erudite and artistic community. There are a lot of arts organizations. There's a lot of diverse customer bases -- we have the locals, we have tourists, we have the track, we have GlobalFoundries which is bringing people to town, and then the City Center which brings people in regularly. So for a bookstore to survive in this day and age, you need a diverse customer base. And Saratoga really has that.
I hope. (laughs)
You mentioned that people in the community have reached out to you. And a lot of people have really rallied to get the store to come here. How important was that in your decision?
That was absolutely essential. In fact, half the money to get this place open came from community members because I didn't have the money to open this store. So I kind of modeled my fundraising after some businesses in Vermont. So I have over 30 local investors in the store.
So that was another test of whether this was going to work or not, was whether I could raise the money locally. If I couldn't raise the money, it wouldn't happen. And that was just another indication that there was interest and enthusiasm for this venture at this point in time.
[Morrow says the cost of opening the Saratoga location -- including the inventory -- is over $1 million.]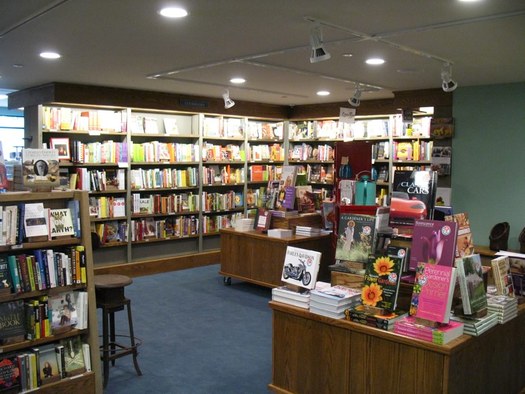 The publishing industry has been changing and struggling for going on a decade now. How would you describe the state of the bookstore business now?
It's been extremely dynamic. In the last year or two it's started to stabilize a little bit in the sense that there's some growth in independent bookstores around the country. The growth curve of electronic books has slowed very dramatically, and plateaued in some categories and some publishers. So that was really the the big moving question for a lot of physical stores, just how much of the business was going to go all digital and how much was going to stay in print. You still have around 70 percent of the business nationwide as print books.
And that's a number that we can live with, as long as people value the value-added elements of what we do in terms of creating this space, having high-quality book sellers and buyers, and all the community aspects of what we do.
Would you say that bookstores and e-books are not compatible in the long run?
No, I think they're compatible. We sell e-readers and e-books. It's not an either-or. A lot of people who read e-books in certain circumstances -- like especially when they travel -- and print books the rest of the time. So it's definitely not an either-or.
It's kind of like people still go to the movie theater, and sometimes they watch movies at home, and sometimes they just watch movies on TV. They're not in any way mutually exclusive.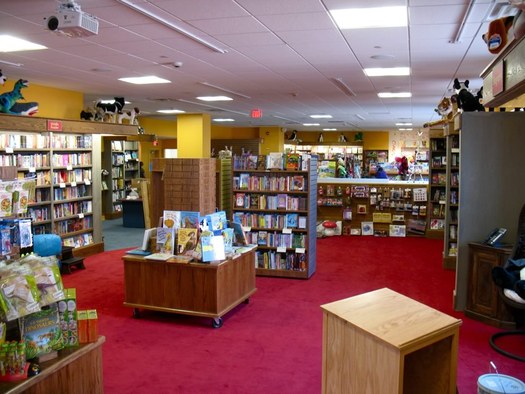 The second floor includes space for author events.
What do you think a bookstore has to do in this situation where there are e-readers, and there's Amazon, and all this competition?
Obviously, to start with, you have to offer a compelling experience. That has to do with the ambiance. The experience of being in the space, the selection. We have very good buyers who have been with us for decades who are combing through literally hundreds of thousands of titles a year to pick what comes on the shelves. And then we hire and train very good booksellers. And those three elements in combination are essential.
Then there's the whole community aspect of what we do, in terms of bringing author events to town, partnering with other organizations to either sell books or put on other kinds of events, literacy initiatives that we have. There's a lot to being a community bookstore that we want to develop here, that we've developed in Manchester... There's so much that a bookstore can do given support from the community.
I was telling the staff a lot of what we do here is we're in service to our customers, to each other, to the book as a physical thing, and to the larger culture of this country.
Five years, ten years from now, what role do you hope this store is playing in this community?
Well, I really hope we're kind of one of the main linchpins of downtown, and it's a place the community comes to get their entertainment and information and to be with other people.
This is kind of a promotion of culture in a way. I was telling the staff a lot of what we do here is we're in service to our customers, to each other, to the book as a physical thing, and to the larger culture of this country. Not in a snobbish way, but we take that as part of our mission to promote an environment of dialog and information flow and entertainment.
This interview has been lightly edited.
____
A big part of the plan at the Saratoga Northshire: author events. The store already arranged for an appearance by Neil Gaiman at the Saratoga City Center in June. And it's quickly stocking its calendar for the next few months and beyond. Already slated:
August 8: Mike Kane & Allan Carter - 150 Years of Racing in Saratoga: Little Known Stories and Facts from America's Most Historic Racing City
August 16: Jennifer Fosberry - Isabella: Star of the Story
August 20: Joe Layden - The Ghost Horse: A True Story of Love, Death, and Redemption
September 12: Michael Cohen - Einstein's Rabbi: A Tale of Science and the Soul
September 13: Gina Peca - I Wouldn't Change a Thing
September 15: Nancy Tillman - I'd Know You Anywhere, My Love
September 17: Josh Kilmer-Purcell & Brent Ridge - The Beekman 1802 Heirloom Dessert Cookbook
September 18: Louise Penny - How the Light Gets In: A Chief Inspector Gamache Novel
September 27: Denise Warner Limoli - Dance in Saratoga Springs
Northshire is also lining up events with Doris Kearns Goodwin (December 6, venue TBD), Russell Shorto, Ann Rice, and Ann Patchett.
Earlier on AOA:
+ Nicole checked out the Manchester Northshire this past winter
+ 2011: Is there a happy ending to the story for the Book House and other indie book stores?
Hi there. Comments have been closed for this item. Still have something to say? Contact us.