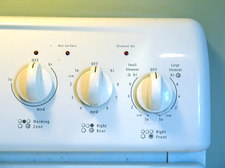 Annie asks via Facebook:
I was wondering if you guys (or your readers) could recommend the best place to find deals on kitchen appliances as well as any good contractors in the area. My fiance and I just bought our first house so we'd love a good point in the right direction!
We've had a handful of contractor questions in the past. But we don't think we've ever had a question about where to buy appliances.
A lot of people might default to one of the big box stores -- but the Capital Region also has a handful of local appliance stores. So, there's some choice.
Have a suggestion for Annie about where to shop -- or even just suggestions about what to look for? Please share!
Hi there. Comments have been closed for this item. Still have something to say? Contact us.