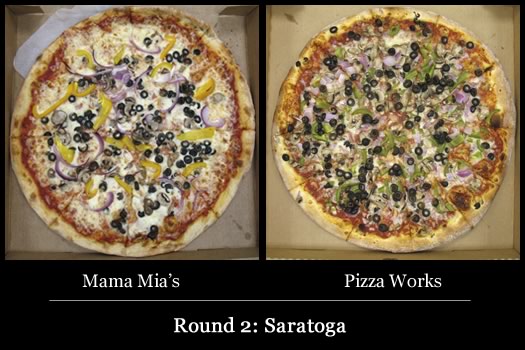 The 2013 Tournament of Pizza -- sponsored by The College of Saint Rose -- loops back around to start Round 2 in the Saratoga bracket.
The pizzerias in this head-to-head matchup of veggie pizzas (green peppers, mushrooms, onions, black olives):
Pizza Works - Saratoga - winner of the Round 1 pool of new-to-the-tournament shops
Mama Mia's - Saratoga - not last year's bracket winner, but occupying the slot because last year's winner is no longer open (MM won the bracket in 2011)
Back to the Case Center on the campus of Skidmore College...

A quick note about how all this works:
The judges taste the pizzas blind. That is, they don't know which pizza they're tasting during judging. They taste the competitors side by side. Each judge assesses the pizzas by crust (5 points possible per judge), sauce (5 points), toppings (5 points), and overall taste (10 points). Each judge represents either 1/4 or 1/5 of the possible points, depending on the number of judges present. However many judges, all scores will be according to a 100-point scale.
How this year's brackets were selected.
If you'd like to get a closer look at the pizzas, there are large-format closeups above -- scroll all the way up.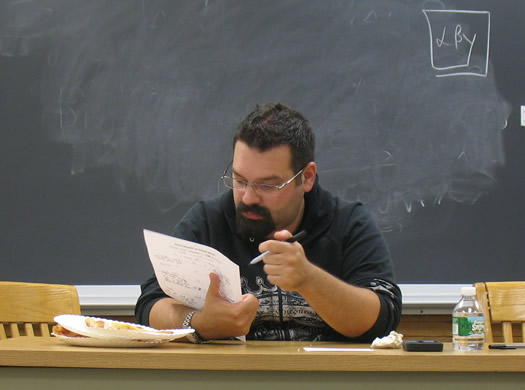 Round 2 Saratoga
Post game
A narrow victory in a relatively low-scoring affair.
Crust
Mama Mia's took the early with its crust, which one judge really liked ("perfect") and the others received solid middle scores. Pizza Works' crust didn't score as well because the judges thought it didn't hold up to the toppings (always a challenge in a veggie matchup) and some found it to be undercooked.
Sauce
Another category win for Mama Mia's -- one judge called its sauce "nice, bright," though the others didn't make much of it. Pizza Works scored lower because the judges thought there wasn't enough sauce, and it failed to register ("doesn't come through at all with other pizza components").
Toppings
This can be a tough category in a veggie round, and this matchup didn't offer any evidence to the contrary. The judges thought Mama Mia's toppings were unevenly distributed, but MM scored some points with its cheese, mushrooms, and yellow peppers ("nice"). Pizza Works also got dinged for uneven distribution, and some of the judges thought its pizza didn't have enough cheese. The pizza include a relatively large amount of black olives, which didn't work some judges, nor did PW's mushrooms.

Overall
This matchup didn't seem to light up the judges. And as it happened, Pizza Works managed to register slight victory in overall taste -- but its crust and sauce scores held it back. And that was enough to give to Mama Mia's the win, and a return spot to the final four.
Up next
So, Mama Mia's survives to advance. It will face the winner of the Troy bracket in the semi-finals.
Tomorrow: the Tournament of Pizza heads back to Schenectady.
Thank you, thank you
Many thanks to Skidmore College -- and Bobby Carlton, especially -- for once again hosting the TOP at the Case Center.
The 2013 Tournament of Pizza is sponsored by The College of Saint Rose.
Hi there. Comments have been closed for this item. Still have something to say? Contact us.