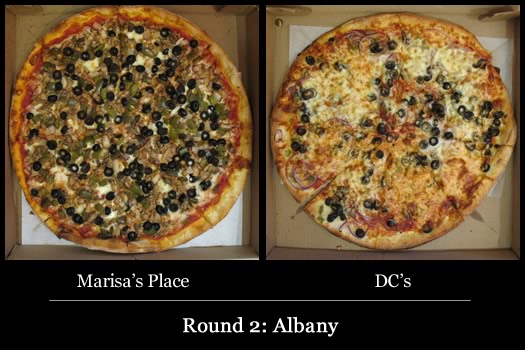 Round 2 of the 2013 Tournament of Pizza -- sponsored by The College of Saint Rose -- comes to a close in the Albany bracket.
The pizzerias in this head-to-head matchup of veggie pizzas (green peppers, mushrooms, onions, black olives):
DC's - Albany - winner of the Round 1 Albany pool of new-to-the-tournament shops
Marisa's Place - Guilderland - not just the returning bracket champ, Marisa's won the whole tournament last year
So, this isn't exactly an enviable matchup for DC's. Marisa's has one of the highest shop averages in the TOP modern era. And the pizza it made for last year's final was fantastic.
But, hey, the Tournament of Pizza isn't settled in a spreadsheet. It's settled on a paper plate.
A quick note about how all this works:
The judges taste the pizzas blind. That is, they don't know which pizza they're tasting during judging. They taste the competitors side by side. Each judge assesses the pizzas by crust (5 points possible per judge), sauce (5 points), toppings (5 points), and overall taste (10 points). Each judge represents either 1/4 or 1/5 of the possible points, depending on the number of judges present. However many judges, all scores will be according to a 100-point scale.
How this year's brackets were selected.
If you'd like to get a closer look at the pizzas, there are large-format closeups above -- scroll all the way up.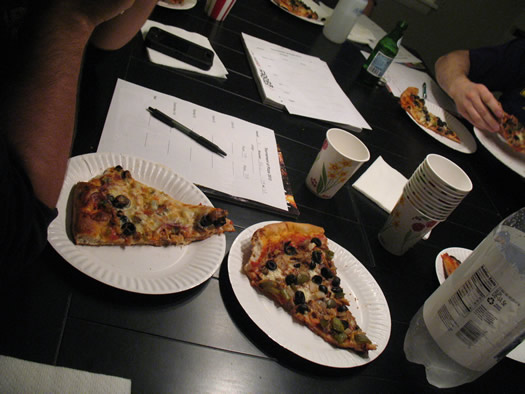 Round 2 Albany
Post game
Down goes the champ. Holy. Moly.
Crust
Both shops started out strong in the crust category. Marisa's crust was described as "thin and crispy," with a few judges declaring it "perfect" and "my favorite crust, period." DC's won points with a crust described as "crispy, chewy," and "not too dense" that held up to the toppings.
Sauce
Sauce ended up being the key category. DC's "thick" sauce was praised for having "good seasoning" and the flavor of herbs -- and judges noted its presence registered and worked well with the toppings. Marisa's sauce was described as "good" and "very nicely seasoned," but multiple judges were disappointed with either its amount ("needs more") or the way worked alongside the toppings ("mostly buried").
Toppings
Marisa's bounced back in this category -- judges remarked its toppings were "crisp" and "well distributed," though a few thought the pizza was a bit too loaded with toppings. But it still fell a point short of its competitor. DC's toppings had "decent distribution" under "delightful" cheese. And a few of the judges really liked DC's use of red onions.
Overall
DC's pulls out the upset win, with one judge noting its "crust and sauce are stars" and another concluding its combination created a nicely "savory" pie. It's quite a feat to best the reigning tournament champ.
No shame here for Marisa's Place. It won on two of the five judges cards. And even though it maybe didn't turn out its best pie in this matchup, the Guilderland shop is very good at what it does. We still think about its string of excellent pizzas in previous matchups (especially that rusticana pizza).
Up next
DC's advances to semi-finals. It will face Mario's, out of the Schenectady bracket.
Next week: The Tournament of Pizza wraps up with the final four, and championship.
Thank you, thank you
Many thanks to the judges and everyone who's helped with logistics for the TOP this year. We appreciate it!
The 2013 Tournament of Pizza is sponsored by The College of Saint Rose.
Hi there. Comments have been closed for this item. Still have something to say? Contact us.