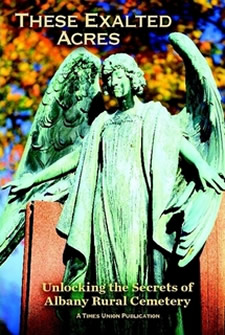 Local history alert: Paul Grondahl has written a book about the Albany Rural Cemetery. An excerpt from These Exalted Acres: Unlocking the Secrets of Albany Rural Cemetery ran in the Times Union recently. A clip:
Visitors to the cemetery can read a backstory in Victorian-era symbolism and carved iconography that is repeated across the sprawling grounds in a kind of cultural shorthand: a torch inverted for a life extinguished; oak leaves and an acorn for a person of old age; ivy for friendship and fidelity; and crossed swords for a life lost in battle.
It is a monumental mirror held up to the region's past, and sometimes the heavy weight of history is almost too much to bear. We can trace the ancient heartache of scores of infants and young mothers who died in childbirth in the 1800s. There are vestigial reminders of successive waves of long-conquered diseases such as typhoid, yellow fever, cholera and influenza that killed many Albany citizens. The toll of the nation's wars are commemorated here, too, from the Revolutionary War to 1,030 Civil War soldiers and sailors buried at Albany Rural, as well as casualties of World War I and World War II.
Notes of triumph temper the sadness, too, with monuments that celebrate great industrialists, inventors, entrepreneurs, educators and other successful individuals.
Bonus bit: More than 135,000 people are buried in the cemetery -- Grondahl points out that, in a sense, the Albany Rural is "the most populous city in the region."*
These Exalted Acres: Unlocking the Secrets of Albany Rural Cemetery is being published by the Times Union via Lulu. It's $25 online.
Also: Check out the interactive map of the cemetery.
____
* Related: There are more people buried in the Glens Falls Cemetery than currently living in the city itself. Such is the reality of being an old city. [Post-Star]
Earlier and elsewhere:
+ Paula Lemire's Albany Rural Cemetery and Church Grounds blogs
+ AOA: Albany Rural Cemetery, after dark
+ AOA: Walking the Albany Rural Cemetery