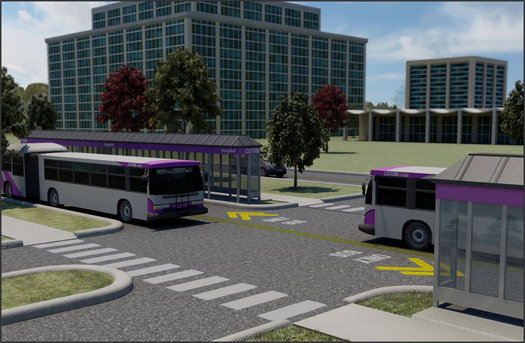 On Wednesday CDTA announced that its board had voted to take another step toward the proposed expansion of the BusPlus bus rapid transit system to the Western-Washington corridor -- AKA, The Purple Line. This bit from the announcement caught our eye (emphasis added):
The [official designation of the preference for this plan] includes construction of a dedicated busway through the Harriman Office Campus and the University at Albany, a transit center at Crossgates Mall, and high-volume stop locations.
The "dedicated busway" was news to us -- and we were curious about what it meant. CDTA's Jonathan Scherzer explained:
We are working with both the University and [state Office of General Services] on the inclusion of a dedicated roadway that would be used exclusively for transit, maintenance and shuttle vehicles. The current design would face the soon to be completed Campus Center on the UAlbany campus while also providing good proximity to the new football stadium to ease traffic.
That rendering above projects what the lane might look like on the office campus (it appears to be the Western Ave side of the campus, near the campus access road).
As we've said before, bus rapid transit is probably the closest this region will come to any sort of light rail-type system in the not-way-distant future. Building this sort of infrastructure -- the busway, the transit center -- looks like a good step toward making BusPlus a real system, something more than just an express bus, which could be key to its longterm success. Because there's a line of thought that making BRT more than "just the bus" is key to it gaining a broader crowd of users.
See also: CDTA chief renews call for downtown Albany transit hub [Biz Review]
After the jump: A bonus rendering of the proposed transit center at Crossgates, and a pdf info sheet about the proposed Purple Line.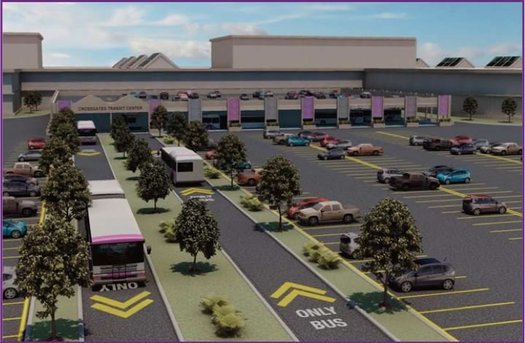 BusPlus Washington Western Corridor Fact Sheet October 2013
Earlier on AOA:
+ Expanding BusPlus on two lines
+ The not-so-rapid rise of bus rapid transit
+ A few things about riding the bus
images: CDTA
Hi there. Comments have been closed for this item. Still have something to say? Contact us.