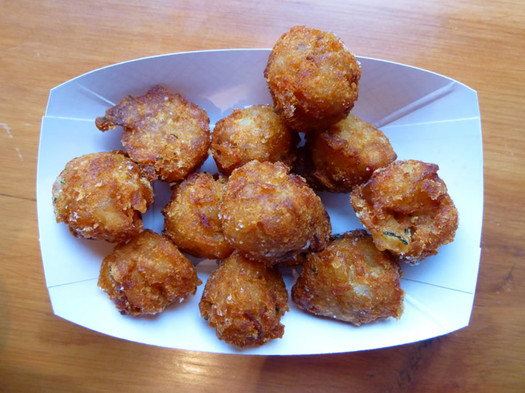 With the end of the year coming up, we thought it'd be fun to ask a bunch of people about some of their favorite/most interesting things from the 2013.
First up: Favorite local things to eat or drink this year.
Otis from Burnt My Fingers
The best thing I ate in 2013 was a smoked pork belly atop some amazing fish sauce-infused corn niblets which was prepared by Zak Pelaccio at the Saratoga Wine and Food Festival in September. I have never had so many things going on in my mouth at one time.
I've been planning to get down to Fish & Game in Hudson to try more of this guy¹s great foods thank you for reminding me to put it on my list for 2014.
Otis writes about at Burnt My Fingers.
Albany Jane
The har cheung fan / shrimp rice roll from Hong Kong Bakery & Bistro. The quiver and chew of a fresh noodle, the briny-sweet pop from a whole shrimp, and that sweet and salty soy sauce poured on top. They are the only place that makes fresh rice noodle rolls in the area - there's a huge difference between a fresh rice roll versus one that's an hour old versus one that's frozen and reheated in a microwave or trucked up from Manhattan.
Albany Jane writes at Albany Eats!. And she was a judge in this year's Tournament of Pizza.
J+R from Chopsticks Optional
Our favorite local bite from 2013 was the Hollow Burger from The Hollow Bar + Kitchen. It's simple yet so well-executed. What sets it apart from all the other burgers we've tried is the housemade habenero ketchup. The tangy and spicy condiment serves as the perfect counterpoint to the burger, adding just the right amount of kick to wake up your palate. All the elements combined with a burst of runny yolk from the fried egg is a little like tasting Beethoven's symphony.
TC Paris Bakery's creme brulee and macarons are also close contenders. The 518 is just too delicious!
J+R write at Chopsticks Optional
Emily from Capital Region Dining Blog
The Malice in Wonderland cocktail from the Speakeasy in the basement of City Beer Hall.
While I know this isn't for everyone, I completely loved this spicy, sassy, and complex drink. I can't remember the exact ingredients, but I know it had Jerk bitters in it and was served in a lovely carved crystal goblet. When our server mentioned that she invented it, I just had so much respect for her and the audacity it takes to invent such a bold drink.
Emily writes at Capital Region Dining Blog
Silvia from DelSo
Following the Last Run, I had a fantastic dish made by Nick at The Wine Bar & Bistro on Lark. It was a special, but I seriously hope it lands on the next menu incarnation.
Crispy pork shoulder, oil cured olives, chestnuts, chestnut polenta. Maple syrup.
The textures, flavor and balance of the dish was perfection.
Silvia writes at DelSo.
Jerry from derryX
When I heard there was a local bakery called "The Crisp Cannoli" in East Greenbush, my interest in getting perfect and delicious cannoli in the area reignited. I'm happy that I stopped in, because their cannoli totally live up to the "crisp" designation since they adamantly fill to order or provide means for you to fill your own at home. While their basic filling is very classic, simple, and satisfying, they offer numerous cute and inventive filling flavors daily, and many of their other the homemade baked goods are outstanding.
Jerry writes at derryX. And he was a judge in this year's Tournament of Pizza.
Ashley from Saratoga Food Fanatic
I've gone back and forth trying to decide between two meals, and decided I'd just leave it at a tie. The Lobster Betty from Lake Ridge Restaurant and The King Salmon from Javier's are the TWO best things I've eaten all year.
The lobster betty is a butter poached lobster tail smothered in a shallot sherry cream sauce. It's one of those meals that you never want to end, but can't wait to take your next bite and have those flavors hit your taste buds again.
The king salmon from Javier's was simpler than the Lobster Betty at Lake Ridge, and had its shining moments due to its sophisticated flavors and creativity. The salmon was cooked medium-rare, without even the slightest bit of dryness. The salmon was then topped with a citrus-fennel slaw that could have been eaten all on its own it was so good, but in addition to the fish, was the perfect compliment. Javier's was a meal I've been raving about since May, which shows the impact it made on me and my stomach.
Ashley writes about food in Saratoga at saratogafoodfanatic.com.
Deanna from Silly Goose Farm
Delicious things that enter my mouth are like children: I have a hard time picking a favorite, if picking one at all. What was my favorite among favorites? It could have been Eggs in Purgatory Pizza at More Perecca's. It could have been the succulent, juicy pork chops from Hill Hollow Farm. It could have been the buttermilk pancakes at Jake Moon. It could have been the last beer I imbibed at Mahar's Albany location.
But it wasn't. My favorite thing that I ate this year was the crispy oyster at Javier's in Saratoga. Many times I've implored chef Brian Bowden to start serving this salty, crunchy little morsel in fast food-style paper buckets, like popcorn chicken. Complemented by a remoulade, honey tabasco sauce, sliver-thin radish, verdant chives and a generous portion of caviar, all that these oysters require is a glass of perfectly chilled champagne and a handsome man-servant to bring them to me, preferably depositing them right into my mouth. Followed by a piece of Javier's tres leches cake, pleaseandthankyou.
Deanna writes at Silly Goose Farm and for the Times Union.
Jona from zeelemons
A random vegan brunch at Carmen's Cafe that consisted of sautéed mushrooms over a bed of spinach and rice, brussels sprouts with agave nectar and a "baba ganoush" with roasted eggplants, cilantro and peas. Oh, and a side of the yucca fries.
Every week Chris surprises me with what he sends out of the kitchen and although the plates have all been delicious, this was my favorite. It was hearty with autumn flavors and substantial enough to refuel me after my long run. The yucca fries have gotten better and better each week; perfectly crispy and topped with sautéed red onions and cilantro. Dipped into their homemade ketchup, it's hard not to eat the entire plate before our actual meal is served. I really appreciate his effort to accommodate all of the Troy community.
Jona writes at zeelemons.
Jon in Albany
On a summer trip to Utica, I had the fried hot pepper appetizer at the Franklin Hotel in Rome. The dish had a little of everything going for it. Great flavor, a little bit of heat, a basket of warm bread to sop it all up and a cold pint of beer next to it... all being enjoyed during a great summer vacation.
Jon writes at Jon in Albany.
Kim from The Simple Treat
This is definitely a tough one. I've been all over the Capital Region this year - trying new restaurants and revisiting some of my all time favorites. But, since I have to choose a single thing from the past twelve months, I'd definitely choose an item from my first visit to Yono's. I had such a memorable experience -- the staff was amazing and the food was simply divine. The star of the show was definitely a butter poached oyster topped with caviar. I've been eating seafood since I was a little girl, so I can spot a great oyster when I taste one. Thinking about that impeccable flavor combination right now is making me drool! (I checked the menu and although they still have the oysters, they're not the exact one I experienced, as Yono's makes seasonal changes to the menu and I went during the summer.)
Kim writes at The Simple Treat.
Daniel B. from FUSSYlittleBLOG
It's no secret that I have a fat tooth. Accordingly, I possess a great love for the deep-fat fried. Some dismiss the art of frying, but a crisp greaseless exterior that gives way to a perfectly cooked morsel within, is a thing of beauty indeed.
We're blessed by the glories of our fried food options in the Capital Region, and new players are entering the field all the time.
One of my great regrets is that I was never able to taste Slidin' Dirty's avocado fries before leaving on sabbatical. Those are right up my alley. But at this past summer's food truck festival, I was able to get my hands on Ate O Ate's Reuben fritters. These were amazing. Chopped corned beef, sauerkraut and swiss cheese formed into balls, breaded and deep fried. They were then doused in a creamy thousand island dressing.
However, it was a different fried delight that stole my heart -- and it kind of kills me to say this -- but that distinction goes to Comfort Kitchen's tater tots [pictured at top]. Tater tots have become a gimmick. And some places are doing just awful things with them, either going downscale and using these potato nuggets as a substrate for sauce, or trying to elevate the form to the highest heights by topping tots with truffles.
Comfort Kitchen has simply given the tot the respect it deserves, making them out of local potatoes, adding a touch of rosemary, plenty of salt, and lovingly creating a satisfying and endorphin raising deep fried snack that you could eat every day. With a side of awesome sauce, they may make you forget French fries forever.
I've included these tots are also included in my list of Capital Region Recommendations.
Daniel writes at FUSSYlittleBLOG, and has written the Eat This! feature for AOA.
Jeff from The Masticating Monkey
Spicy Harissa and Pita Bread at Tara Kitchen: For just $3, so much flavor (and so much heat) -- the chili peppers of this traditional Tunisian sauce shine brightly here. I've sort of been obsessed with harissa since having it at Tara, wanting to put it on everything I eat at home.
Jeff writes at The Masticating Monkey, writes the Eat This! feature for AOA, and was a judge for this year's Tournament of Pizza.
Hi there. Comments have been closed for this item. Still have something to say? Contact us.