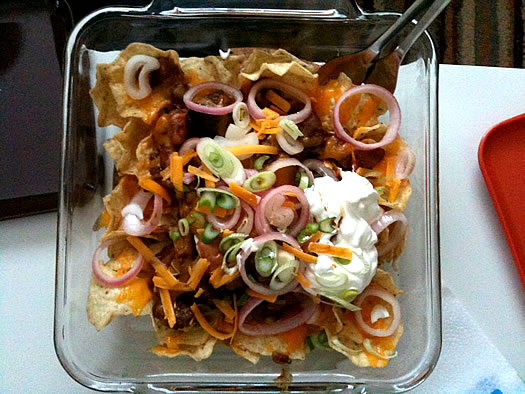 By AOA Greg
Because it's the weekend and the middle of winter -- and a bunch of people mentioned that cooking helps them shake off the January gloom -- here's a recipe for ancho pinto beef chili.
It's warm and rich and meaty -- even though it's mostly beans. It's also easy to make. And it makes the house smell fantastic.
This recipe is based off a 2009 recipe from Bon Appetit. The biggest changes in this adapted version: the chili powder is dropped completely in favor of only using chile powder, and 3/4 of the meat is replaced by pinto beans. I think this version is healthier, cheaper, and tastes really good.
Ingredients
4 slices of bacon, chopped *
1 pound of boneless chuck roast, cut into smaller-than-1-inch cubes
1 large onion, chopped
4 garlic cloves, chopped
1/4 cup of ancho chile powder **
1 tablespoon mole paste ***
1 table spoon ground cumin
2 tsp salt
1 1/2 tsp dried oregano
2 tsp apple cider vinegar
3 1/2 cups beef broth (one of those broth boxes is usually enough)
3 cans (15.5 oz) of pinto beans, drained and rinsed
a few tablespoons of masa (optional, explained below)
* Sometimes you can find "end pieces" -- basically leftovers -- of bacon at the store (Trader Joe's sells, for example), which are good to use here because the bacon is usually cheaper, and you're just going to cut it up into small pieces so it's not like you need the strips.
** Ancho is dried poblano, so it's not really all that hot. I see it in most grocery stores now, though sometimes you have to poke around a bit.
*** This was new to me when I first made this recipe. Here's the brand I buy. It's basically a concentrated paste of mole flavors -- chiles, sesame seeds, peanuts, cocoa. You can find it in most supermarkets (I've seen it at the Slingerlands ShopRite, so it can't be that unusual) -- look in the Latin foods section.
Directions
+ Sauté the bacon in a large pot. When it's crisp, remove the bacon bits to a bowl, but keep the fat in the big pot.
+ Add the chunks of beef and spread them out in an even layer. Let them get well-browned on one side, then remove them to the bowl on the side. (There's a reason I only brown them on one side, but it's kind of long discussion, and zzzzzzzzz.... If anyone's curious, just ask.)
+ Add the chopped onions to the pot. Sauté them in the accumulated fat until they start to brown. Add the garlic a minute or two after adding the onion.
+ Add the ancho chile powder, mole paste, cumin, salt, and oregano. Stir it all around.
+ Add some of the beef broth -- maybe half a cup. Stir and loosen up the little bits that are stuck on the bottom of the pot (because those bits taste really good). Add the apple cider vinegar.
+ Add the pinto beans. Stir everything around.
+ Add the beef and bacon back to the pot. Stir everything around.
+ Add another 3 cups (or so) of beef broth. Basically, you want to add enough liquid to almost cover the stuff in the pot.
+ Bring to a boil, then reduce to a gentle simmer. Let it ride for another 2 or 2 1/2 hours. You want to cook it until the beef chunks are really tender. You can add more broth along the way if things look like they're starting dry out too much.
+ Beef is really tender? Great. How's the texture of the chili generally? Not thick enough for your liking? Add a teaspoon of masa (corn flour used for making tortillas, I've seen this brand in local supermarkets), stir and let it cook for a minute or two. Keep adding masa until it's the thickness you like. Alternately, you can add more broth to thin it out.
I think this chili has enough heat from the ancho, but it's more of a "warm" heat than a yow-that's-spicy heat. If you like it hotter, just add some cayenne (or your chile of choice) for more heat.
Eat it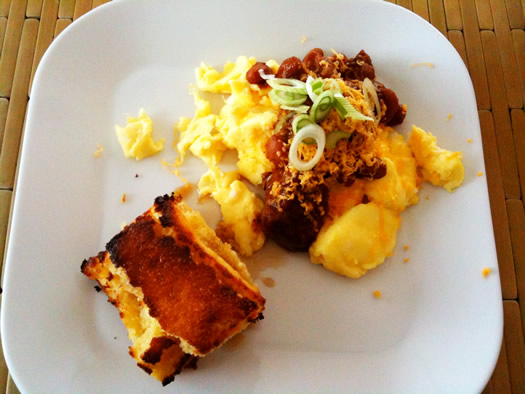 Chili and eggs with corn bread.
This chili goes well with a bunch of different add-ons, including: cheese (duh), sour cream, sliced or chopped onions, pickled red onions, thinly-sliced jalapeño, pickled jalapeño.
It's also good as an accompaniment to something else. Nachos made with this chili, cheese, pickled red onions and jalapeños, and a dollop of sour cream? You know it. Chili and eggs? You bet. Chili on top of Fritos? Hello.
It also freezes well -- let it cool uncovered in the fridge before putting it in the freezer. So if a batch seems like too much, you can split it to eat some now and freeze the rest for later.
____
Earlier on AOA:
+ How do you shake off the winter gloom?
+ Cooking out the cold
Hi there. Comments have been closed for this item. Still have something to say? Contact us.