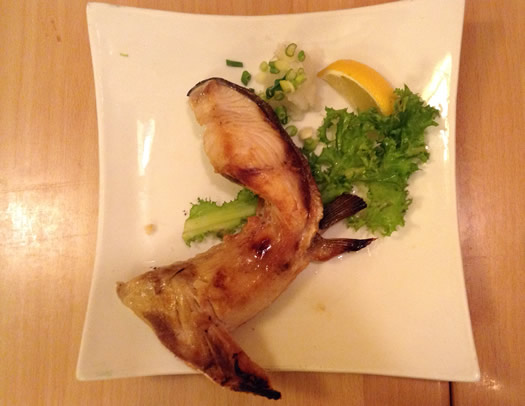 By Jeff Janssens
On a recent expedition to Sushi Tei in Guilderland to satisfy a sushi craving, I made an exciting discovery on the restaurant's specials menu: hamachi kama, or yellowtail collar.

This is the part of the fish just behind the head, and while it may sound like something that belongs on an episode of Bizarre Foods (it has, in fact, been featured on the program), there's nothing particularly strange about it. Hamachi kama is really just a piece of grilled fish.
Except it's a remarkably delicious part of the fish, one that's worth seeking out when it's available at Sushi Tei.
The praise for hamachi kama runs wide and deep: Bizarre Foods host Andrew Zimmern, in his Bizarre World of Food book, writes of yellowtail collar: "The collar bone is laden with fatty, rich bits of flesh, and it's worth every minute of the canoodling it takes to extract the fatty morsels." And Bon Appétit's Manny Howard writes: "Ever since I discovered it ... I haven't started a Japanese meal with any other dish."
Any sushi restaurant is only as good as the quality of its fish, and Sushi Tei represents well on that front. Freshness and quality are also important when it comes to hamachi kama, because the fish collar is presented so simply. It's grilled and served with lemon for drizzling and a bowl of ponzu sauce for dipping.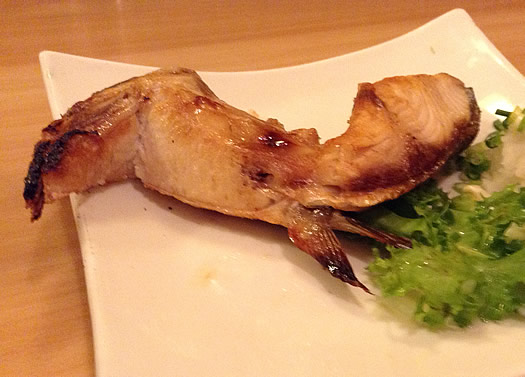 The fish used here is yellowtail -- specifically Japanese amberjack -- which is known to be a somewhat bony and fatty fish. The meat is tender and provides a surprisingly complex flavor combination: there's a bit of sweetness, some richness from the fatty parts, and a nice background note of grill flavor. The added note of acidity from the lemon works nicely with all those other flavors.
It's often the case that the tastiest meat is right along the bone, whether you're talking steak or fish, and that's the case here. This might test your chopstick skills considering how the bones lay on the hamachi kama, but do whatever it takes to get to those good parts -- the meat in there is worth it.
It's also worth mentioning the skin of the hamachi kama, which, like the best fish skin you'll taste, possesses a nice level of crunch, holds a lot of the grill flavor, and contains that delicious layer of fat between the skin and the meat. I know a lot of people don't like eating fish skin, and even for those of us who do, it's often not worth it because it's not cooked just right. That's not the case at Sushi Tei; the skin on the hamachi kama was cooked beautifully.
And let's not forget about the bowl of ponzu that comes with the hamachi kama. The meatiness of this fish makes the ponzu a perfect complement for it; it has the thickness to soak up the citrus flavors of the sauce while not being overwhelmed by them.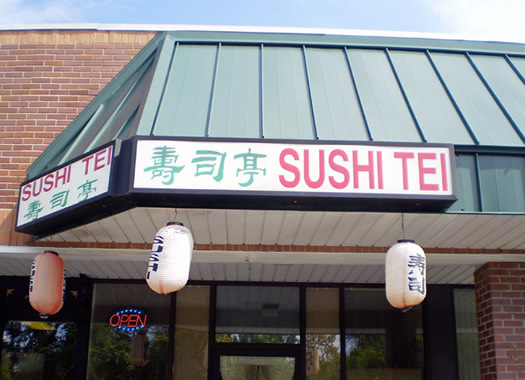 I find it hard to recommend items that aren't on the regular menu at a restaurant, but I don't feel bad doing so with the hamachi kama at Sushi Tei. For one, the sushi served at this restaurant is among my favorites in the area, typically fresh-tasting, skillfully sliced, and competitively priced. And the hamachi kama is unique and delicious enough to seek out. At $9.50, it might seem a bit pricey for an appetizer, but the portion here is easily enough for two to share.
At many restaurants, hamachi kama is unavailable to diners. Instead, it's saved by the chefs for restaurant staff and friends. You don't have to be among that sort of special circle at Sushi Tei; you just have to be fortunate enough to find it printed on the daily specials menu handed to you at the start of your meal.
Jeff Janssens writes about food and beer at The Masticating Monkey.
More Eat This!
+ COB Pizza at Red Front
+ Spiced Potato with Hot Pepper and Special Pancakes at Northeast Dumplings House
+ Samosa Trio at Umana
+ Tanuki Udon at Sushi Tei
Find It
Sushi Tei
1800 Western Ave
Guilderland, NY 12203
Hi there. Comments have been closed for this item. Still have something to say? Contact us.