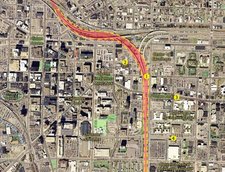 Over at The Atlantic Cities today there's a good overview of the situation surrounding the impending replacement of I-81 in Syracuse, which runs right through the heart of the Salt City's downtown. The situation will probably sound very familiar to anyone who's thought about the future of I-787 in Albany. A clip:
City leaders like Robinson, along with downtown developers and advocates for smart growth, would like to see I-81 rerouted around Syracuse and replaced with a landscaped boulevard. But suburban business-owners and many of the 45,000 drivers who use the highway to commute fear that any change could hurt the local economy. It's a debate that goes beyond the immediate question of how Syracuse workers will get to work -- to what kind of city Syracuse will be in the 21st century.
Similar discussions are happening across the United States, says John Norquist, president of the Chicago-based Congress for the New Urbanism, which publishes an occasional list of interstates ripe for demolition. Many urban freeways -- a staple of mid-20th century car-centric development -- are beginning to fall apart, and today cities from New Haven to Seattle (not to mention others around the world) are taking the dramatic step of tearing them down. A former Milwaukee mayor, Norquist oversaw the conversion of an elevated highway to a boulevard there in 2002, following a model pioneered by Portland in 1978 and San Francisco in 1991.
"It's starting to happen all over the place, and there's a reason for it," says Norquist. "Freeways don't add value to cities. They're all about one dimension, which is just moving traffic. It's a rural form, visited upon the city, that destroys property values, commerce and vitality."
The article, by Amy Crawford, is a good overview because it captures many of the tensions of the situation -- between city and suburbs, between walkable and automobile infrastructure, between local and state decision making. And, oh yeah, cost.
As that clip mention, the thing about these elevated highways, 787 included, is that they eventually will reach the end of their lives -- because they will be literally falling apart. That will mean hard choices -- and maybe also big opportunities.
[via @rachbarnhart]
Earlier:
+ In another upstate city, a discussion about an urban highway
+ "The Life and Death of Urban Highways"
+ The Albany 2030 plan included a goal of evaluating possible alternative designs for 787
+ The Stakeholders org released a report in 2011 that imagines the Albany waterfront with a boulevard
map: I-81 Challenge
Hi there. Comments have been closed for this item. Still have something to say? Contact us.