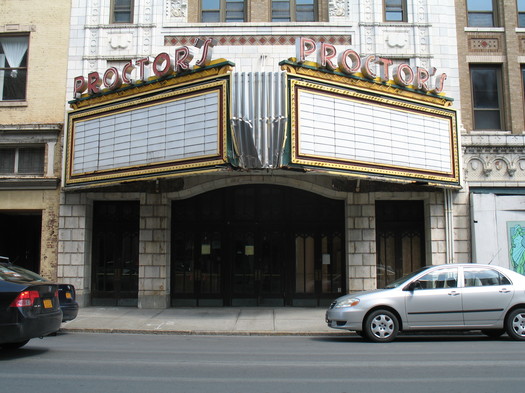 The news today that the Rensselaer County Regional Chamber of Commerce is moving into office space in the building that includes the long-vacant Proctor's Theater in downtown Troy got us thinking about places, names, things that often get misspelled or mixed up in the Capital Region.
You know, like how Proctors (no apostrophe) is the place in Schenectady, but the theater in Troy is Proctor's (with an apostrophe).
So we put together a list, and asked people on Twitter and Facebook for suggestions. Here's what we came up with. And there are no doubt a bunch more, so if you have some mind, please suggest them in the comments.

Just a note before we start: We have definitely made many of these flubs on AOA. We're not trying to throw any rocks from inside a glass house.
Places
Ballston/Ballston Spa - Ballston is a town the southwestern part of Saratoga County. Ballston Spa is a village in Saratoga County -- part of it is in the town of Ballston, and part of it is in the town of Milton.
Bennington - The town in Vermont just over the border with New York is spelled with a double "n" in the middle.
Charlton/Charleston Charlton is a town in the southwest part of Saratoga County. Charleston is a town in Montgomery County. (Thanks, Daily Gazette)
Coeymans The name town in the southeastern part of Albany County has an "e" after the "o," even though some people attempt to pronounce it "coy-mens." The dominant pronunciation is "KWEE-minz" (or something close to that). (Thanks, Herb)
Colonie - There is both a town of Colonie and a village of Colonie. Not only is it spelled with an "ie" at the end, but the pronunciation is a bit different, with the stress on the last syllable. That can be hard for newcomers. (Thanks, Rich)
Canajoharie - The town in Montgomery County (there's also a village). Pronounced "can-uh-jo-hairy." Like Schenectady, we've found it's not too hard to spell if you just sound it out slowly. (Thank, Nick)
Glenville/Glenmont Glenville is a town in Schenectady County, just to the west of Schenectady. Glenmont is a hamlet in the town of Bethlehm, along the Hudson River. (Thanks, Molly)
Bonus: The village of Scotia (sko-sha) is in the town of Glenville.
Greenfield/Greenwich - Greenfield is a town in Saratoga County, to the northwest of Saratoga Springs. Greenwich is both a town and a village in Washington County, the county to the east of Saratoga County. And Greenwich isn't pronounced like the places in Connecticut or England -- it's "green-witch."
Lanesborough/Lanesboro - Farther afield, just over the hill, this town in Berkshire County apparently has signs that spell its name both ways. (Thanks, Abby)
Lansingburgh - Troy's northernmost section includes an "h" on the "burg."
Milton/Wilton - Milton is a town in Saratoga County, to the west of Saratoga Springs. Wilton is a town in Saratoga County, to the north of Saratoga Springs. (Thanks, Daily Gazette)
Petersburgh/Petersburg - Petersburgh -- with an "h," the town in Rensselaer County -- includes a hamlet that the USPS apparently likes to spell Petersburg (no "h").
Princetown - That town in the middle of Schenectady County is Princetown -- with a "w."
Rensselaer - One "n," two "s," an "e" not an "a" in the middle, and an -aer. How to pronounce it is a whole other matter:
@alloveralbany Pronunciation of Cairo and Rensselaer - "ren-suh-leer" and "ren-suh-ler" to give two examples.

— Matt Ryan (@MMR_MattRyan) February 27, 2014
Don't forget "ren-slur" MT @MMR_MattRyan: @alloveralbany Pronunciation of Cairo and Rensselaer - "ren-suh-leer" and "ren-suh-ler"

— Andrew Gregory (@lunchboxbrain) February 27, 2014
@lunchboxbrain @alloveralbany I had a woman tell me once she was from "Rent-ler"

— Matt Ryan (@MMR_MattRyan) February 27, 2014
Rensselaer/Rensselaerville Rensselaer is the city in Rensselaer County across the Hudson River from Albany. Rensselaerville is the town in the southwest corner of Albany County -- not Rensselaer County.
Saratoga Springs/Saratoga - There is a Saratoga Springs -- it's a city. And there is a Saratoga -- a town. They're not the same place, though people will often refer to Saratoga Springs as just "Saratoga" -- or just that whole general area, even places that are neither Saratoga nor Saratoga Springs, as "Saratoga" (see: Wilton). In most cases, it's not a big deal. But sometimes you need to be specific. (Thanks, Todd)
Schaghticoke - It's both a town and a village in northwest Rensselaer County. Often pops up in reference to its fair, said to be the third oldest in New York State.
We don't know a trick for remembering how to spell Schaghticoke. And as this point, it's probably not going to get any easier, like the Taghkanic to Taconic transformation. (Thanks, David, Justin)
Schenectady - Perhaps hard to spell if you're not accustomed to it. We've found it's not hard if you just sound it out slowly. (And, you know, realize you're using the Dutch "sch.") Apparently people from other parts of the country have a lot of trouble with it, though:
@alloveralbany We heard some awful attempts at "Schenectady". Some folks we deal with in the south really have trouble with that one.

— Old Brick Furniture (@OldBrickFC) February 27, 2014
@alloveralbany It's not really that hard to spell but I always love listening to telemarketers try to pronounce Schenectady

— Jeff Williamson (@iamjeffw) February 27, 2014
Thacher/Thatcher - This often comes up in reference to Thacher State Park -- no "t" in the middle. The park is named after John Boyd Thacher, former mayor of Albany and history nerd. (As it happens, people also misspelled Thacher's name while he was alive.) (Thanks, Ethan)
Tomhannock -- Like the Tomhannock Reservoir in Rensselaer County. One "m," two "n." (Thanks, Jamie)
Valatie - The village in Columbia County is pronounced "vuh-LAY-sha" -- which you'd probably never guess from how it's spelled. (Thanks, Amy)
Voorheesville - The village in the town of New Scotland in Albany County spells its name with a double "o" and a double "e" the middle.
People
Baumgartner As in Matt Baumgartner, the local entrepreneur, is spelled with a "t," not a "d."
The Breslins - Neil Breslin = state Senator representing a district that includes Albany. Mike Breslin = former Albany County executive. Thomas Breslin = state Supreme Court judge.
The Cornings - Erastus Corning II was Albany mayor from 1942 to 1983. His great grandfather -- Erastus Corning I -- was mayor during the 1830s (among other things).
Fahy/Fahey - Pat Fahy (no "e") is the state Assembly member who represents the district that includes much of the city of Albany. Cathy Fahey is the Common Council member who represents Albany's 7th ward. Also: Cathy Fahey is Pat Fahy's chief of staff. [TU]
Morse/Morris Shawn Morse is chairman of the Albany County. Shawn Morris is the former city of Albany Common Council president.
Paterson - David Paterson, the former New York governor spells his name with only one "t."
Tedisco/Tedesco - Jim Tedisco = longtime state Assembly member whose district now includes parts of Schenectady and Saratoga counties. John Tedesco = Troy police chief.
Things
Bombers - The name of the burrito bars doesn't include an apostrophe.
Capital/Capitol Albany is the capital of New York State. The Capitol is in Albany. With an "a" = the city. With an "o" = the building itself. In reference to the US Capitol, a grade school teacher once told us the trick for remembering it is that the Capitol includes an "o" because of the building's round dome. (That people from other parts of the state often refer to what goes on at the state Capitol as "what's happening in Albany," or "tell those Albany politicians..." is a whole other thing.) (Thanks, Molly)
The Confectionery The establishment in downtown Troy is spelled with an "e" toward the end.
The Kosciusko Bridge/The Twin Bridges - The bridges that carry the Northway (I-87) over the Mohawk River between Albany and Saratoga counties are officially called The Thaddeus Kosciusko Bridge (named after the Revolutionary War engineer). But most people call them "The Twin Bridges" or "The Twins."
How to pronounce "Kosciusko"? "Kuzz-(Choosh)-Ko." (Thanks, Wade)
The Palace The big theater in downtown Albany is technically the Palace Theatre -- with an "re" at the end.
Proctors/Proctor's - Proctors (no apostrophe) is the theater/arts org based in Schenectady. Proctor's (with an apostrophe) is the long-empty theater in downtown Troy. (And, yep, Proctors once used the apostrophe, but now it doesn't.)
The Saratoga Race Course - A lot of people simply call it "The Track." But its official name is the Saratoga Race Course. Not the Saratoga Racecourse. Not the Saratoga Race Track.
Bonus: That horse racing track in Queens, also run by NYRA, is the Aqueduct Racetrack -- with an "e" in the middle, not an "a."
The Smith Building - That tall building opposite the state capitol is the Alfred E. Smith Building. Though sometimes you'll hear people slip and call it the Alfred E. Neuman Building. (Thanks, Alanna)
(Thanks, everyone!)
____
Furthermore: Here's a Capital Region name pronunciation guide put together by a guy named Gregory Tryson.
Hi there. Comments have been closed for this item. Still have something to say? Contact us.