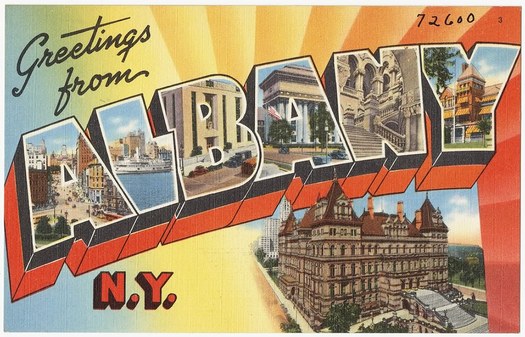 Wesley emails:
I moved here recently for school and was wondering where I could find cheap Albany postcards for the people back home. Thanks in advance!
We'll adjust Wesley's question a bit to cover any sort of local postcard. Less expensive is better, but we're curious about finding good postcards for this area in general. (And let's hope even the good once aren't all that expensive.)
It's been a while since we've browsed a rack of Albany postcards, but we don't remember many as being kind of cool or interesting. Maybe things have changed. Or maybe this is an opportunity for someone to make some good cards.
So... got a suggestion for Wesley? Please share!
Earlier on AOA:
+ Albany Postcard Project
+ Postcards from the past: Albany
+ Postcards from the past: Troy
image: Boston Public Library collection (cc)

Hi there. Comments have been closed for this item. Still have something to say? Contact us.