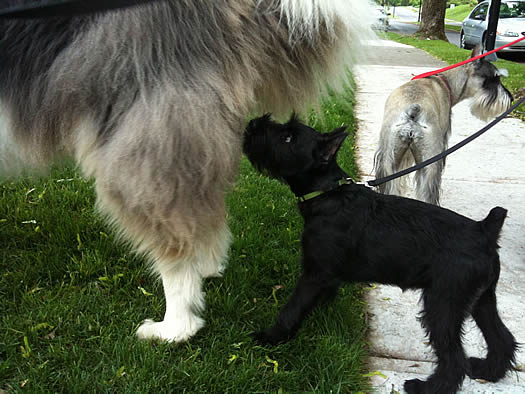 Now that the snow is gone, once again evidence re-emerges -- perhaps "unthaws" is the better word -- that not every dog owner is as courteous as he or she could be. As Albany Common Councilwoman Leah Golby said today on Twitter of people who don't pick up their dog's poop: "You are giving us responsible dog owners a bad name!"
There are a lot of neighborhoods in the Capital Region that include a lot of dogs. And we think this is generally a good thing -- dogs are often a way for people to get to know each other. We've met a bunch of people in our neighborhood because of Otto.
As with any situation involving other people (and dogs), a little bit of responsibility on everyone's part can go a long way toward creating a more courteous environment. Also: We're all better off when people aren't stepping in dog !@#$.
So, based on things we've seen around town, here are a few thoughts on dog etiquette...
Pick it up
We've been over this before. And you'd think it'd be one of those obvious things. But there's ample evidence to suggest not everyone has quite embraced the idea that they need to pick their dog's poop.
It'd be easy to chalk up this shortcoming to people just being rude and inconsiderate. But we're going to try to look at this in the best light and say that maybe it's a result of not being prepared. So, here's how to be prepared:
1. When you go for a walk with your dog, bring a plastic bag. (Left over grocery bags work very well.)
2. Actually, bring two bags. Because sometimes a walk is a multiple-poop event and things can get messy.
3. Make sure you'll be able to see the poop. Example: Walking at night? A tiny flashlight can help with that.
That's it.
Where to go
A good general guideline: If you're out on a walk, it's best to have your dog "take care of business" on the strip of grass between the street and the sidewalk -- not in a person's main yard.
Basic training
Every dog should have at least some basic level of training. Fluffy doesn't need to know elaborate tricks or be ready to sniff out contraband, but a few basics -- "sit," "stay," "come," how to walk on leash -- go a long way toward producing a polite dog. And a few more commands -- such as "back" or "quiet" -- can also make a difference.
Another way to think about it: A little bit of training teaches you how to communicate with your dog more effectively. And it teaches your dog what you're going to expect of him.
Heck, some dogs really like training, because it's like a game (and sometimes there are treats).
Barking
Dogs bark. It's part of being dog. And it's not necessarily bad. But if a dog's outside and he's barking incessantly and/or excessively, it is bad. You need to bring the dog inside and address the problem through training.
Playing nicely
If you're going to bring your dog to an off-leash area where there are other dogs -- like a dog park -- your dogs needs to be able to get along with other dogs. If your dog is aggressive toward other dogs and/or can't be controlled, then he shouldn't be there until you've addressed the issues via training.
Break it up
Sometimes when dogs are all playing together things get out of hand. One dog gets a little too rough, or maybe starts picking on another dog. It happens and it doesn't have to be a big deal. But if that's your dog who's getting too rough, you need to be paying attention and ready to remove your dog from the situation until he can calm down.
Treats
Sometimes at place like the dog park people will have treats. And a lot of those times, people will be happy to share those treats with other dogs (because it's fun to feed treats to dogs). But we think it's best to ask the owner first -- because the dog might have a food allergy, might be overweight, or the other owner just doesn't want their dog associating other people with treats.
On a walk
We're of the belief that dogs should generally yield to people on sidewalks. If someone's coming the other way, it's a good to idea to move over and give the person some space. Because that person might not be a dog person. And it's just courteous to not take up the whole sidewalk.
Is it OK to meet?
Not every dog you encounter on a walk will be OK with meeting your dog. So it's a good idea to ask the other owner before letting your dog over to sniff and say hi. The same thing goes if you want to meet or pet someone's dog -- ask first. (This is a good thing for kids to know, too.)
____
Have other suggestions for dog etiquette? Please share!
Hi there. Comments have been closed for this item. Still have something to say? Contact us.