By Lauren Hittinger
Laura Kerrone is on a mission to bring New York-style bagels to Troy.
Since moving here three years ago, Kerrone has been disappointed with she says is a lack of authentic bagels. That's why she wants to bring her "damn good recipe" to life through a new shop, The Psychedelicatessen, in downtown Troy.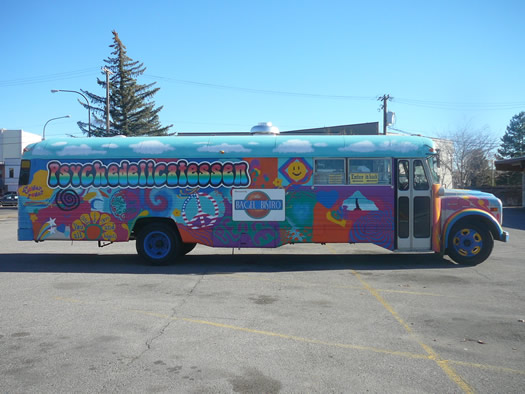 The Psychedelicatessen bus in Idaho.
This isn't Laura Kerrone's first bagel venture. She originally opened a bagel shop in Idaho Falls, during a self-described "post-divorce crisis." Unfortunately, her start-up business plans coincided with the economic downturn in 2008. With equipment on the way, the bank pulled funding, and Kerrone was forced to open her shop in a converted basement room in her house.
Eventually Kerrone raised enough funds to purchase an old school bus, which she converted into a deli. Business was good, but Kerrone needed more funds to bring her business to the next level and have a permanent retail location. That's where New York comes into play.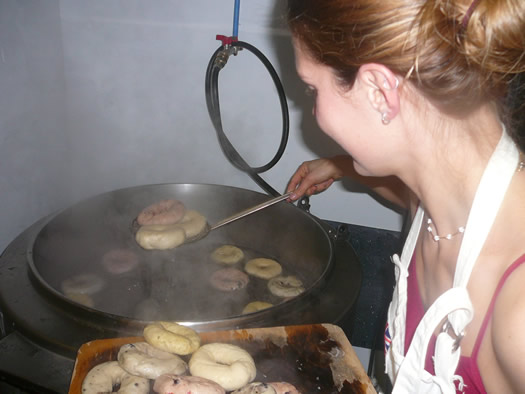 Making bagels in Idaho.
Kerrone, who was in the the Navy for eight years, took a job as an instructor in nuclear propulsion at a facility in Schenectady. When she headed east she intended to eventually return to Idaho, but after a few weeks here she wanted to stay in the Capital Region instead.
"Being in the military, I got to experience a lot of cultures, but this area caught me," says Kerrone. "I'm an outdoor nut, so I enjoy the four real seasons. I also like the complete diversity here. No single political, religious, or ethnic group dominates, and people are just people."
After Kerrone saved up enough capital to open up a bagel business again, she started scouting locations.
"I originally wanted to be in downtown Albany, but my realtor was pushing for Troy." Kerrone found what she considers the perfect spot for The Psychedelicatessen in the Dauchy Building on River Street in downtown Troy, which is being renovated by the Bonacio Construction. "I can't think of a better location for my business."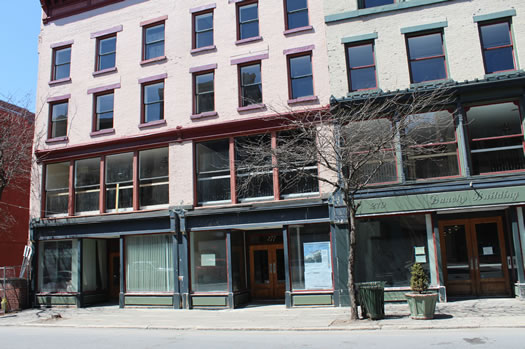 The Dauchy Building in downtown Troy.
Construction on the space started and Kerrone left her full-time position. Then things took a turn for the worse. Kerrone had been buying equipment over the last few years, but the bagel oven she had been planning to rely on turned out to be "old and busted" and would need a $20,000 repair in order for it to be functional. The situation has been made more difficult by the fact that Kerrone is having trouble securing a small business loan.
Kerrone jokes about her own bad business luck, "I think I have a hex on me." Even so, she remains very upbeat and committed to staying in the Dauchy Building location. Presently Kerrone is seeking out alternative funding options and has a GoFundMe campaign. In the meantime, construction on her downtown Troy shop has stopped.
"I can't quit," Kerrone says. "The bagels are real bagels, and that's hard to find around here. It's a third generation Jewish recipe. It's a damn good recipe and no one around here is using it."
Earlier on AOA:
+ Bread and Honey
+ Albany Bagel Co.
first three photos courtesy of Laura Kerrone
Find It
The Psychedelicatessen (planned)
275 River Street
Troy, NY 12180
Hi there. Comments have been closed for this item. Still have something to say? Contact us.