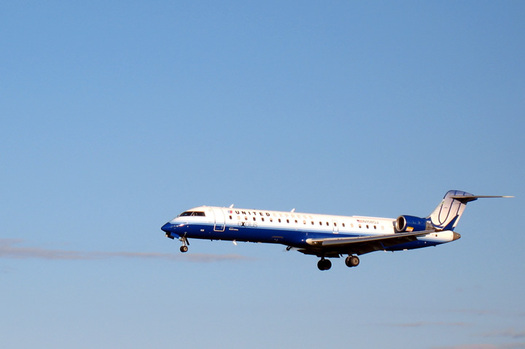 The Albany airport ranked #17 in the nation for highest average domestic roundtrip airfare among the top 100 busiest airports during the fourth quarter of 2013, according to numbers recently released by the federal government. The average fare out of ALB: $434.60. The national average was $381.05.
But, like most numbers, that average airfare figure only tells one part of the story. So let's take off with a few more numbers and see if we can get a better sense of how airfare from Albany compares...
Air fare per mile
One of the issues with those average fare figures from the federal Department of Transportation is that they don't account for the average distance of trips from a particular airport. That's an issue because the farther the distance you fly, the more you're (generally) going to pay for a ticket (in total). And, as it happens, the average flight distance out of ALB tends to be among the highest in the country when compared to the busiest airports.
But thanks to a different set of numbers published by the US DOT*, we can get a sense of how flights from ALB compare to those from other airports on a per-mile basis (which should address the different distances issue to some degree). So, here are the numbers sorted three ways -- each gives its own bit of context:
The 20 markets with the highest average fare price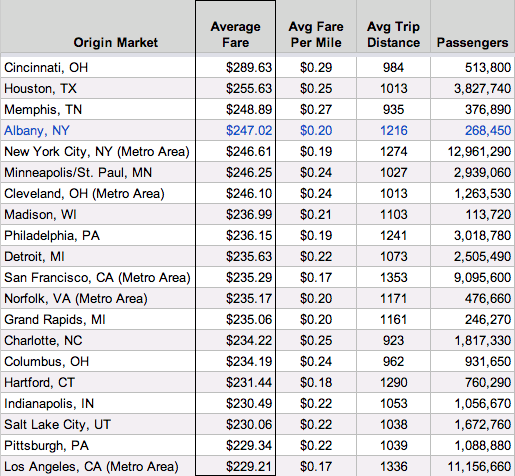 Compared to other high-average-fare markets, Albany looks relatively cheap on a per-mile basis. (Cincinnati... oof.)
The 20 markets with the highest average trip distance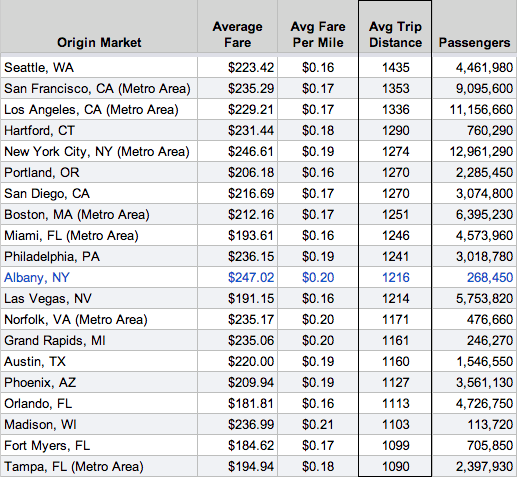 But compared to other longest-average-distance markets, Albany's not so cheap per mile.
Let's look at this per-mile airfare one more way...
Albany's per-mile airfare compared to markets with similar trip distances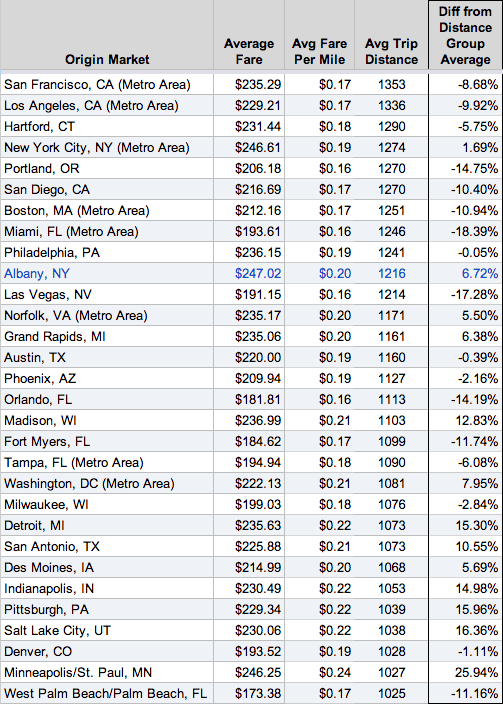 In this case, by "similar" we mean an average trip distance within 200 miles of Albany's average distance. (That range is more or less arbitrary -- you will get different results with different ranges.) Average per-mile airfare for this group: roughly 19 cents.
In this context, Albany's rate is OK -- but it doesn't look cheap.
Bottom line for these contexts
+ Albany's average airfare is relatively cheap on a per-mile basis compared to other high average fare markets.
+ But compared to other markets with similar average trip distances, Albany is not cheap.
+ The longer the flight distance, the less you'll pay per mile, generally speaking. (See bonus graph above.)
* Source: US Department of Transportation, Domestic Airline Consumer Airfare Report 3rd Quarter 2013, Table 2 | We're standing on the edge of a deep rabbit hole of data. But, in short, this set of numbers is different from that roundtrip average airfare set mentioned at the top because 1) it's only looking at the 3rd quarter of 2013 (the most recent available) 2) it's looking at one-way fares and 3) the set only includes flights from the top 1000 city pairs (involving markets with 100,000 or more passengers). The US DOT figures this set covers about 70 percent of all domestic air passengers.
So, it's not necessarily comparing apples and oranges, but they are two very different types of apples -- maybe even apples and pears.
ALB over time
Another context for this topic is not how fares out of ALB compare to other airports, but how they compare to themselves over time. Check out this graph of average domestic round trip fare prices out of ALB from 1995 through 2013 (fares are inflation adjusted to 2013 dollars):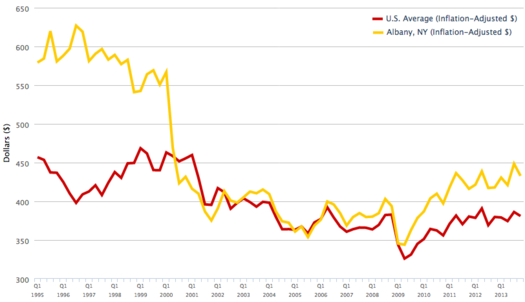 Click for a larger view. Source: USDOT Bureau of Transportation Statistics.
A few things struck us about this graph:
+ That huge drop in average fare price in the year 2000. That was the same year Southwest started service out of ALB. That drop was remarkable: The average fare in the first quarter of 2000 was $566.88 -- in the second quarter of that year it was $469.34.
+ The way the average fare price has been creeping up since it hit its most recent low during the economic downturn. While still not as high as the peak just before Southwest entered the market, during 2013 the average fare rose to a level not seen since early 2000.
The bottom line for this context
Fares out of ALB dropped a lot in 2000. They've been rising over the last handful of years.
Southwest at ALB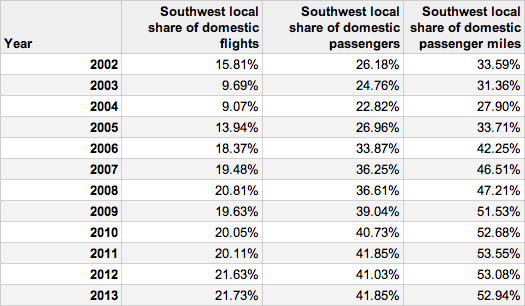 Source: USDOT Bureau of Transportation Statistics, T-100 Segment data. Numbers are for scheduled domestic flights.
So, let's talk about Southwest a bit. Its arrival here coincided with a big drop in average fare price. And the airline has historically had a reputation for low fares -- though that's been changing in recent years.
After entering the local market in 2000, Southwest has steadily grown its slice of the local air travel market -- so much so that it now has about half the pie (depending on how you're baking it).
Southwest's big share of the market at ALB probably isn't great for competition. Something pointing in that direction: Officials made a big deal out of JetBlue's recent announcement that it would start some service out of ALB in 2015, in large part because it would add another competitor to the local market. (There's some evidence that fares do drop when JetBlue starts competing on a route.)
Another thing: Average airfares are rising generally, but if Southwest is raising its average fare faster than the national average -- its average fare was up 5.4 percent last year, compared to the overall national average fare increase of 1.8 percent** -- it will have a bigger effect here because Southwest represents such a large chunk of the local market.
*Passenger miles are the number of people on an airplane multiplied by the the distance the plane travels. So a plane carrying 10 people on a trip 100 miles in distance would rack up 1000 passenger miles.
**Not inflation adjusted.
Capacity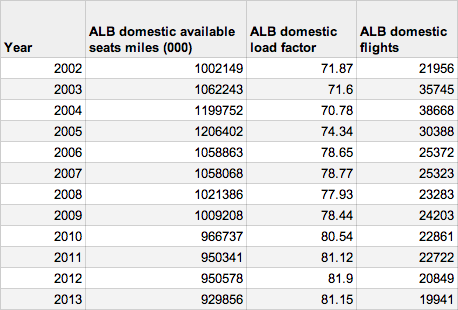 Source: USDOT Bureau of Transportation Statistics, T-100 Segment data.
Another factor in the price of airfare: supply. And the supply out of ALB -- that is, the number of flights and the number of seats available on flights -- has been declining over the last few years. The table above depicts some numbers related to that topic since 2002.
+ The number of seat miles* available out of ALB on domestic flights is down 23 percent since its recent peak in 2005.
+ The number of domestic flights is also down, more than 48 percent since its recent peak in 2004.
+ The "load factor" -- the percent of available seats used on all the flights out ALB -- has reached 81 percent for the last three years. A decade ago it was in the 70-72 percent range.
*Seat miles are like passenger miles (above), but for a seat on a plane -- whether it has a person riding in it or not.
The overall bottom line
So here's the super short version: The cost of a plane ticket out of Albany is high compared to the rest of the country's busiest air markets, though it's less so compared on a per-mile basis. And while Southwest appears to have prompted a big drop in airfare prices here during the last decade, prices have once again risen to a pre-Southwest-in-Albany price.
Hi there. Comments have been closed for this item. Still have something to say? Contact us.