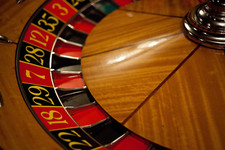 Because casinos. From the summary of a Fitch Ratings report projecting longterm trends for regional casinos, revenue growth for which Fitch concludes will "remain challenging":
We attribute this pessimism to longer term structural macroeconomic and secular factors. Notable factors include saturation across regional markets; stagnant wages among the lower tier players; reprioritization of disposable income; proliferation of online/social gaming; potentially lower propensity to gamble among younger generations; and lowered preparedness for retirement by baby boomers.
A recent Moody's outlook for the short term came to a similar conclusion.
Also: From a Capital today, a report that some of the applicants for the Hudson Valley casino licenses will be seeking property tax breaks.
Earlier on AOA:
+ A map of where casinos are already located in and around New York State
+ Scanning the summaries of the Capital Region casino applications
photo: Flickr user Håkan Dahlström (cc)