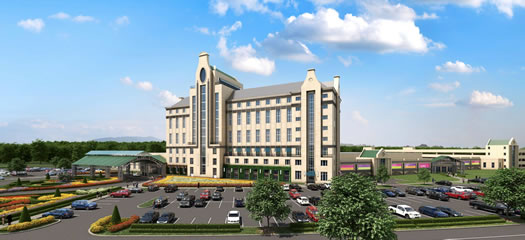 The state Gaming Commission has posted the executive summaries from the recently filed casino license applications. So we read through the summaries from the five proposed Capital Region projects and pulled out some bits that caught our eye. A quick scan is after the jump.
The teams hoping to win a casino license will give oral presentations to the state Gaming Facility Location Board sometime after July 21. And the state has said it's aiming to have selections by the fall.
For some perspective
To put some of the numbers below in context:
+ The highest seasonal attendance on record for the Saratoga Race Course is 1,049,309 (in 2003).
+ The list of the Capital Region's top-10 largest private employers starts somewhere in the 2,500-3,000 job range.
+ How big is a 70,000 square foot casino? Roughly somewhere between the size of the Albany ShopRite and the Price Chopper just up Central Ave.
+ How much is $200 million? Well, the Park South mixed-use redevelopment project in Albany is projected to cost $110 million. And the Albany Capital Center convention center is projected to cost about $67 million.
Best? Notable?
The quick-scan breakdowns below pull out "notable" passages and "best" arguments. These were just things that stuck out after reading through the summaries. Other things might stick out to you, and if so, please share.
Amsterdam casino (pdf)
Backers: Florida Acquisition Corp/Clairvest Group (a private equity group)
Project cost: $200 million-$225 million
Jobs projection: not mentioned
Proposed amenities: casino, 100-room hotel, 140-seat "premium casual restaurant," 300-seat buffet, 150-seat food court, 200-seat live entertainment lounge, meeting space, day spa, coffee shop, farmers' market, 100 residential units. Two other phases include 200 additional residential units.
Estimated annual draw: not mentioned
Estimated revenues: not mentioned
Notable passage:
In order for the development to be economically feasible for the Applicant, Clairvest and GCGC, there is a need to find a savings or deferral of $25 million for the Applicant against the $50 million License Fee.
The backers of this project have already had the state Gaming Commission reject one proposal to trade part of the license fee for a bigger cut of revenue in the future. That they're still stuck on this problem doesn't appear to be bode well for the project.
Best argument made: They're Canadian?
Capital View Casino & Resort (pdf)
Backers: Churchill Downs Incorporate and Saratoga Harness Racing Inc.
Project cost: not mentioned
Jobs projection: 1,000+ casino jobs / about 1000 construction jobs
Proposed amenities: 70,000 square foot casino floor with 1,506 slots and 56 tables, a high-end Mazzone steak house, a 120-seat bar, a 500-seat "multi-function Special Events Center," retail space, 100-room hotel
Estimated annual draw: not mentioned
Estimated revenues: not mentioned
Notable passage:
Some may argue the Capital District is doing well, and by some standards it is. But one need look no further than the cities of Albany and Troy to see the heartbreaking poverty that a project such as our own can help alleviate. The City of Albany with a population of 97,856 has 25.4 percent of its citizens living below the poverty line. The City of Troy with a population 50,129 has an unemployment rate of 7.4 percent and 25.9 percent of its citizens living below the poverty line. Even our host community of East Greenbush, which on the surface appears prosperous, has pockets of distress such as Prospect Heights and Hampton Manor, where the aging infrastructure and East Greenbush's financial distress have delayed and defeated efforts at revival.
One of the selection criteria is that the casino could potentially help an economically challenged area, so the proposal is trying to address that topic -- while siting the casino in a town with a median household income of roughly $76k/per year and a poverty rate of 4 percent. (Figures from Census Bureau 2012 5-year estimates.)
Best argument made: Jobs for people nearby, including a projected $39.2 million annually "in wages paid to local residents."
Hard Rock Hotel & Casino (pdf)
Backers: NYS Funding LLC, Och-Ziff Real Estate (private equity group), Seminole Hard Rock Entertainment, Global Gaming Consutling, FMI
Project cost: $280 million
Jobs projection: 1,638 "direct and indirect" jobs - 967 direct construction jobs, 393 indirect construction jobs, 900 casino facility jobs
Proposed amenities: casino with 1,500 slots and 50 tables, off-track betting, 100-room hotel, Hudson River Boardwalk, 250-seat Hard Rock Cafe and stage, upscale steakhouse, casual dining venue, bar.
Estimated annual draw: not mentioned
Estimated revenues: $260 million
Notable passage:
As has been well documented, the East Coast gaming market is becoming increasingly saturated. Accordingly, it is critical for the Capital Region to have a gaming facility that will not simply be another "locals' casino" -- i.e., a commodity product that will compete for customers based mostly on convenience instead of providing world-class amenities -- since these cookie-cutter "locals' casinos" are highly susceptible to performance declines in the face of increased competition.
Best argument made: Recognizable brand in a prime waterfront location.
Howe Caverns Resort & Casino (pdf)
Project cost: $330 million-$450 million
Jobs projection: 3000 construction jobs / 1,700 ongoing
Proposed amenities: 1,200-1,500 gambling machines, 35-60 table games, 254-room hotel, 3 restaurants, convention and banquet facilities, pool and spa. Also: 55,000+ square foot "state-of-the-art" indoor waterpark, 250-room hotel with suites for families, 1.25+ acre outdoor waterpark, arcade/game/entertainment park, 3 restaurants.
Estimated annual draw: 1.265 million people in year one for casino / 256,000 for waterpark
Estimated revenues: $158 million casino and hotel in year one / $23 million for waterpark
Notable passage:
The board will now be regaled with data and analysis which extracts Newton's laws of gravitational pull, applies them to modern human behavior, and spits out some conclusions and forecasts regarding prospective gaming revenues. Our concept is an extraordinary factor that will stretch the gravity model, if not turn it partially on its head. We are proposing the pair a Gaming element with a true Co-Anchor to our Resort in the form of a family-oriented, Destination sized and quality Waterpark Resort. The type of facility we have conceived will more than triple the geography of the primary market versus a plan with resort centered around gaming alone. No earnest gaming study will assert an outsized magnetism from out of market, out of state patrons to a Region 2 site and we have been steadfast in retaining a realistic view of our gaming business proposition. We want to do something more. We need to do something more. The Destination Waterpark model still lacks a presence in our region. It is proven to pull significant visitation, from an affluent patron, out to a 180 mile radius from the site. This expands the mileage of the primary market by nearly 3 times, but, moreover, the population target audience by 40 times. It just makes mathematical sense. It just makes common sense. It just makes business sense, for ourselves and the State alike, to seek to do something more than a Casino, but that something must be a true and proven wider draw. We have the model and we are committed to carrying it out. Our substantive discussions with leading developers and operators of like facilities are met with unfettered enthusiasm.
We think that means casino + waterpark is better than just a casino. But there might calculus involved with which we're not familiar.
Best argument made: The summary argues that the Howe Caverns casino location is the "least cannibalistic proposal" of all the sites in that the casino will have the smallest impact on the Saratoga racino. And it will be located on the opposite edge of the region from the proposed large casino in Springfield, Massachusetts.
Rivers Casino & Resort at Mohawk Harbor (pdf)
Backers: Rush Street Gaming, The Galesi Group
Project cost: $300 million
Jobs projection: approximately 1,200 in "a wide range of positions"
Proposed amenities: 50,000 square foot casino with 1,150 slots and 66 tables, high-end steakhouse, casual dining options, entertainment lounge, banquet facility, day spa, 150-room hotel.
Estimated annual draw: 2.8 million new visitors per year
Estimated revenues: $223 million by the third year
Notable passage:
During public testimony, many parents cited job scarcity as the reason young people have moved away. The Schenectady City School District is the 6th poorest in New York State and 20.3& of children in Schenectady County live in poverty. Rivers Casino & Resort at Mohawk Harbor will help keep talent from leaving and will employ approximately 1,200 people in a wide range of positions. [Rush Street Gaming] is committed to building a long lasting partnership with Schenectady County Community College, located less than one mile from the site, and its Casino and Gaming Management, Culinary Arts, Hotel and Restaurant, Hospitality and Tourism programs.
Best argument made: Rush Street Gaming has a track record with projects in cities such as Pittsburgh and Philadelphia.
____
Earlier on AOA:
+ Map quiz: surrounded
+ The casino wheel keeps spinning
rendering: Capital View Casino & Resort
Hi there. Comments have been closed for this item. Still have something to say? Contact us.