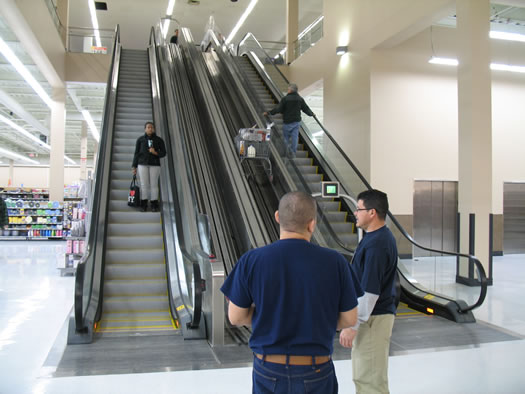 With the news that Walmart is planning an enormous (technical term) new supercenter at the Latham Circle Mall redevelopment, we were curious about how Capital Region supermarkets compare in terms of square footage.
So we looked up a bunch of examples.
A table with the results, and big graphical comparison, along with a few notes and thoughts, after the jump.
A sampling of Capital Region supermarket sizes
We picked these locations because we figured they either illustrated the local range of stores and/or help provide some point of reference. (Note: The Walmart supercenters sell many products beyond just groceries.)
Graphical comparison
It's above in large format -- click or scroll all the way up. (It's just a comparison of square footage -- it does not represent the actual shape of the stores.)
A few things
+ That those Walmart locations top this list isn't surprising -- the stores sell all sorts of things in addition to groceries. But their square footage compared to the other stores does give some sense of how (really, really) big they are.
+ On that note, the supermarket-only version of Walmart -- the "Walmart Neighborhood Market" -- is just about 40,000 square feet, much smaller than the supercenters.
+ While the super large big box has gotten so much attention over the last decade or so, there also appears to be a trend (or perhaps a representation) of the not-so-big store. The Walmart Neighborhood Market mentioned above, the relatively new Malta Hannaford, Healthy Living, Honest Weight, and the in-construction Whole Foods are all in the 30,000 square feet range. Even the in-construction Watervliet Price Chopper -- the subject of so much drama because of the St. Patrick's demolition -- is kind of on the smaller side, 40,000 square feet. That's not really all that big.
There's an ongoing low-level buzz for supermarket options in some of the Capital Region's urban areas -- like downtown Albany. We wonder if the apparent trend -- if that's what it is -- toward not-so-big stores makes that more of a possibility. Because no company is probably ever going to drop a 100,000 square foot store in downtown Albany. But a 15,000 square foot store? Maybe...
+ This comparison also highlights how tiny Trader's Joe's is compared to most other stores. And in our experience of shopping there, that's one of the best things about it -- as long as you can dodge all the people gawking spicy-tahini-sesasme-apricot whatever, the store is a quick through trip.
Notes
In some cases numbers are rounded, and many of these are bound to not be exactly corrected. Numbers were pulled from a range of sources, including the Record, the Biz Review, TU, LoopNet, and company press releases.
____
Earlier on AOA:
+ 180,000 square feet
+ The big box gets smaller
Hi there. Comments have been closed for this item. Still have something to say? Contact us.