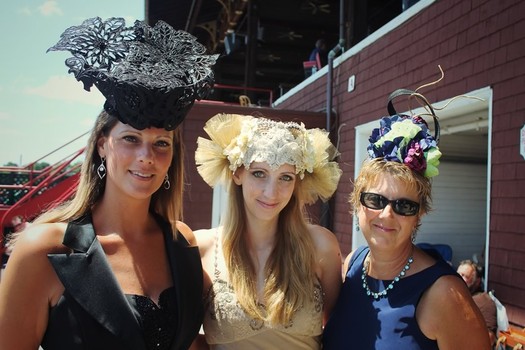 By Kaitlin Resler
Once again the ever-stylish Kaitlin Resler was AOA's representative on the judges' panel for the Saratoga Race Course's hat contest, which was this past Sunday. Here's her recap -- with photos -- of the annual Saratoga event.
I've just started to get those pangs of worry that summer is moving fast, that it's going to be over any minute, and then I realized that track season in Saratoga just started, and there's plenty of time! That's really just the summer activity touchstone that marks the height of summer, mid-July and all.
This past Sunday I got to judge the hat contest again, with a little more insight into what to expect (last year was my first time at the contest, and my first time to the track since I was a little kid!), and yet was still blown away by all the contestants!
There are a bunch of photos above in large format -- click or scroll all the way up.
This year it seemed there were a few less entries than last (last year was the 150th anniversary of the track, so it was a pretty big turn out), but it was still a well attended event. It was hot, but not too hot, sunny with fluffy cartoon clouds, a perfect day to mill around. In between popping into the booth with fellow judges Leigh Hornbeck from the Times Union and Heather from 103.1, I took a few walks to take some quick snaps of a few entries.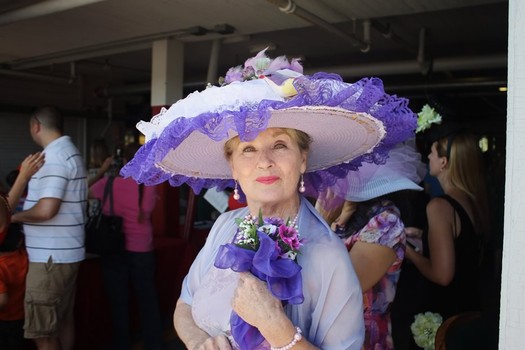 One of the first people I gabbed with was Donna Cerasuolo, in an outfit that was perfectly coordinated with her hat, she ended up placing in the 'Fashionable Saratoga' category. From Gloversville, Donna crafts hats often, letting the hat design come forward as it evolves (this is her second year entering the hat contest) and shares her creations in a display she titles "Waltz of the Hats," a reference to her dancing years!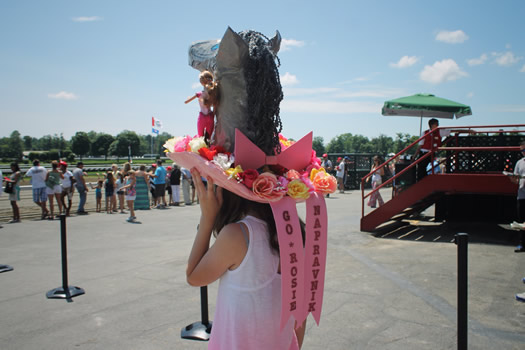 One of my favorite hats was in the kid's entries, by Shay Tracey, in a hat she also made herself! Shay enjoys riding herself, and her hat was themed in support of Rosie Napravnik, the only female jockey this year. This is her first year entering the hat contest, and she ended up placing in the kid's category!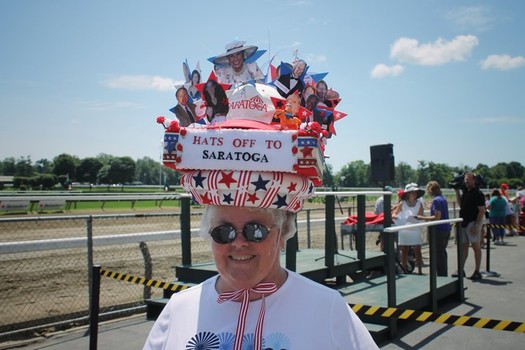 Not in the contest, but sporting a pretty amazing hat in support of Saratoga and the contest, Kathleen "The Hat Lady" Christopher made her hat out of foam shapes (saved by friends over the years--her hats have won the contest 4 times, some worn by her and some by her son or husband) and pictures of interesting or famous personalities -- all centered around a baseball hat sporting signatures from all the people pictured!
It was really hard to miss the tall, shiny, trophy-like pagoda hat that surfaced around the area every now and then. 2014 is the year of the horse, according to the Chinese calendar, and for her 3rd year entering the contest, this one was one of the winners for the "Uniquely Saratoga" category!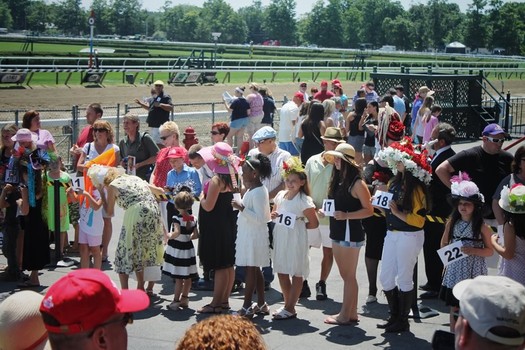 Judging this is always pretty hard, so many people put so much effort into their designs (one girl had dry ice in her hat so that the horse on the top appeared to be leaving everyone in it's dust!), and the creativity really shines. Lots of fashionable options show up--fascinators seem to really be the thing lately, along with a few vintage confections (always a favorite with me), and of course sun hats float around in abundance.
One of the sole male entries sported an outfit, bordering on armor, built out of Coors Light boxes and cans -- he was a huge crowd favorite, but in the end we chose entries that really seemed to illustrate the "Saratogian" aspect of the contest. Another of the winners popped up on her pointe shoes, which also circled her hat, a nice reference to the ballet and ballet shoes adorning Broadway downtown.

The whole day was a real blast! The contest always draws a good mixture of first timers--some from far away, many from local areas--and really has a great sense of fun and camaraderie. I only got the tiniest sliver of sunburn, met some more great local people, made sad eyes as we left without a Shake Shack burger (next time), and was totally inspired to step up my hat game!
Kaitlin Resler writes about all the pretty things at All This Happiness
Earlier on AOA:
+ Photos from Hat Day 2013 at Saratoga
+ Shopping Hudson with Jess and Kaitlin
Hi there. Comments have been closed for this item. Still have something to say? Contact us.