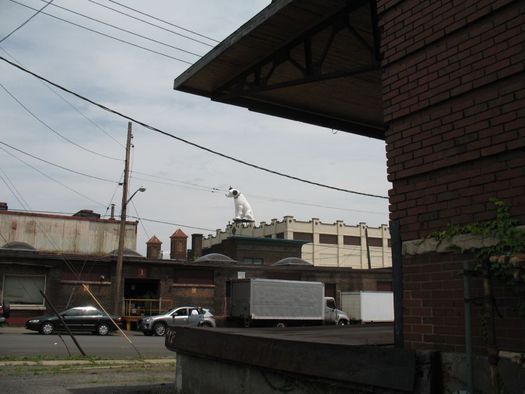 The recently announced project to develop plans for reusing a handful of historic industrial buildings around the Capital Region -- and specifically, a very early plan for a restaurant/residential conversion on Broadway in Albany -- got us thinking (again) about Albany's warehouse district.
It's one of those areas that might necessarily jump out as a place with notable buildings, but there is interesting architecture there. And the neighborhood might have a lot of potential.
After the jump, a photo tour -- and a few thoughts on that potential.
Where are we talking about?
It's the area in north Albany, along Broadway and North Pearl, roughly from the railroad overpass on Broadway (south end) to the I-90 overpass (north end).
Photo tour
It's above in large format -- click or scroll all the way up.
A few thoughts on the potential of the warehouse district
Momentum
As you know, there's already a strip of offices and restaurants in this neighborhood: Wolff's, Sciortino's, Stout, Barrel Saloon, Nine Pin, as well as a few office buildings. And Druthers is planning a brewery a few blocks up Broadway.
That seems to have people eyeing this neighborhood for further development. The owner of 960 Broadway -- the Rodger's Liquor Building, a block north of Wolff's strip on Broadway -- told us the restaurant development already in place made him optimistic about converting the building to restaurant/residential.
And Matt Baumgartner, a savvy business person with a track record of being able to see potential, has been touting the area for the last few years (not to mention that he's invested there via Wolff's and Sciortino's).
Residential
Residential is something largely not present in the neighborhood at the moment (though there is some). But one of the consultants working on the Impact Downtown Albany plan said last November that 1,000 residential units in the neighborhood looked like something that might be possible.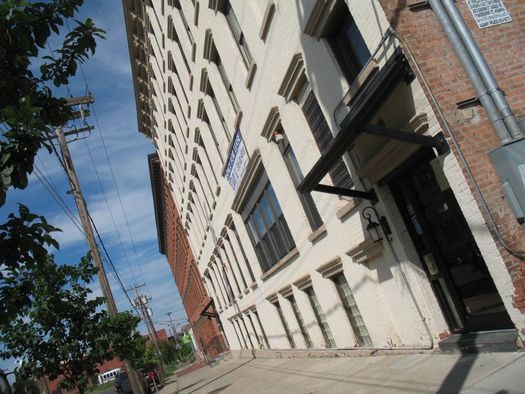 Offices along Broadway.
The feel
The talk about the residential/restaurant/retail-type potential of the neighborhood is a little bit funny, though, because the current vibe of the neighborhood is very much not that. The area is full of light industrial and related service businesses: stone cutters, auto shops, moving and storage companies.
At the same time, a walk through the neighborhood makes its potential a bit more clear. The buildings and blocks have a really nice, welcoming scale. The landscape is flat. And there's a big enough area to potentially pack in a lot of different types of uses without the neighborhood feeling too cramped.
Industrial to... something else
The switch from industrial to residential/retail might not necessarily be an obvious one, but it's happened in many other cities. The DUMBO neighborhood in Brooklyn is one of the most famous examples. (That's not to say that Albany is like Brooklyn or New York City. There are some big differences. Obviously.)
And there are some good reasons a city and/or property owners might encourage such a flip, maybe the foremost being that many old industrial buildings are no longer suited to be industrial buildings. What made old industrial buildings useful in their time -- multiple levels, relatively narrow floor plates, lots of windows for light -- now make them not useful for modern industrial processes. But it makes them potentially attractive for other purposes, residential especially.
The Harmony Mills buildings in Cohoes are a good example. They were once one of the nation's most high-tech factories -- in the 1860s. But the buildings are unsuitable for modern manufacturing. They seem to have worked out well as apartments, though. Downtown Albany is another example of buildings not meeting the modern needs of their original purpose -- though in that case it's offices instead of industrial. But again, those old buildings appear to make good apartments.
So, residential/restaurant/entertainment/retail/whatever could be a good next life for vacant or underused building stock in this neighborhood.

The Adam Ross Cut Stone business dates back to 1889.
But...
Just because this neighborhood could potentially flip to a more residential state doesn't necessarily mean that it should.
This general area has a long history of industrial-type uses. And there are currently many businesses operating in the neighborhood. Presumably they're there because the site works for them. (In fact, one of the city's oldest businesses is currently located on Broadway right near Nipper.) These businesses are jobs and tax base. They shouldn't necessarily be chased out just because of some desire to create a DUMBO for Albany.
If the neighborhood does continue to move toward a more residential-type state, there's bound to be friction. Because residential (pedestrians, parking demand, people wanting to sleep) doesn't necessarily pair well with industrial (big trucks, loud noises).
So the situation could prompt some interesting questions for the city, because it will have a role to play with regard to zoning and variances. Just last year the Board of Zoning Appeals rejected a variance request from a project -- a music venue -- that would have pushed the neighborhood more in the direction of entertainment and residential.
If momentum continues to carry the neighborhood in its current direction, the city will face more of those choices.
Hi there. Comments have been closed for this item. Still have something to say? Contact us.