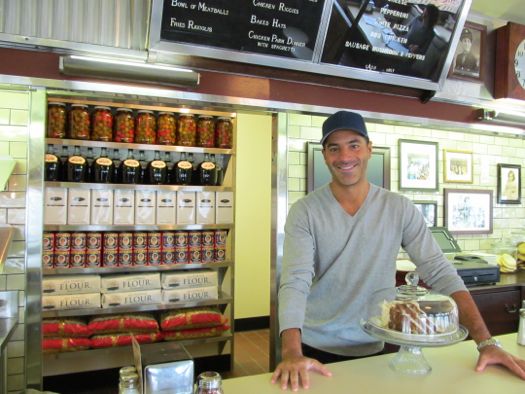 At first glance, the old diner car still looks like the Miss Albany -- well, a scrubbed and polished version of the Miss Albany. The booths are the same - the classic diner floors, counters and tile. But the walls are the first give-away that you're not in the Miss Albany anymore.
The famous signs warning patrons about unruly children have been replaced by classic old photos. They're from the families of Matt Baumgartner and his business partners, Jimmy and Demetra Vann. Sciortino's is named for Baumgartner's mother's family -- specifically for his grandparents, Frank and Rachel Sciortino, whose pictures occupy a prominent space behind the front counter.
The latest in Baumgartner's string of Capital Region business ventures -- and his continuing effort to bring life into to Albany's warehouse district -- opens on Wednesday.
Here's a look inside...
About Sciortino's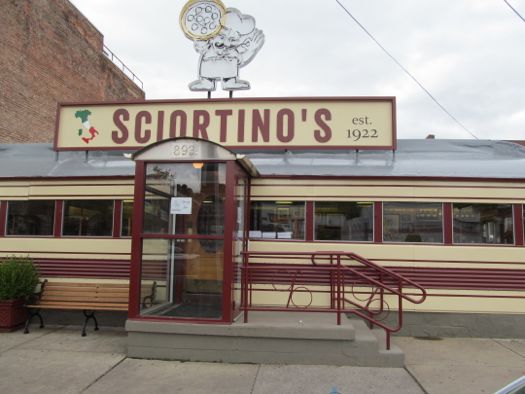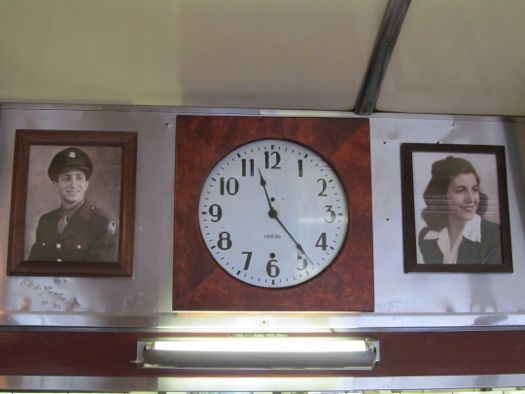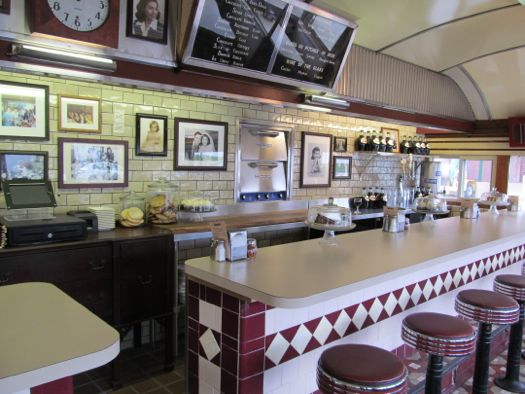 Sciortino's simple menu is composed of a few pizzas and a small variety of Utica delicacies such as tomato pie and chicken riggies -- another homage to Baumgartner's family (he grew up in Utica).
"Utica, New York has its own sort of food thing going on. There are menu items from Utica that you don't find anywhere else -- the chicken riggies, the baked hats, tomato pie for sure," he says. "The pizza frite is what my grandmother made like non-stop for festivals at her church -- it's fried dough."
The recipes are all handed down from his family. "It's my mother's sauce recipe," he says of the simple slow-cooked meat sauce they'll be using.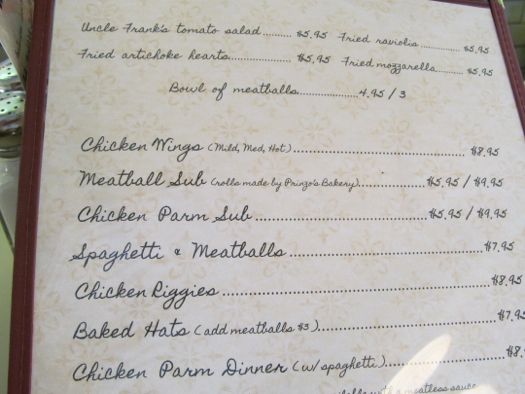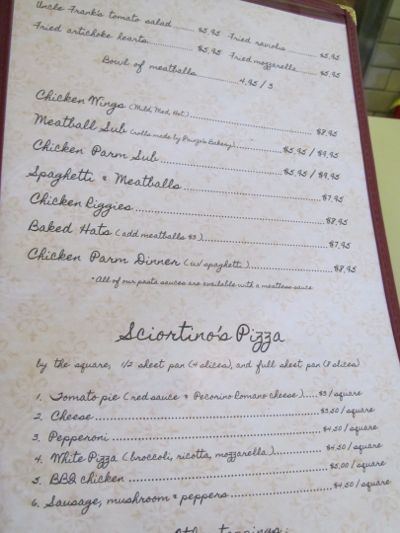 Another homage? The shelves of Carlo Rossi jug wine.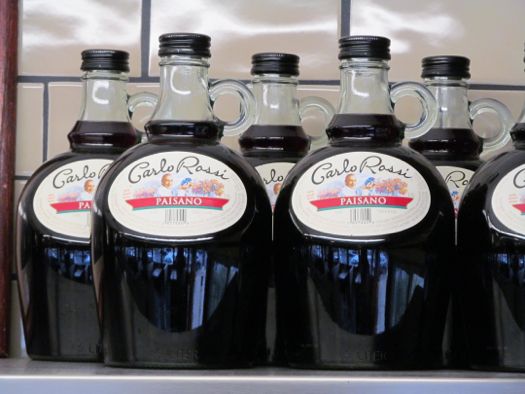 "That's what my grandparents used to drink," Matt says, "and that's what Demetra's parents used to drink. That 's what everyone drinks in Utica -- cheap jug wine."
He says he expects to take a ribbing about it, and if people really want other wines, he'll consider expanding, but for now, that's what they'll serve -- in addition to beers such as Utica Club, Brooklyn, Peroni, and Saranac.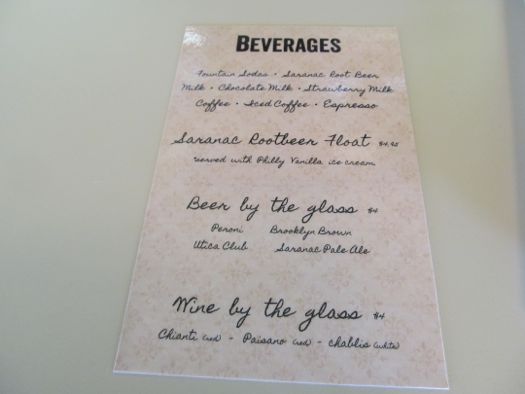 Sciortino's also will also put a focus on dessert, with cheesecake from Cheesecake Machismo, cakes and cupcakes from Averill Park's Pie Squared Bakery, and Saranac Root Beer floats.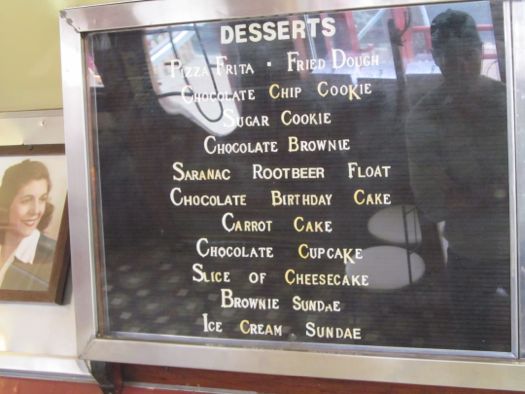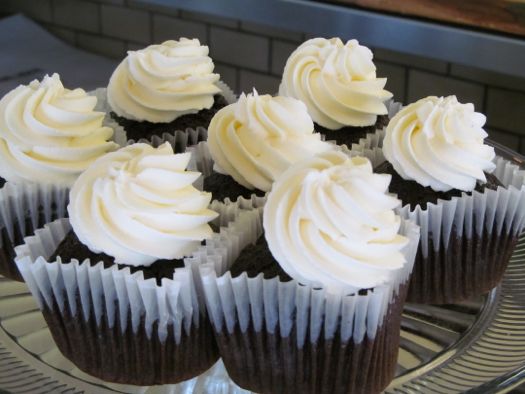 Matt says he's hoping Sciortino's will be a place that families come, in addition to the late night and business lunch crowd. "I want people to feel like this place has been around here for a long time. For people who want something that isn't a chain restaurant. Independently owned -- old fashioned."
He says he's very close to his own family, especially his late grandfather, who was thrilled to know about the name and theme for the new restaurant. "It feels great to come in here and see all the pictures on the walls."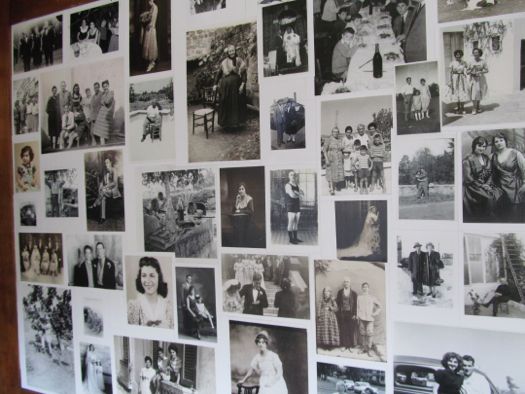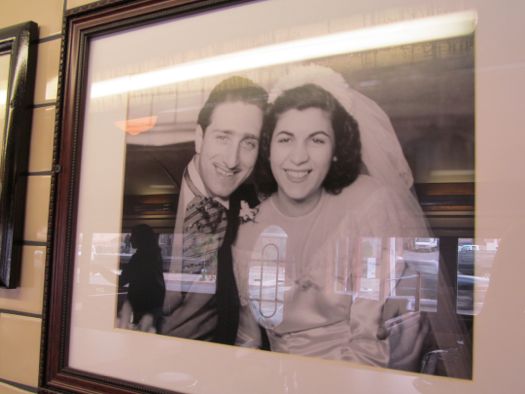 A vision for Broadway and Albany
Sciortino's joins two other Baumgartner establishments -- Wolff's Biergarten (right next door) and the Olde English Pub -- on Broadway in Albany.
Baumgartner says he didn't necessarily have a vision for that section of the city when he and his business partners opened Noche in 2005 (the upscale lounge didn't work out, and the space was turned into Wolff's in 2009). But it's pretty clear that he has one now.
"I firmly believe this is going to be a really bustling part of Albany -- it is already. If you come down here at night it's like full-on, cars all over the place," he says. "It just has a nice feel -- Broadway is so wide and when you see the RCA dog it's cool. All those buildings so tight along the street -- I think are really beautiful. It just has a old-fashioned feel down here . There's space, parking, great old buildings. All these buildings are for sale and there are all these rumors now about people to put in restaurants and whatnot."
He's invested a lot in the area -- he also lives in a loft near Wolff's and Sciortino's -- and he says he really believes in the potential of all of Albany, not just the warehouse district.
"I think the growth on Delaware Avenue was also important. Being able to go to New World Bistro and go see a movie at The Spectrum -- I'll take that experience over any in the country -- that feels like the experience I want when I live in Albany. And then I come down here and I go to the beer garden I get another experience -- but it should be like that. When you go to New York, you go to different neighborhoods and get a different feeling and you choose where you want to live based on that feeling."
What would he like to see on Broadway next?
"Well, more housing, of course. To turn a lot of these great buildings into cool residential spaces would be great. I think we have every box checked for Albany -- I think it's a great place to live. But I think we could do a better job of attracting people who didn't live here that go to school here, that are from bigger cities, and keeping them here with things like interesting housing, interesting bars and restaurants, and neighborhoods you can' find in any other cities. Otherwise we're going to lose out to the Austins and Bostons and the Philadelphias of the world. We need to compete with them and to create a lifestyle to keep them here. I think it's a slow build, but it's coming."
Also: he wants a Cuban restaurant on Broadway. "A fun, loud, amazing Cuban restaurant. Something with real vintage appeal, with really great drinks and great Cuban food."
If no one else opens it, will he?
He laughs, "Who knows?"
____
Earlier and elsewhere:
+ Last week's Metroland included a profile of Matt Baumgartner and his various projects
+ As you well know, Matt is also the owner of Bombers, in Albany and Schenectady. Construction on the franchised location in Troy started this summer. [Biz Review]
+ Miss Albany Diner building sold to Matt Baumgartner and partners
+ To: Roy McDonald, From: Bombers and Matt Baumgartner, Re: marriage equality
+ Interesting in 2009: Matt Baumgartner
Find It
Sciortino's
893 Broadway
Albany, NY 12207
Hi there. Comments have been closed for this item. Still have something to say? Contact us.