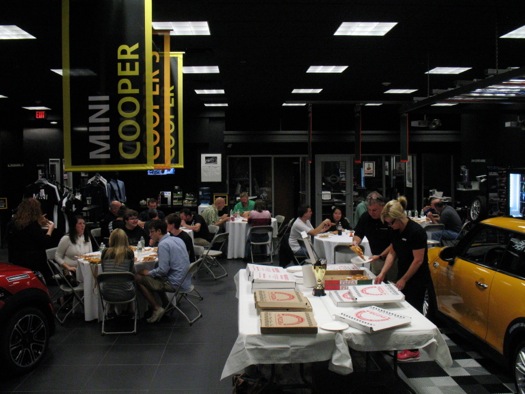 We have arrived at the semifinal of the 2014 Tournament of Pizza, sponsored by Keeler Mini. And it's shaping up to be quite a clash.
This year's all-champions format has resulted in four past overall tournament winners meeting in the semifinal: 5th and 50 of Scotia (tournament champ in 2011), Marino's of Schenectady (2010), DeFazio's of Troy (2013), and Marisa's Place of Guilderland (2012).
The TOP semifinal is a contest with two legs, each pizzeria offering up a pizza for each leg of the contest (so two pizzas from each shop, eight pizzas total). The two best aggregate scores advance to the final.
And the theme for the first pizza match: "classic." The shops were given this prompt and allowed to interpret it however they wanted in deciding which type of pizza to make.
Let's head to the Keeler Mini showroom to see how things turned out...

A quick note about how all this works:
Unlike in years past, the judging this year's TOP is not blind. Pizzas are scored in four categories: crust, sauce, toppings, overall taste. The scores from the judges -- each matchup is scored by a panel of 4 or 5 judges -- are combined and pizzas are scored on a 0-100 scale.
The scene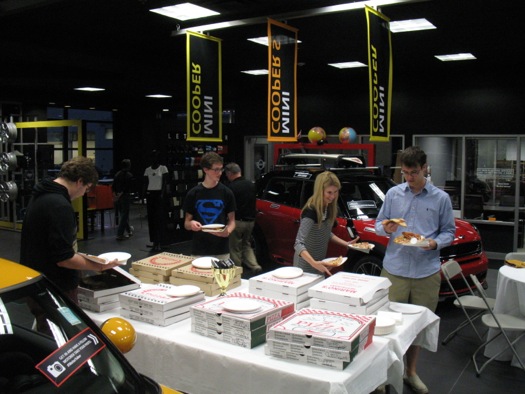 The pizza tasting was on the showroom floor. A handful of people picked via Keeler's Facebook page were invited to taste pizza. (They did not contribute to the scoring, though.)
The "classic" pizzas
5th and 50: Greek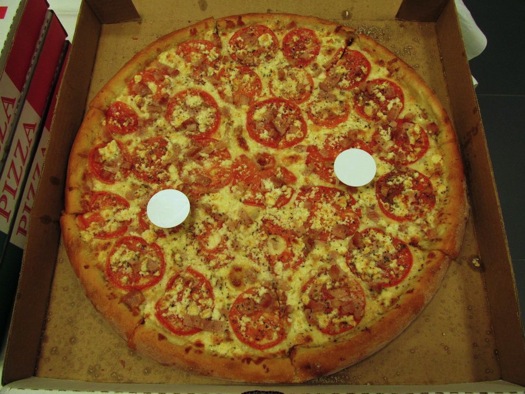 Marino's: Margherita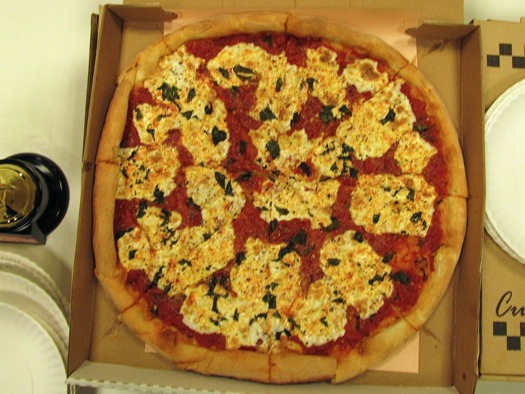 DeFazio's: Sausage, peppers, and onions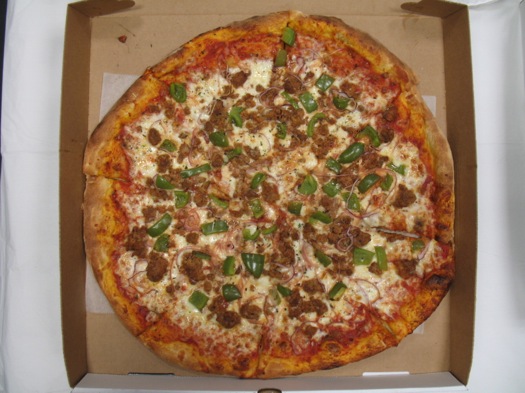 Marisa's Place: Margherita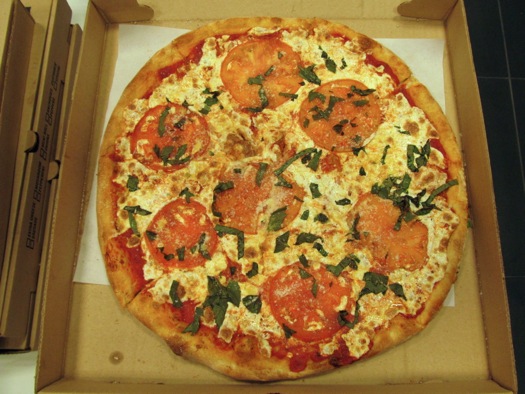 Scoreboard

Post game
A close match! Two shops have put themselves ahead, but no one shop is clearly dominating the contest at this point!
5th and 50
It's probably fair to say the judges were intrigued by 5th and 50's offering of "Greek" pizza, with feta, tomato, bacon/ham, and herbs -- it was a bit of a different spin on the idea of a "classic," but as one judge noted of the ingredients, "they worked together." The judges weren't big fans of the crust, though, describing it as "very bready" and "tough." One judge described a "sweet burst" from the tomatoes and another called them "bright." One judge called the feta "delightful." And the ham was described as "meaty," with one judge noting it evoked a kind of "breakfasty" taste "like an omelette." The ingredients added up to a pizza that was, in the estimation of many judges, salty. That worked for some, and not quite for others -- one called it a "salt bomb."
Marino's
Marino's "Margherita" pizza didn't pile up the points on its crust -- judges commented that it had nice color, but had apparently toughened during transport because it was "a little tough to chew." Marino's sauce fared much better. The judges raved about the "chunky" sauce -- "the most tomato flavor on a pizza," "great homemade taste." The judges seemed to appreciate the flavors of fresh mozzarella and basil, though a few noted that the mozz maybe hadn't traveled well as it had toughened a bit and wasn't stringy enough. Overall, though, the pizza scored well and as one judge commented, "the sauce stole the show."
DeFazio's
In contrast to the first two shops, DeFazio's scored big points with the crust on its "sausage, peppers, onions" pizza. The "well done" crust had "good color" and "slight char on the bottom" and a judge described its flavor as "sweet, yeasty, doughy." The other elements did OK. Judges noted a "chunky," "salty" sauce that some would have liked to see more of on the pizza. The toppings were described as "top notch" with the vegetables maintaining "a slightly firm texture" (one judge wanted the peppers cooked a bit more). The judges thought the sausage had good flavor, though a few looked for that flavor to push through the others a bit more. Said one judge, "Could have been great, but it needs a bit more oomph." Overall, it won solid praise. Concluded one judge, "I don't like green pepper, but I liked this slice."
Marisa's Place
Marisa's was the other shop to offer a "Margherita" pizza and it posted solid scores. Judges described the crust as "airy and crisp" with "nice flavor." The sauce was "very fresh tasting," "sweet, but [with] a nice balance," though a few judges thought it was applied a bit too lightly. Judges liked the interplay of parmesan cheese ("sharp, briny") with the "nice contrast" of the basil and sauce. If there was a part the judges thought didn't quite measure up, it was the tomato slices, which one judge commented "just weren't there with ripeness." And again, there were comments about fresh mozza not traveling well.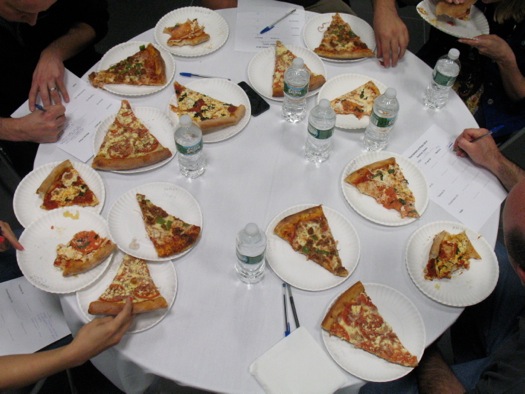 Up next
Marino's and DeFazio's have set themselves up as the early leaders, but not by wide margins. On Wednesday we'll see if they can hold onto those leads in the second leg of the semifinal.
The 2014 Tournament of Pizza is sponsored by Keeler Mini
Earlier in the 2014 Tournament of Pizza
+ TOP2014: RD1: DC's vs. Marisa's Place
+ TOP2014: RD1: I Love vs. DeFazio's
+ TOP2014: RD1: Mario's vs. Marino's
+ TOP2014: RD1: Mama Mia's v 5th and 50
+ TOP2014: Meet the judges
+ Tournament of Pizza 2014 field