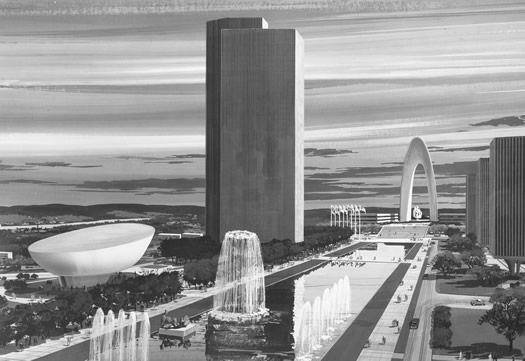 One of the things we like about flipping through old architectural renderings is seeing the things that were proposed and, for whatever reason, never ended up being built. Because sometimes there's some out-there stuff.
An example we came across today in UAlbany's online photos archive: Renderings of the Empire State Plaza that show some sort of arc spaceship-type-thing where the State Museum now stands. One of the images is above.
There renderings are part of a small group showing what the then-not-constructed ESP could have looked like. Here are the renderings, along with a few things that struck us about them...
Here's a link to the photos in the online archive, which include a function for zooming in. The images are relatively high resolution, so you can see a lot of things when zoomed in.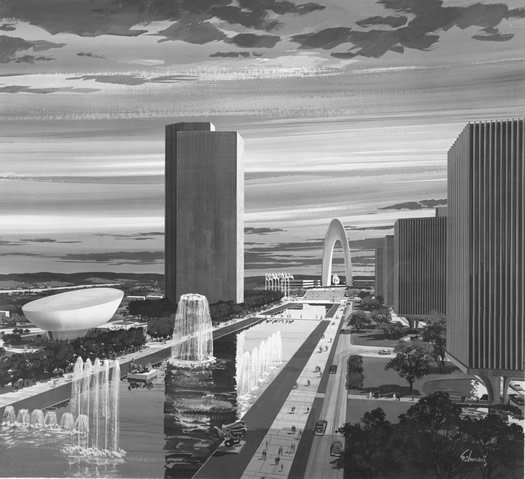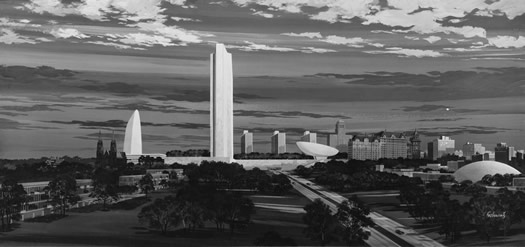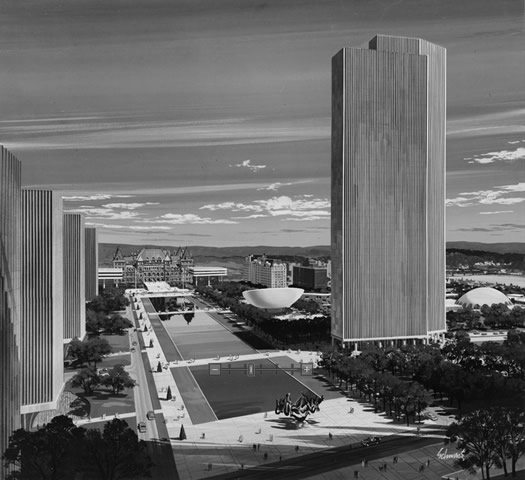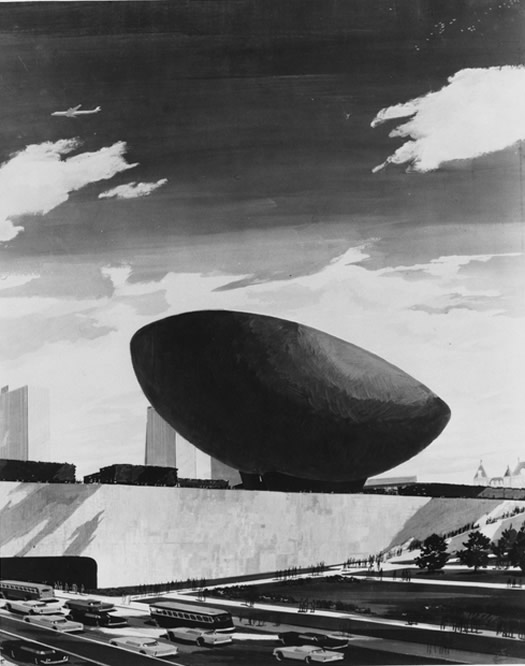 + These renderings appears to be in line with the designs in the 1963 Albany comprehensive plan. (Notice what appears to be the arc shadow in the comprehensive plan image.)
+ That dome structure outside the plaza to the northeast looks like the convention center proposed in the comprehensive plan. It's pretty much the site of the TU Center today. (And it's kind of funny that the actual Albany convention center will be not too far from there.)
+ We've seen renderings with cars on the ESP before, so that wasn't surprising. But we did take note of the way the renderings appear to make the ESP more connected to the surrounding area. Sure, there's still a fortress quality about the plaza, but there are also elements like the long pedestrian ramp leading people down to the base of the huge wall on the east side of the plaza.
+ The designs very much evoke Brasilia, even more so than the designs that were built.
One more: This rendering doesn't have the museum arc (or whatever it would be called) -- it has something more along the lines of the actual State Museum -- but we thought it was worth a look.
Images from the M.E. Grenander Special Collections and Archives at UAlbany
Earlier on AOA:
+ Albany, in an alternate future
+ Albany's reflection of Brazil
+ The highway that was almost buried under Washington Park
+ 98 Acres in Albany
Hi there. Comments have been closed for this item. Still have something to say? Contact us.