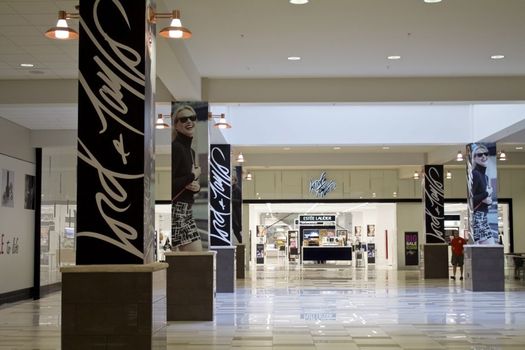 By Lauren Hittinger
I enjoy shopping. And though there are spots that I love in the Capital Region, I've been a bit underwhelmed with the overall range of options for clothes shopping here.
In my experience there's a rather lackluster diversity of styles, and what is available is often disappointing, especially for items that might skew a bit more toward younger women and men. And the few good places are spread out, so if you're shopping for something specific to wear to an event, you have have to travel to multiple different locations around the area. I usually don't have time for that, so I end up browsing at one shopping mecca and leave disappointed.
So, with all that in mind, I was excited by the announcement that Lord & Taylor was moving back to the area. A little competition and invigorated selection is always good for shoppers, right?
The store has been open for a few weeks now at Crossgates, and I figured it was a good time to check it out to see if the store matched all the hype.
Fast facts
+ Location: Inside the middle of Crossgates Mall, on the Washington Ave Ext side, in the spot formerly occupied by Macy's (before Macy's moved to its location at the end the other end of the mall).
+ Size: 100,000 square feet across two levels
+ Parent company: Hudson's Bay Company, which is the oldest commercial corporation in North America. It also owns Saks Firth Avenue.
+ Albany history: Lord & Taylor was formerly in Crossgates from 1994 to 2005.
The look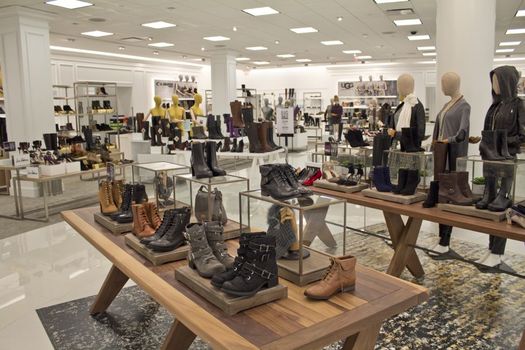 The store itself is quite beautiful and extremely bright. It's very open and uses a lot of light-colored tiles throughout (the aesthetic was modeled on a store in Boca Raton, Florida). The store fits within the renovated parts of Crossgates, which is in the process of updating its interior look.
The Lord & Taylor displays are purposely set up boutique style, with fewer clothing items on the racks. It makes each article of clothing seem more appealing, because you don't need to dig through a large stack.
Photos
There are a handful of photos from the store above in large format -- click or scroll all the way up to see them.
The brands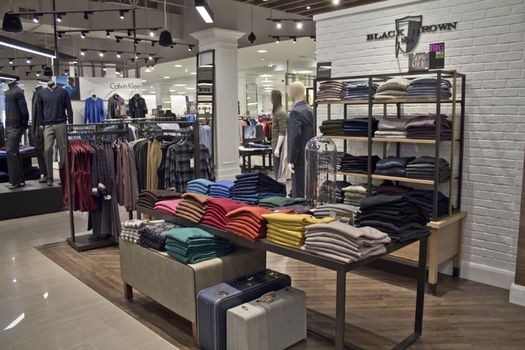 Lord & Taylor carries a range of designers that reachs from the middle of the market to the luxury end. Some brands -- like Michael Kors, Coach, and Calvin Klein -- can currently be found in this area at places like Macy's. But Lord & Tyalor also has some brands that are not well represented presently, like Kate Spade, Hunter Boots, BCBG, True Religion, and Frye. It also carries house brands 424 Fifth and Black Brown 1826, and its the only department store to carry William Rast, Justin Timberlake's clothing line.
Prices
The prices at Lord & Taylor reflect that of a luxury department store, and they looked to be a bit higher than some of the other anchor stores in Albany. I saw women's shirts for $90, and dresses priced anywhere from $120 to $350+. There were some items marked down slightly, but the sale selection will increase as the store continues.
What's unique?
In addition to the brands offered by Lord & Taylor, it's also trying to impress with store services. Among them: an in-store personal shopper, Blair Brodar, who has an exciting history -- she's dressed celebrities such as Lady Gaga and Naomi Campbell for red carpet appearances. She can help restyle your entire wardrobe, or just select a special garment for an event. The store also has a spa treatment room where you can try out cosmetics and treatments in private. Both of these services are complimentary, but require appointments.
Why a return to Albany?
Lord & Taylor is back in the area because it says Albany aligns with the target demographic of the store. While general manager Gregory Towe didn't feel comfortable elaborating on the specifics of that, he said it's related to the growth in the technology and academic sectors in the Capital Region.
Bottom line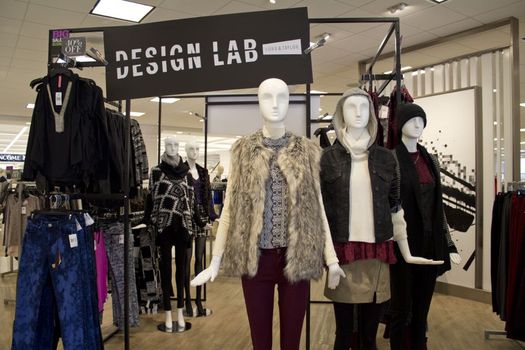 The bottom line is that Lord & Taylor is a nice store and a good addition to the area.
The design of the store, with all the beautiful displays made me want to grab up glossy dresses and designer handbags like I was on some Supermarket Sweep remake. But, frankly, the prices are a bit prohibitive for too much indulging. I was happy to see new selection, and there are a lot of fresh choices, especially for young fashionable men, designer kids clothing, and plus size women. I'll certainly be adding Lord & Taylor to my shopping repertoire, particularly for special pieces, since it's such an enjoyable shopping experience that feels more fun. Even though I can't afford much of it, it's nice to have a new selection of brands available for after I've saved my pennies.
Lauren writes about shopping, crafting, and living well on a small budget at The Thrifty Ginger.
Earlier on AOA:
+ Nordstrom Rack to open at Colonie Center
+ Shopping around downtown Troy
+ Enigma.Co
Hi there. Comments have been closed for this item. Still have something to say? Contact us.