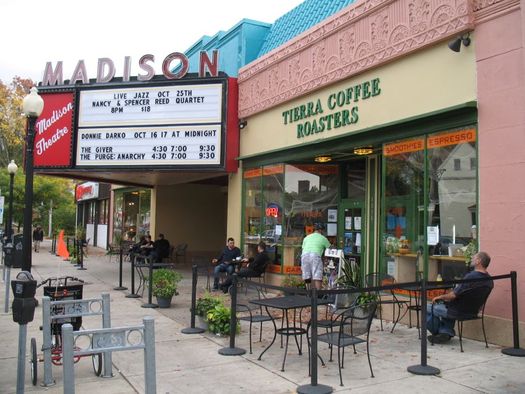 The Madison Theater in Albany will be opening its new performance venue space October 25. A jazz group -- the Nancy and Spencer Reed Quartet -- will be playing the 170-seat space.
We stopped by the theater Thursday to get a look at the space, and talk with one of the theater's owners about how things are going on their plan to turn the Madison into a location for entertainment, food, and retail.
There are a handful of photos above in large format -- click or scroll all the way up.
The Madison and the businesses that now reside there are owned by a group that also owns Tierra Farm, the Columbia County-based organic nuts/coffee/dried fruit company. Tierra had been operating the cafe space in the building and when it came time to re-up its lease, it turned out the building owners were looking to sell, so they worked out a lease-to-own agreement and Tierra went about renovating the movie theater spaces. It started showing movies in the theaters again last January, and this past spring opened a Tierra Farm retail store opposite the cafe. (Tierra also owns the former Ultraviolet Cafe by the Spectrum.)
Tierra partner Dan Laiosa says they now own the building and they're just about finished with all the renovations. That includes three movie theaters, and this new performance venue space in the heart of the building.
"We're just really into live performances, the arts, music. We just thought this was something that was missing in Albany and it's something we thought we could provide. We're going to be a little new to it, so there's going to be some learning curve. But we were pretty certain that if we built this, people were going to come."
The venue has been fitted out with 168 new theater seats, new lighting and sound systems, and a recording studio in the booth above the space. The balcony area can also hold an additional 40 people for events.
Laiosa says they're hoping the venue will host a wide range of uses, everything from stand-up comedy to film screenings to corporate events. But music will be a big part of the programming. He says they'll be focused on acts in genres such as jazz and bluegrass.
"We're still going to have movies to show, so we're not going to want to rock the place out all the time. But once in a while maybe we'll have some fun."
He says they're also looking into bringing bigger name touring acts to play small shows now and then.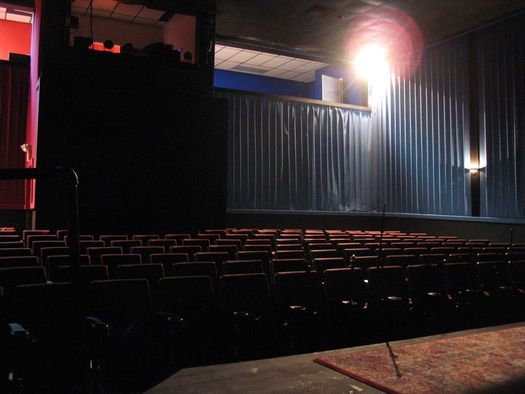 One odd complication with the performance venue: Because it's technically set up as a movie theater without tables, Laiosa says they're not allowed to serve alcohol because of New York State law. (The state banned alcohol in movie theaters after Prohibition, but a law passed in 2011 opened the way for it -- if there are tables at each seat.) He says the plan is to add taps in the cafe next door and offer beer and wine there for before and after shows (and maybe even during longer intermissions).
The performance venue fits in alongside the movie screenings that have been going on for the past 10 months. The Madison started showing second-run films -- movies that left have the big multiplexes but aren't on video, yet -- about two months ago and Laiosa says they've done well (Guardians of the Galaxy was apparently a big draw). And the theaters slate of classic movies continues to draw varying crowds -- films such as Raiders of the Lost Ark, Monty Python and the Holy Grail, and The Big Lebowski have been relatively big draws.
Back when Tierra took over the whole building, Laiosa said they were hoping the crowds for all the businesses would overlap a bit and help support each business. And so far, he says that appears to be happening. The cafe -- which is busy day to day -- sees a surge around popular screenings, and the Tierra retail store is slowly building its sales.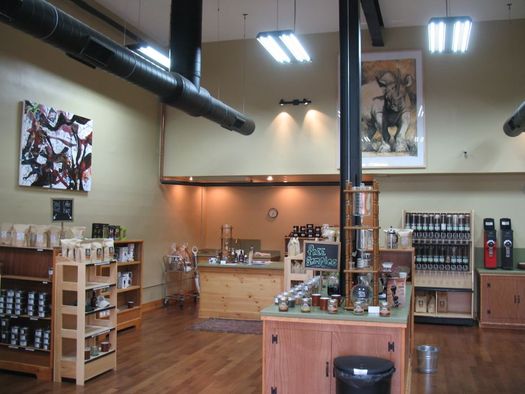 The Tierra Farm retail store at the Madison.
"We love challenges. We are business people, so we believe that we can do any business. And we feel like we have been successful," Laiosa says. "We have a really strong anchor business in the nut-roasting company. So it doesn't require that our retail businesses are making money right out of the gate. But we run businesses to make money, we're not in business to lose it. But it's nice that you get that two or three year grace period that other businesses don't get."
And along the way they're learning how to make each part work, getting a feel for things like customer service and promotion. As Laiosa said to us with a smile while we were standing in the performance venue: "We're learning business skills on business skills."
The first show in the performance venue is, as mentioned, the Nancy and Spencer Reed Quartet on Saturday, October 25 at 8 pm. Tickets are $18 and available at the theater's box office. There's a grand opening for the space planned for later in November.
Hi there. Comments have been closed for this item. Still have something to say? Contact us.