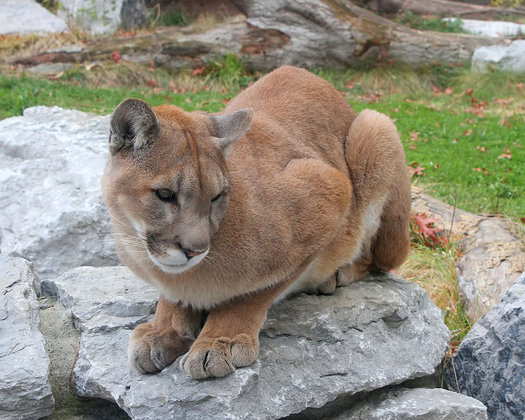 The reported mountain lion sightings near Cambridge in Washington County recently is a familiar story. [Post-Star]
Mountain lions!? Here!? In 2011 The US Fish and Wildlife Service declared that the eastern cougar had likely been extinct since the 1930s. Even so, there have been people -- naturalists, hikers, people drinking coffee on their decks -- who say they've seen one of the big cats in the eastern US since then. And the rather wayward journey of one of the cats through New York and into Connecticut a few years back just stoked those rumors.
After covering this topic a bunch of years ago for another outlet, we've thought this was one of those fun mysteries -- the kind of thing people hoped was true. That maybe our part of the world was a little more wild than we all thought.
Many parts of the Northeast have been going through an interesting environmental change over the last century in that they've actually been gaining forest land as former farmland falls back into being forested. As it happens, these once-again-spreading forests aren't exactly like the Northeastern forests of centuries ago -- the mix of trees is probably different. And they lack many of the big predators that disappeared through hunting and habitat loss. Or, at least, they have lacked those predators -- because that could be changing. [Science Daily]
From a Boston Globe article earlier this year:
Mountain lions and wolves--large predators--are indeed starting to make inroads into New England. "They really are here sometimes," [Massachusetts state Division of Fisheries and Wildlife assistant director Tom] French said. And experts believe that within a decade or two the animals, which disappeared from Massachusetts more than 150 years ago, could be back in much larger numbers.
"The eastern border of the range of mountain lions is moving progressively more and more east, and it's only a matter of time until it reaches all the way to the East Coast," said Noah Charney, a wildlife ecologist and animal tracking expert who has worked with the state Natural Heritage and Endangered Species program for the past seven years. "I sort of suspect that all of a sudden one day we're going to know there are mountain lions here. There's going to be no question. And it might happen really fast. It might be a family moves in, they start breeding, and within a few years, there's a whole lot of them."
If/when mountain lions or wolves start showing up in, say, Saratoga County, it's going to take some adjustment on everyone's part. Because we're not accustomed to having such large wild predators in this part of the country and sometimes there are unfortunate human/predator encounters -- cattle get eaten, a pet taken, or very occasionally, a human is attacked. (Of course, we do already have bears here -- and they present their own set of similar complications, so this isn't totally foreign. The same goes for coyotes.)
That said, the arrival of these predators isn't necessarily a bad thing. One of the reasons deer are such a problem is that their only predators in most places are humans (and their cars). And there are potential secondary positive effects -- there's research that indicates the greater the density of mice predators (namely foxes), the lower the incidence of Lyme disease because the mice act as a reservoir for the bacteria. [NYT]
Anyway, the news today got us reading the DEC's page about eastern cougars. And it includes this bit at the end:
False Rumor: DEC Releasing Cougars to Control Deer
Rumors have been circulating for the past few years that the DEC has released cougars to control deer populations. Some of these rumors claim that Officer 'Jones' participated in the release, or that people have actually seen cougars with ear tags or neck collars, so they must have been released by the state. This is not true. The DEC has never released cougars, despite what you may hear to the contrary.
Eh, mountain lions wouldn't want to work for the state now anyway (the pension just isn't what it used to be).
By the way: We saw a hawk catch a squirrel by Buckingham Pond -- yep, right in the middle of Albany -- last week. And it was wild -- in multiple senses of the word.
Earlier on AOA:
+ Your new neighbors, the fishers
+ Foxes and fishers and bears, oh my!
Say Something!
We'd really like you to take part in the conversation here at All Over Albany. But we do have a few rules here. Don't worry, they're easy. The first: be kind. The second: treat everyone else with the same respect you'd like to see in return. Cool? Great, post away. Comments are moderated so it might take a little while for your comment to show up. Thanks for being patient.