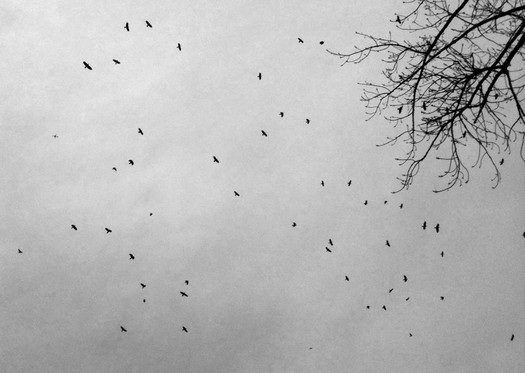 As winter gathers, so too will the crows in many urban locations around the Capital Region. And Albany has once again called in the feds and their fireworks to disperse the avian hordes.
From a city hall press release today:
The non-lethal methods include pyrotechnics, spotlights, non-harmful lasers, and amplified, recorded crow distress calls. Several of these methods produce loud noises and flashing lights (similar to sirens and fireworks) that frighten birds and may be heard or observed by local residents. The dispersal is done by employees of the Agricultural Department's Wildlife Services and the Animal and Plant Health Inspection Service who wear uniforms and orange vests marked "USDA Wildlife Services."
Residents are strongly encouraged to place household trash in garbage cans with lids to prevent crows from settling in the city. Residents may also use bright flashlights to disperse crows roosting in trees on their property.
The city cites the noise and droppings from the crows as the reason behind yet another campaign. And we get that -- nobody likes a huge amount of bird poop dropped in their neighborhood. But we're starting to get the sense these measures aren't necessarily working.
So, what else is there? Well... A group of USDA researchers reported a few year back that they had success using "effigies" -- that is, fake crows and, um, actual dead crows hung upside-down from trees -- to dissuade crows from roosting in an area.
It's becoming clear that none of us will escape the War on Crows unchanged. Maybe it's time to discuss a treaty.
Quoth the raven, furthermore: A little light reading from the Penn State Cooperative Extension on managing urban crow roosts
Earlier on AOA:
+ A seasonal farewell to the crows
+ A dossier on our crow invaders
Hi there. Comments have been closed for this item. Still have something to say? Contact us.