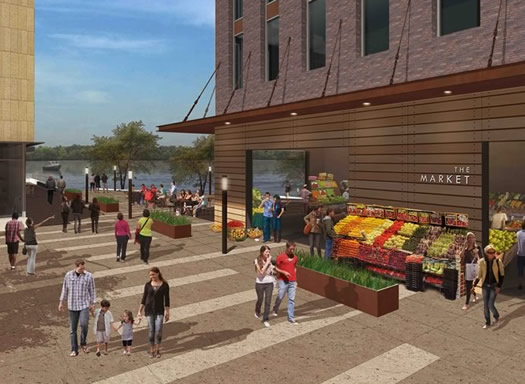 Capital Region projects got a combined $60 million in the Regional Economic Development Council awards announced Thursday. An easy-scan table of the projects is after the jump.
The region snagged $82.8 million last year. But this time around it was not a "top performer" in the state's annual Who Want's to Win Some Pork?!?! game show -- it ended up receiving the second-lowest amount out of the state's 10 regions.
Here are a few of the project awards that caught our eye on the first pass...
Capital Region awards
There's an easy-scan table above -- click or scroll all the way up.
Awards that caught our eye
Monument Square, LLC - Troy Waterfront Farmers Market Mixed Use Development - $1,500,000
"Construction of a mixed use facility on the site of the former Troy City Hall. The Phase I facility will include retail, residential and a public plaza combined with a farmer's market." (This project has been evolving, and the final design hasn't been released, yet.)
Schenectady Metroplex Development Authority - Robinson Block Mixed-use Development - $1,200,000
"Mixed-use development project that includes demolition of old buildings, construction of mixed-use retail space, market-rate apartments and parking in downtown Schenectady."
Eagle Street Corporation - Upper State Street Garage Project - $900,000
"Construction of a parking garage to service a hotel (former DeWitt Clinton), a mixed use development and a planned connector to the future Albany Capital Convention Center."
City of Schenectady - The Shared Code Enforcement Information Resource Pilot Project - Leveraging Cross City Collaborations to Fight Blight - $558,002
"The Cities of Schenectady, Amsterdam, Troy and Gloversville will pilot a shared regional code-enforcement repository. The project will determine what data is most critical to share across governments; build on systems already in place; and implement the most appropriate platform from which to share this data."
Trinity Alliance of the Capital Region, Inc. - Nano Alliance Center for Careers in Sub systems and Site services - $400,000
"Fit-up and M&E to establish the Nano- Alliance Center for Careers in Sub- systems and Site-services (CS2) to provide training in clean room and equipment maintenance standard operating procedures at Trinity's Capital South Campus Center in Albany."
Capitalize Albany Corporation - 58 North Pearl Street, Downtown Albany - $236,250
"The Capitalize Albany Corporation assist in the adaptive re-use of a building located at 58 North Pearl Street in Downtown Albany. The project will create 26 residential units and renovate 2,850 sf of commercial space." (map)
Open Space Institute - Thacher State Park Visitor Center - $220,000
"The project will design, develop, fabricate and install state-of-the-art, interactive exhibits and interpretive features within the new park center at John Boyd Thacher State Park. The new Thacher Park Center will anchor the visitor experience and provide a vibrant year-round destination in the park. An essential element is the permanent exhibitry linked to park interpretive features to enrich visitor appreciation of the park's unique geology, natural history, and spectacular scenery."
City of Troy - Riverfront Park North Riverwalk - $214,560
"The City of Troy will provide continuous waterfront access behind the Dinosaur Bar-B-Que Restaurant along the Hudson River by designing and constructing a walkway extending public access from Riverfront Park north to the marina district."
City of Watervliet- Microenterprise Grant Program - $200,000
"The City of Watervliet will use $200,000 in NYS CDBG Microenterprise Program funds to assist in the establishment of the Watervliet Microenterprise Program. The program proposes to assist 8 microenterprises, 5 of which will be owned by low- to moderate-income persons. In addition, the program proposes to create 10 full-time equivalent jobs." (Bethlehem got money for this sort of program, too.)
City of Rensselaer - Kiliaen's Landing - $187,500
"Kiliaen's Landings, an 18-acre site located on the Hudson River, is the subject of a Market Study and Master Plan for redevelopment. The Plan will incorporate LEED for Neighborhood Development guidelines and include mixed use development, water management, and green technologies to create a sustainable, economically viable regional destination. This Project will not only result in sustainable economic development, but is expected to create jobs and attract investment into the area."
Field Goods, LLC - Local Food Distribution Expansion - $100,000
"Construction of a new facility adjacent to existing facility to help expand the distribution of fresh local food."
Underground Railroad History Project of the Capital Region, Inc. - Stephen and Harriet Myers Residence Restoration - $60,500
"Funding will help the construction of historically accurate front and rear first floor, kitchen/dining area, stairways and entrances and the placement of a lift located at the Myers residence at 194 Livingston Avenue, Albany, NY. Issues to be addressed include safety, construction job creation, increased audience diversity, sustainability of the historic site, and community revitalization."
Yankee Distillers LLC - New Craft Distillery - $35,000
"Renovation of an existing facility and machinery and equipment to establish a new craft distillery producing aged spirits from 100% local farm products."
2014 regional award totals
** "top performer"
Western NY: $58.6 million
Finger Lakes: $80.7 million **
Southern Tier: $80.8 million **
Central NY: $80.2 million **
Mohawk Valley: $59.6 million
North Country: $63.4 million
Capital Region: $60 million
Mid-Hudson: $82.8 million **
New York City: $61.2 million
Long Island: $81.9 million **
Hi there. Comments have been closed for this item. Still have something to say? Contact us.