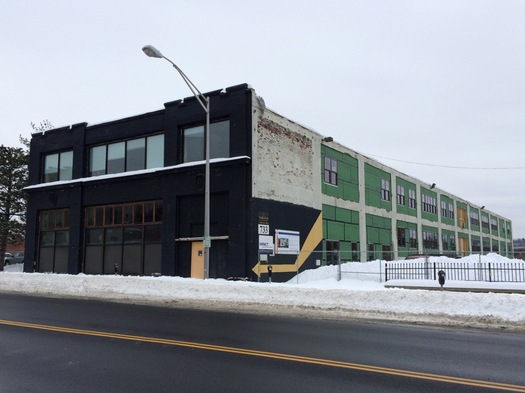 We noticed recently signs of progress on the residential conversion at 733 Broadway in Albany. This progress is notable for a few reasons:
+ 733 Broadway has been in the works for a long time, going back a decade in some form or other.
+ It's another bit in the ongoing residential transformation of downtown Albany.
So we were curious to find out what's up with it.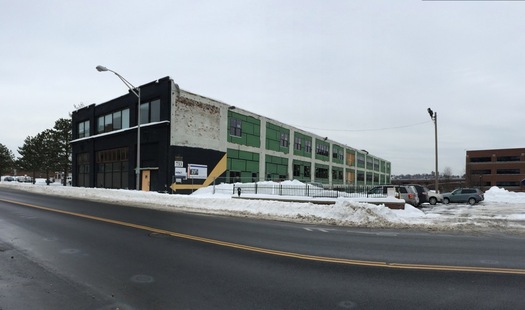 Norstar Development is converting 733 Broadway into 29 apartments (about 44,000 square feet all together), with approximately 3,800 square feet of retail and office space on the first floor. The retail/office space is projected to be ready by May, and the apartments by August, Norstar development assistant Kristina Higgins told us this week.
The 29 apartments will include 23 1BR (747-1080 square feet) and 6 2BR (1179-1251 square feet). Higgins said rents are expected to range from $1,200 to $1,800. Rent includes a parking space (the building will have about 60 parking spaces), and there will be washers and dryers in the unit. The building will also have a fitness room and tenant storage space.
Higgins described the apartments as loft-style -- big windows, high ceilings, open layouts. And following the shape of the building, she said they're like railroad flats, thinner and longer.
The building dates back to 1950, according to city tax records records, and it once served as a plumbing supply showroom and warehouse, and then later as offices for the state Department of Health. Said Higgins of the building style: "We went with it, we embraced the old warehouse aspect of it."
Norstar is planning to split the retail/office space -- one part for its own office, the other 1700 square feet for what it hopes to be a retail or restaurant tenant.
"We're hoping to get someone in [the retail space] to bring continuity to that part of Broadway," Higgins told us. She said the company sees the project as potentially contributing to a connection between the north side of downtown Albany and the fermenting development in the Warehouse District just to the north.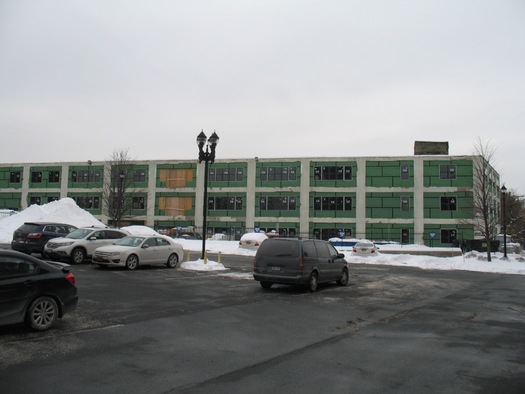 733 Broadway as view from Spencer Street.
As mentioned up top, this project has been in the works for a long time. More than a decade ago Norstar proposed building a 9-story condo project on the site. The plan eventually morphed into a project that would have built 70 apartments, but that fizzled after the Albany Industrial Development Agency rejected a request for a $10 million tax break over 40 years. Norstar moved ahead with the current plan -- which unlike previous plans doesn't expand the building, but rather adapts what's already in place -- after another go around with the IDA resulted in a PILOT agreement that could be worth more than $2 million over 20 years. [Biz Review x2]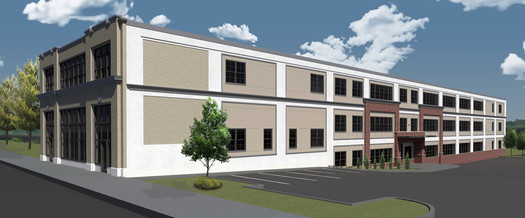 A rendering of what the finished building is projected to look like. / photo courtesy of Norstar
Higgins said Norstar is aiming to have a model apartment ready by this May, and it will be pre-leasing apartments. She said the company has already received a few calls from people interested in renting.
The development of new residential spaces has been a prominent theme for downtown Albany over the last few years, with more than 300 units newly created. And the Impact Downtown Albany consultants' report projected that downtown could add another 2,000 units over the next decade. There are currently multiple new projects in the works, including the recently announced plan to flip a building on Eagle Street near the under-construction convention center into 74 apartments. [Biz Review]
Earlier on AOA:
+ It won't be the site of the Albany convention center, so what will it be?
+ Impact Downtown Albany's vision of what the city's downtown could be
+ Architecture gawking in Albany's warehouse district
Find It
Norstar residential conversion
733 Broadway
Albany, NY 12207
Hi there. Comments have been closed for this item. Still have something to say? Contact us.