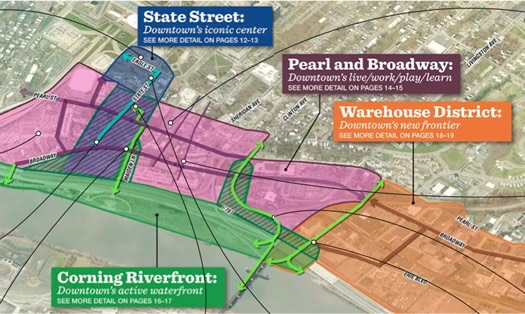 This week Impact Downtown Albany -- the ongoing project to develop a "tactical" plan for downtown development -- released its vision of what downtown Albany could become over the next 5-10 years.
"This is the shared definition of success based on the hundreds of stakeholders that have been part of this process," Sarah Reginelli -- the new president of Capitalize Albany -- explained to us Tuesday afternoon. "This is really what's been identified as the opportunities that we need to take advantage of to make downtown the best downtown that it can be at this point."
Among the identified possibilities: continued growth of new housing units, unique retail, a "high line"-type park connecting downtown with the riverfront, and transformation of part of the warehouse district.
Here are a few things that caught our attention.
The images are from the briefing book embedded below. So... don't squint too much.
Residential

Downtown Albany has been a hot spot for new (and converted) residential over the last few years, with about 300 new units that are almost all rented. The consultants working for Impact Downtown Albany see no stop to that. In fact, they project that downtown Albany could add more than 2,000 more units over the next decade.
One of the factors pushing demand for these units: people from outside Albany. About 3/4 of the people who have moved into those new units are from outside the city, according Ben Carlson from Goody Clancy, the lead consultancy on the project.
"It's not just here, it's all kinds of places have a fixed image of downtown that it's old, unsafe," said Carlson. "That is often not shared by folks moving in from other cities, moving upstate from New York City, folks who are young. That new energy and enthusiasm looks past some of those ideas that locals may be stuck with and really sees opportunities. They see beautiful buildings, walkable streets, plazas that have potential. So that's a powerful force."
Up to this point, most of the new residential development has been at the higher end of the market, with rents averaging $1.38/square foot, according to Reginelli. Developers have said those types of units are currently what make sense from an economic perspective.
Those sorts of rents are a good sign of strength for the downtown market. But they also close off the neighborhood to a lot of people.
Reginelli acknowledged one of the next steps is filling out other segments of the housing market: "Our challenge now is to get to that workforce housing, what's between affordable and the high end of the market, to get service workers, the people who are working downtown who can't afford a $2,000 apartment."
She said some units of that type are in the process of being developed, and more are in planning stages.
Retail
Retail development has been a challenge for decades not just in downtown Albany, but in many downtown areas all over the nation, as suburbanization pushed people and stores away from urban cores.
Reginelli said Capitalize Albany has been in discussion with "national retailers, names that you would absolutely know," along with prominent regional brands about locating downtown. But she emphasized that finding the right fit between retailer and neighborhood is important. And that means some types of retailers -- like, for example, a large supermarket -- are probably not a match at this point.
"Downtown is not going to be everything to all people to all retailers," said Reginelli. "That sort of large floor plate model is not necessarily suited to a smaller downtown. But it's really about coming up with what we need, and what can be sustainable and supportable ... Is it the large floor plate, or is it a speciality destination market that can serve the daytime community as well as the growing residential population, and can have other amenities -- coffee, can it be a wine bar, can it do other things that can help support itself."
Warehouse district

As we've mentioned before, Albany's Warehouse District presents some interesting opportunities for residential/restaurant/retail development -- and also some significant challenges. The neighborhood's gathering momentum caught the attention of Impact Downtown Albany.
"So we wanted to make sure, as really the energy started building in that district, that it complimented the activity in downtown, one," Reginelli said. "Two, that it wasn't disrupting those longstanding businesses that have been thriving in the warehouse district for decades. And the third piece is that it's really meeting its full potential. What can we do to help facilitate that groundswell of activity that's happening there."
Finding the right balance between new development and the neighborhood's long-established light industrial businesses could be a challenge.
"So we need to do a lot more work in that area ... what is that balance, and how does that play out throughout the zoning and though the development pattern in the area. And that will come out through the city's re-zoning process. We'll partner with them on that to work through it."
(Mayor Kathy Sheehan's office announced on Wednesday that it's hired an outside firm to head up a two-year citywide process to overhaul zoning aimed at making the city "a better place to live, work, and invest.")

Incentives
Tax breaks are a hot topic in Albany because developers say projects in the city are too expensive without them -- and skeptics are concerned that big developers are being handed too much.
The Impact Downtown Albany project identified costs -- both in taxes and building acquisition -- as one of the primary obstacles to continued to development downtown. And it looked at some of the tax breaks -- including PILOTs -- that have been used to push the math more in the direction of what developers say is necessary to make a project work. Its conclusion: the tax breaks are worth it for the city after all the costs and benefits are weighed.
"Yes, that approach forgoes some property revenue for a time," said Goody Clancy's Ben Carlson. "But on balance, when you look at the added cost to the city in police and fire services primarily, and revenues, because there are still some other revenues from increased retail sales revenue, there's some property tax revenue that comes, there are fees -- we've found it's a net positive impact on the city. And over time as the tax abatement sunsets, then there is a revenue stream from the housing."
That this study would put tax breaks in a positive light isn't surprising -- it's a project aimed at spurring development. When you're a hammer, things tend to look like nails. That doesn't mean it should be discounted -- just that it merits a bit of good-natured skepticism. We're curious to see more about the assumptions and calculations involved in the analysis.
A new and interesting angle to this topic: Capitalize Albany is starting work to put together $10-$20 million that could be used to set the stage for development, or give projects a nudge. Reginelli said they're aiming to raise this money from a wide group of funders -- from the state, to non-profits, to corporations, to foundations, to even slicing off a part of the sales and hotel taxes.
"[The money] can be applied to side grants, it can be applied to an acquisition fund, it can be applied to fit-out assistance. Really looking at things that can level the playing the field to make investment happen," said Reginelli. "The more than we can offer on that [grant] side, the less we have to offer on the tax break side."


The briefing book
The briefing book released this week is embedded below.
Impact Downtown Albany Briefing Booklet
Earlier
+ Impact Downtown Albany
+ Six short takeaways from six short talks
+ Thinking about residential development in downtown Albany
+ About retail in downtown Albany, and other local downtowns
+ Pop. Pop. Pop. Shop.
+ What "they" say about here
Hi there. Comments have been closed for this item. Still have something to say? Contact us.