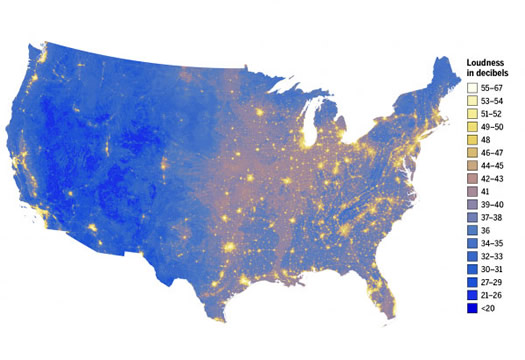 One of the good things about the Capital Region is that you don't have to travel all that far to go hiking, experience some natural areas, or just kind of get away from it all.
We were reminded of that recently by the map above. It estimates noise levels on summer day around the country. The deeper the blue, the more quiet the place. And as you can see, both the Catskills and the Adirondacks (especially) offer some rather deep quiet.
The map is the creation of the National Park Service Division of Natural Sounds and Night Skies. Researchers have been gathering the information and making the models to study noise and light pollution, and how it affects animals (including humans). The map was presented at the recent annual AAAS conference (it's a big science conference). [AAAS] [Science] [AAAS]
The map's not really that surprising -- it appears to match up relatively well with maps of population density and light pollution. And in the Northeast, the Adirondacks are one of the least-populated places, and they have some of the darkest nighttime skies. And they're rather quiet, too, apparently.
Earlier on AOA: The closest darkest place