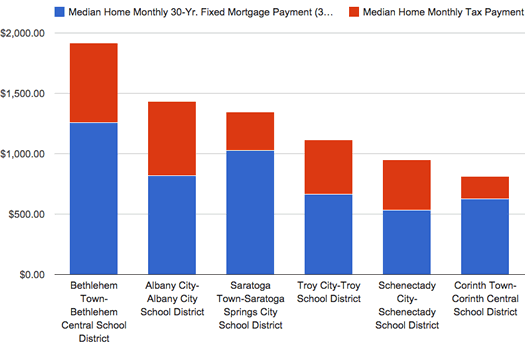 Some follow-up on that post a few weeks back about comparing Capital Region property tax rates: Matt emailed us hoping we could send along the numbers because he was curious about the monthly payments -- mortgage + taxes -- for the median home in each municipality around the area. That sounded interesting to us, so we bounced a spreadsheet back and forth and came up with a different look at the topic.
The results aren't exactly surprising, but it does highlight some things differently.
For example: The city of Schenectady tops the chart for property tax rate (per $1k value). But looking at the monthly payment for the median house there, Schenectady is way, way at the bottom of the list at just about $919 (of which about 45 percent is property taxes).
Based on the monthly payment figure, we were also able to make a rough guess at about how much a household would have to make each year to afford the median house in each place. Example: Bethlehem, in the Bethlehem Central School District, topped the list at about $82k. (Caveats? You bet. They're explained inside.)
OK, let's have a look at the whole (new) list...
The list is above
It's in large format -- click or scroll all the way up.
A few important things
+ Numbers are based on the 2013 estimates in that original post, which had come from the Empire Center.
+ The estimated monthly mortgage payment was based on a 30-year loan at 3.78%.
+ We calculated the minimum annual household income to afford the median house in each place by figuring the minimum income for which the payment would be equal to 28 percent (or less) of the household's gross income for the year. (That level is sort of general rule of thumb for this sort of thing.) That doesn't take into account insurance. And -- this is important -- it also doesn't take into any other debt the household might have.
(Thanks, Matt!)

Hi there. Comments have been closed for this item. Still have something to say? Contact us.