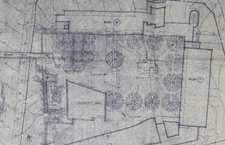 Over at 98 Acres in Albany there's an interesting post about an element of the greater Empire State Plaza project that never came about: Roosevelt Terrace, which was intended to be a mixed-income residential development. A clip:
Once there was a plan to build a sprawling state-subsidized, mixed-income community, known as Roosevelt Terrace, alongside the South Mall Arterial and within the 98 acres seized by the State.* All that remains of that plan is a stripped-down version of the senior apartment complex, South Mall Towers on South Pearl Street.
Roosevelt Terrace was intended as an answer (albeit belated and partial) to the critical shortage of middle- and low-income housing in Albany. Its design would complement the State's massive new office complex. Having displaced roughly 3,600 households, those office buildings and the attendant demolitions were a major cause of the city's housing crisis. ...
Landscape played a key role in the design of Roosevelt Terrace. Situated on ten acres and surrounded by grass and trees, the eight reddish-brown brick apartment buildings were to be connected by a series of outdoor sitting areas and playgrounds, designed to promote sociability or to facilitate quiet contemplation. Special features of the housing complex included an amphitheater, fountains and statues, an outdoor basketball court with sideline seating, and a community center with full kitchen facilities. Cars were banished below the surface in two underground parking garages.
In an alternate history way it's interesting to think about how the inclusion of more housing might have influenced the direction of that part of the city in the decades since -- and how it might be viewed today. Would downtown Albany be more residential now? And as high-rise subsidized housing has fallen out of favor in recent decades, would there now be talk about changing Roosevelt Terrace?
Earlier on AOA:
+ 98 Acres in Albany
+ Albany, in an alternate future
+ Maybe there wasn't enough money for a spaceship
image: ACHOR via 98 Acres in Albany
Hi there. Comments have been closed for this item. Still have something to say? Contact us.