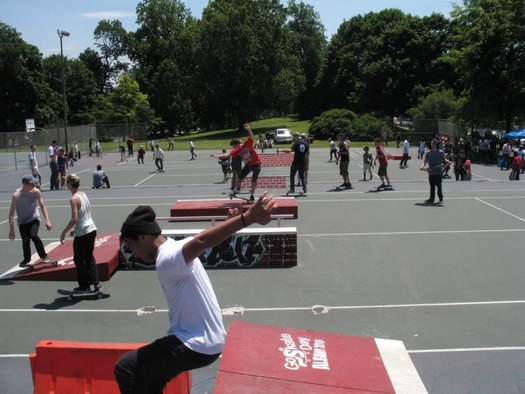 This Saturday is Go Skate Day in Albany's Washington Park and it could be a big day for the future of the proposed Albany skate park.
"Tomorrow is an opportunity," city recreation department commissioner Jonathan Jones told us today. "Tomorrow's our shot to show the city, to show everyone, that a skate park is possible in Albany."
The city first announced last November that it was looking at the possibility of building a skate park in the city. And there was a strong turn out for a community meeting outlining the possibility.
Jones said his department has been planning for a park since -- he said there's a draft plan in the works that could be ready by this fall. But the Go Skate Day event is an opportunity to show a few things, among them:
1. For the local skating community to show that it can be good neighbors in the park.
2. To raise wider awareness about the desire for a skate park, and in turn focus efforts on raising money for a park.
Jones said there isn't a budget yet for the skate park, but he pointed to Syracuse's recent experience building a park for $400,000. He said he's hoping the total for an Albany park could be less than, in part because it looks like a group of rundown tennis courts in Washington Park -- "The Blue Banks," already a de facto skating spot -- have the necessary changes in elevation, which could save some work.
Work on landing grants and funding for the park is on going, he said, and there are potential partners looking to contribute. Jones also credited the Washington Park Conservancy for being supportive of the skate park idea. (One of the hopes for a skate park is that it will cut down on people skating at places like the Soldiers and Sailors Monument on the other side of the park.)
"A skate park, if it gets built, it'll create a destination in Albany," Trevor Culley said to us today. He's one of the owners of Seasons Skate Shop on Lark Street, and has been one of the main people involved with organizing support for a skate park. He said he gets asked all the time about whether a skate park is on the way, and predicts it will draw skaters of all ages, both kids and adults.
Like Jonathan Jones, Culley also emphasized that Go Skate Day could be an important step toward the skate park because it's a chance for local skaters to show they can rally support for a park and be a positive presence in Washington Park.
Dylan Longton -- the organizer of Go Skate Day here in Albany, who's also been a big proponent of a local skate park -- told us via email that everything's lined up for Saturday to be the "most positive skate event for city of Albany." And he's hoping a smooth event will open the way for landing a sizable grant for the potential park.
The Go Skate Day event is Saturday, June 20 from 10 am-5 pm at the Washington Park tennis courts. There will be free food, drinks, products donated by Seasons Skate Shop, a food drive raffle, and they'll be raising money for the skate park. The event will also honor Shawn Bredice, a local skater who recently passed away.
Hi there. Comments have been closed for this item. Still have something to say? Contact us.