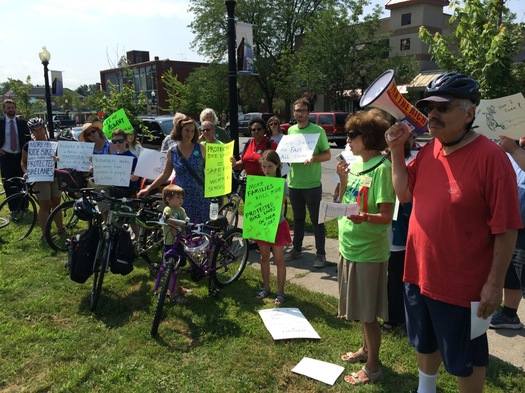 This Wednesday is a big day for one of the most interesting transportation projects in the Capital Region because the city of Albany will be publicly presenting options for the Madison Ave Road Diet. The range of options will be on display, and public comments collected, at the College of Saint Rose Wednesday at 6 pm.
The project is aiming to make the popular thoroughfare through Albany's Pine Hills neighborhood safer by reducing the number of lanes in an effort to "calm" traffic. It's a notable example of how the thinking about the way people get around is evolving from a perspective that places a high, almost sole, priority on cars, to an approach that intends to be more friendly to pedestrians and cyclists.
The Madison Ave Road Diet is also potentially important because it could end up including the first protected bike lane in the city of Albany -- that is, a lane designated for bikes that's protected from car traffic by some sort of barrier. Cycling advocates have been pushing for such an amenity, and see it as a significant step towards more bikeable city.
Here are three thoughts about the push for protected bike lanes.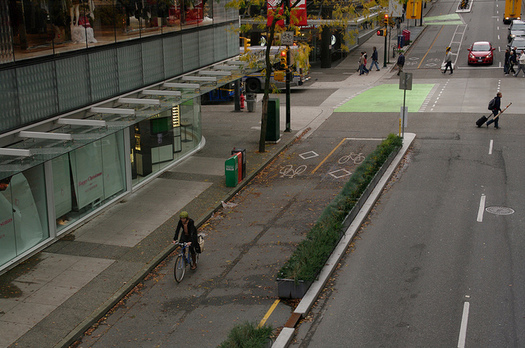 A protected bike lane in Vancouver. / photo: Flickr user Paul Krueger (CC BY 2.0)
1. This is about all sorts of people
First and foremost, obviously, it's about people who ride bikes. And talk to anyone who regularly uses a bike for transportation around Albany and you're likely to end up hearing a story about dangerous encounters with cars. It's a not-uncommon occurrence.
Sometimes it's a near miss and some shouting. Other times it's much more serious. At a rally Monday for protected bike lanes, Albany resident Arnelle Coqueran told the story of being hit by a distracted driver in 2011 and suffering serious injuries, including a ruptured spleen. As Coqueran told the media: "I want to be able to ride a bike and not think I'm going to die today." And there's evidence that protected bike lanes do reduce the number of injuries for people on bikes (as well as pedestrians).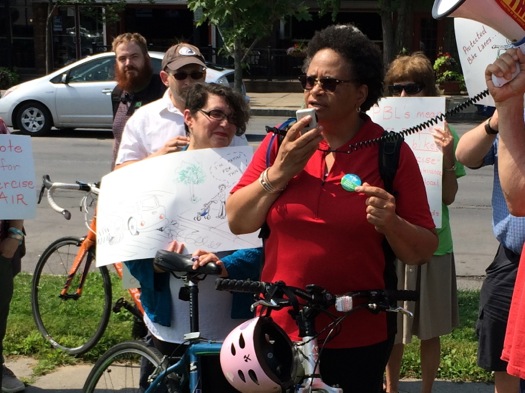 Arnelle Coqueran
"People on bikes" is a wide group. It's not just people out riding recreationally or the spandex-clad super cyclists. It's also people for whom a bike is their best option for getting around town -- because they can't afford a car. At the rally Monday Lorenz Worden of the Albany Bicycle Coalition said these types of riders face the challenges of riding on bike-unfriendly streets without other options: "There are adults using the sidewalks. Why? Because they're afraid to use the street. You get on a street like Morton, Lark, Washington, Central, certainly, people are afraid to ride in the street. And these are people who ride all the time. I recognize some of them. They're using bicycles as their singular means of transportation."
Protected bikes lanes are also about people who are not yet cyclists. As we mentioned last year during the bike share pilot, riding a bike in regular traffic can be intimidating for people who aren't experienced riders. And if you're reluctant to take on some of the area's major thoroughfares (and understandably so), it's going to significantly limit where you can go on a bike. Protected bike lanes are a way to provide less-experienced cyclists with routes that aren't as intimidating (and in turn they can gain experience and maybe become more confident riding elsewhere).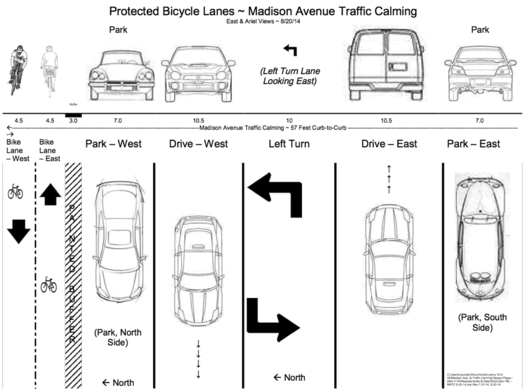 A schematic created last year by the Albany Bicycle Coalition's Lorenz Worden looking at how Madison Ave could potentially be reconfigured for protected bike lanes.
So, ultimately, protected bikes lanes are one way to make streets more inclusive for different types of users. As Worden put it to us: "The road belongs to everyone in the city. It's paid for by everyone in the city, either directly through their property taxes or through their rent with their landlord paying the taxes. So we're all entitled to a part of that street. And Madison Ave right now is just hell to ride on, can't describe it any other way."


2. Madison Ave should be the beginning, not the end point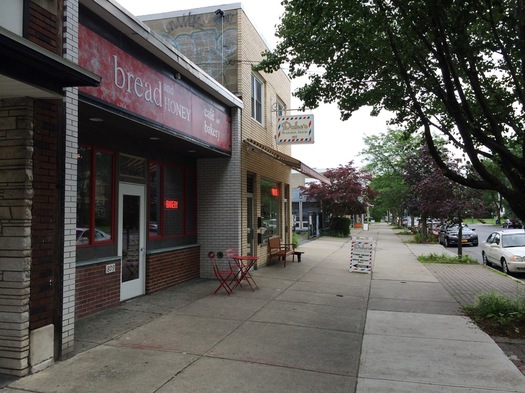 Storefronts along Madison Ave.
If protected bike lanes are about opening transportation options to a wide range of people, then it follows that the lanes should potentially be expanded to a wide range of places in the city.
Madison Ave is a good place to start. It's an important corridor through the city that connects downtown and uptown, with a range of destinations and businesses along it. And the road diet project creatures a prime opportunity to try out the idea.
So if protected bike lanes are successful -- and other cities' experiences indicate there's a good chance of that -- the next step should be planning on how to build out the network. Is there a major north-south route that could accommodate a protected bike lane? What about major corridors within other neighborhoods, such as Clinton Ave on the north side or New Scotland Ave on the south side?
Adding additional protected bike lanes -- and linking them together -- turns them into something more like a system. And that makes riding a bike in the city that much more useful (for both riders and the city).
"A bicyclist is not entitled to a facility on every street -- that's crazy," Worden said Monday. "But they are entitled is a way to get to any address within the city."
3. This is also a cultural change
No doubt there will be arguments against both the road diet and protected bike lanes -- some of these arguments might even be pretty strong. Cost is sure to come up -- both in building the lanes and maintaining them -- and that's something the city always has to pay attention to because it's facing a tight budget.
New is hard. New is uncertain. New is extra. So, the general default position here might be to just say no.
But there also seems to be a growing sense in the city of Albany that people here aren't satisfied with the current transportation situation -- if only because it occasionally scares the hell out of them. That's one way to read the red light camera initiative. Albany police chief Brendan Cox has said in the past that it grew out of hearing neighborhood groups repeatedly mention that they were concerned about traffic safety. And the fact that city officials, like the police chief, now frequently mention the topic feels like a change.
So maybe there's a cultural shift happening. Maybe the default is evolving from "Why should we have bike lanes?" to "Why should we not have bike lanes?"
And part of that shift is political expression. That's what happened in Copenhagen -- people made bikes a political issue in the 1970s and the city is now one of the world's capitals of bike culture.
Of course, this sort of change doesn't happen quickly. People have been working on these issues for many years. At the rally Monday, Pine Hills Neighborhood Association president Virginia Hammer pointed out the idea of a road diet for Madison Ave first popped up in 2004. But sometimes that's the way culture shifts -- an idea first seems odd, then some people champion it for a while with little success while awareness grows, and then whoosh, the situation flips.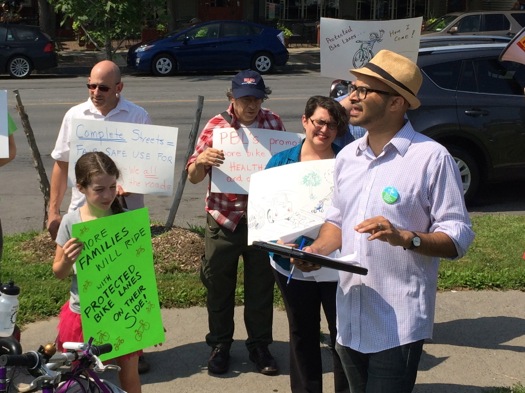 Jason D'Cruz
We were talking about this potential shift in Albany with Jason D'Cruz, one of the organizers of the protected bike lane rally. His thoughts:
"I think we're at a relatively early stage, but there's a lot of low-hanging fruit, which is exciting. So there can be changes to our city that can really, really make a big difference. ... [T]he design of the city is just so ideal for walking, for public transportation, for getting around by bicycle, things like reducing traffic speeds, reducing numbers of lanes, and having separated use for cyclists, pedestrians, and driving. I think that we can make a pretty big stride in a short amount of time. We're a concentrated city. We're perfectly designed for these things. And we just need the political will. And finally there's a sense that in Albany there is a political will to do that. With the new mayor, there's some hope that things can change, and can change for the better. So I'm pretty optimistic."
What's next?
The Madison Ave Road Diet public presentation is Wednesday, July 29 at the College of Saint Rose's Lally School of Education from 6-8 pm. The city is expected to present a range of options for public comment -- probably between three and five options. One of them is expected to include protected bike lanes.
After that, the choice about which option to pursue will be up to Albany mayor Kathy Sheehan, and the decision could come this year. So, whatever your stance on this topic, now is the time to say something.
Earlier on AOA
+ A bit more about protected bike lanes in Albany
+ Taking the Capital Region Bikeshare for a spin
+ On the road to Albany red light cameras
Hi there. Comments have been closed for this item. Still have something to say? Contact us.