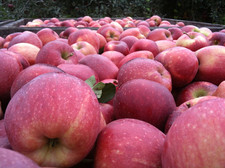 Because Friday afternoon: For the Local Harvest Festival drawing earlier this week we asked you what your favorite variety of apple. And there were 80some answers, so we tallied them up for a totally non-scientific, we-don't-even-dare-calling-it-a-survey ranking:
And the top 5:
1. Honeycrisp
2. Gala
3. McIntosh
4. Empire
5. Macoun
The Honeycrisp was the easy winner -- more than twice as many mentions as the Gala. We've said this before, and we'll say it again: We believe the Honeycrisp to be overrated. If you like Honeycrisp, try one one of the new Snapdragon apples.
We were heartened to see the Empire near the top. And Ashmead's Kernel even got a mention (one you should try at least once). We've gotta check out the Koru, which haven't had, yet. And there were even the obscure Fiona Apple and iMac mentioned.
The whole list, with mention counts, is after the jump.
Earlier on AOA:
+ Early season apple power rankings
+ Late season apple power rankings