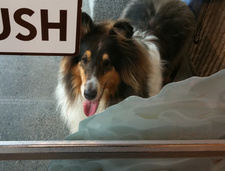 Andrew Cuomo has signed the bill allowing dogs on restaurant patios -- "This action will give restaurants an additional option to boost revenue and grow their businesses by appealing to this new audience of dog-owning New Yorkers and their four-legged friends." The last takes effect immediately. [NYDN] [Open Senate]
Among the provisions in the law:
+ Whether dogs are allowed on a restaurant's patio is at the restaurant operator's discretion.
+ The dogs must enter the patio in a way that doesn't lead through the inside of the restaurant.
+ The area where dogs are allowed can't be used for food or drink prep, nor for the storage of utensils.
+ Water provided to dogs should be in disposable single-use containers.
+ Food employees aren't allowed to have direct contact with the dogs while on duty.
+ "Surfaces that have been contaminated by dog excrement or other bodily fluids shall be cleaned and sanitized."
+ The dog must be kept on a leash or in a carrier and under the control of its handler.
+ There is "reasonable signage" indicating that companion dogs are allowed in the outdoor dining area.
It'll be interesting to see how many restaurants officially open up their patios to dogs under this law. (There have been a number of places that already allowed this to happen unofficially.)
As we've said before, we love dogs -- but there's probably a good argument that dogs don't need to be everywhere, and maybe restaurants are a place to draw the line. A big part of how this goes over will probably come down to how well dogs (and their owners) act -- a calm, well-behaved dog probably isn't going to be an issue for most people. And, of course, all this will be at the discretion of the restaurants.
Hi there. Comments have been closed for this item. Still have something to say? Contact us.