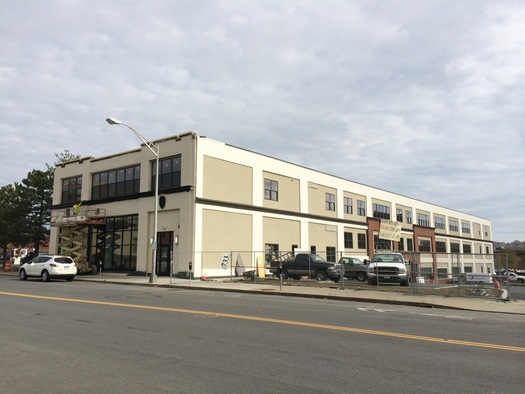 Some quick follow-up on 733 Broadway, the latest residential project in downtown Albany.
The loft-style conversion, the roots of which stretch back to 2005, is aiming for occupancy on December 1, according to Norstar Development.
Here are a few more bits, along with some pics...
733 Broadway details
+ The building, which was formerly a plumbing supply warehouse and offices, has been converted to 29 one- and two-bedroom apartments on three floors.
+ Units range from 880-1,325 square feet.
+ They price range is $1,275-$1,900 per month -- with washer and dryer, cable, internet, one parking spot, and access to fitness room.
+ Also: "We're very pet friendly," Northstar's Lorris Harris said today at a ribbon cutting. Dogs of all sizes will be allowed. And to emphasize the pet-friendly angle, Norstar will be donating $50 for every lease signed between now and the end of December.
+ There's a public open house for the building Saturday, November 14 from 11 am-2 pm.
+ The project cost was more than $5 million. And it has a PILOT arrangement that could be worth more than $2 million over 20 years. [Biz Review]
Photos
A few photos from a display unit are above in large format -- click or scroll all the way up.
The ongoing transformation of downtown and the Warehouse District
The conversion of 733 Broadway is notable not just in that it's a project that's been in the works for a long time, but it's also a part of the ongoing transformation of downtown Albany into a residential neighborhood. And its location is a link between downtown and the Warehouse District, which is undergoing its own transformation from light industrial to include mixed uses.
"Everybody now wants to be in this connection point between downtown and the Warehouse District," Capitalize Albany president Sarah Reginelli said today.
Evidence of that: Just a bit farther up on the other side of Broadway, there's a proposal for a residential project with 100 units on the site of what's now a parking lot. The company behind the project is Fairbank Properties, which did the residential conversion at 27 Western Ave near Washington Park and is currently finishing up a residential conversion of the Arcade Building (488 Broadway) at Broadway and Maiden Lane downtown with 60 units. Albany Downtown BID executive director Georgette Steffens said today that a few tenants have already moved into there.
Approximately 1,000 new residential units have been added to downtown Albany during the last few years. And the trend doesn't seem to be slowing. Another 110 units have opened during the last two months, according to the BID. The Steuben Place apartments on Pearl Street are the latest example. And the BID says another 115 are under construction.
There appears to be strong demand right now for these sorts of units. Whether it's millenials, or empty nesters, or whatever buzzy demographic, the units are renting quickly. Downtown Albany's residential market has a 97 percent occupancy rate, according to the BID. And we've heard repeatedly from developers that they're often leasing units before they're even finished.
So, it'll be interesting to see where things go from here. As downtown adds residents, will services and retail follow? Will that prompt other sorts of development?
The Downtown Albany BID's Georgette Steffens mentioned to us today one small sign of the shift in the neighborhood: people are out walking dogs in the morning and evening. And she said there's been some talk about creating a dog park in Wallenburg Park, the space bordered by Pearl, Clinton, and Broadway.
Earlier
+ Another residential conversion in downtown Albany, this time at 733 Broadway
+ Reading through the Impact Downtown Albany playbook
Find It
Residential conversion at 733 Broadway
733 Broadway
Albany, NY 12207
Hi there. Comments have been closed for this item. Still have something to say? Contact us.