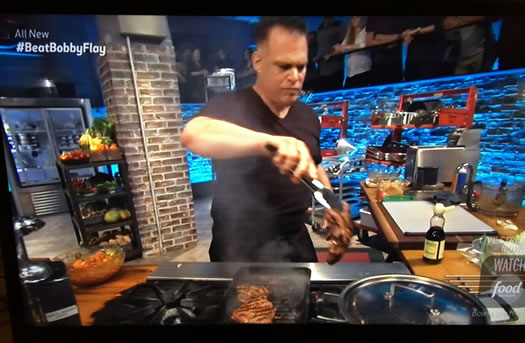 New World chef Ric Orlando was on the Food Network show Beat Bobby Flay Thursday night.
And he won!
Here's the setup of the show, if you haven't seen it before. Two chefs face off in an opening round using a common ingredient. Then two (playful) Bobby Flay antagonist pick their favorite, who then advances to a matchup with the eponymous star chef. Flay and the contestant then compete to see who can the best dish of the contestant's choice. Three new judges make an appearance at the end to pick the winner.
So, for this episode Ric Orlando faced off with Houston chef Kiran Verma in an opening round that featured flat iron steak. The Bobby Flay antagonists: Food Network star Anne Burrell and DC-area chef (and former Top Chef contestant) Spike Mendelsohn. Orlando made a Korean-inspired lettuce cup -- which, based on Burrell's reaction, was very spicy. It went over well, except for the steak being undercooked. Verma's dish seemed to underwhelm the antagonists, and she forgot to put beef on one of the plates. Orlando advanced.
For the Bobby Flay round, Orlando picked latkes. This ended up being a good choice because Bobby Flay apparently didn't have much experience with them -- and it showed.
Orlando created two latke versions for his plate, one with a chipotle apple sauce, the other with smoked salmon. His latkes turned out a beautiful golden brown after cooking first in a pan with duck fat, and then a dip in the fryer. (And he finished with enough time to taunt and showboat around Flay a bit, no doubt becoming a hero to TV viewers everywhere. There's just something about Bobby Flay... er, sorry, back to the recap...)
Flay seemed to struggle, falling behind on time. He created a thin, sort of sad-looking latke with smoked trout and toppings that included a peach jam.
The judges -- chef and Chopped judge Maneet Chauhan, chef Madison Cowan (who's done well on Chopped), and the owner (we think.. we didn't catch his name) of Veselka (a longtime East Village spot famous for Eastern European food).
The judges ended up really liking Orlando's latkes and the smoked the salmon -- the applesauce, not so much (Chauhan thought it lacked depth of flavor).
They weren't fans of Flay's latkes, though they seemed to appreciate the toppings.
And Orlando took the win. Congrats!
This isn't Orlando's first success on the Food Network. He previously performed very well on multiple episodes of Chopped, making it all the way to the finals of one of the show's champions tournaments.
This episode of Beat Bobby Flay was set to repeat November 6 at 1 am. And we're guessing it will pop up a few more times in the not-too-distant future -- the show seems to repeat a fair amount.
Earlier on AOA:
+ Ric Orlando on Chopped Champions
+ Grocery games, for the win
+ Exit from Flavortown
New World Catering advertises on AOA.
screengrab from Food Network
Hi there. Comments have been closed for this item. Still have something to say? Contact us.