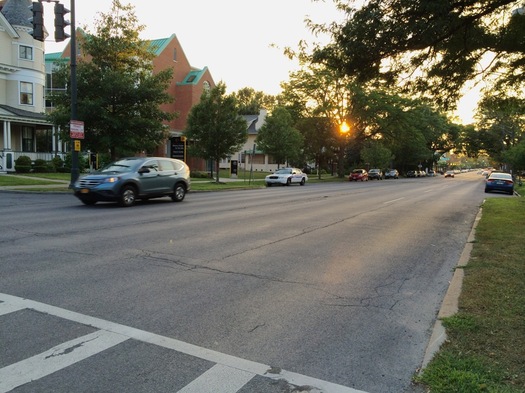 Update: The meeting has been cancelled, according to the Albany Police Department (traffic engineering is part of the APD), and will be rescheduled. [APD FB]
____
The city of Albany has a public meeting lined up for Monday, November 9 to present the recommendations for the Madison Ave Road Diet. The meeting is at the College of Saint Rose's Lally School Building (1009 Madison Ave) from 6-7 pm.
The Madison Ave Road Diet is a project to reconfigure the lanes on the busy thoroughfare with the aim of calming traffic and making the street more friendly to pedestrians and cyclists. That could involve reducing the number of traffic lanes from the current two in each direction, to one in each direction with a turn lane.
The part of the project that's gotten the most attention lately is the possibility of the addition of protected bike lanes to the corridor.
A coalition has been pushing for the inclusion of the lanes in the plan, and they were a vocal presence at a public meeting earlier in which the city and its consultants presented possible options. Proponents have argued the lanes aren't just safer for cyclists, but they feel safer to cyclists of all sorts and as a result they'll encourage more people to bike along the corridor.
It'll be interesting to see if the protected lanes are in the plan presented Monday. Listening between the lines (so to speak) at the earlier meeting, it sounded like things might be leaning toward "regular" bike lanes -- a stripe separating the cycle lanes from car traffic, but no barrier -- because of comments about the potential cost of maintenance and snow removal, as well as the impact on the number of parking spaces.
In the grand scheme of things, protected bikes lanes on Madison Ave aren't a huge thing. They'd be more like the start of something, maybe a larger network of bike-friendly corridors, rather than an end point. But an enthusiastic group will be disappointed if they're not in the plan. And it would be a missed opportunity for the city to try out a potentially transformative idea.
This date of the event has been fixed in this post.
Earlier
+ Options for the Madison Ave Road Diet
+ Three thoughts about the push for protected bike lanes in Albany
Hi there. Comments have been closed for this item. Still have something to say? Contact us.