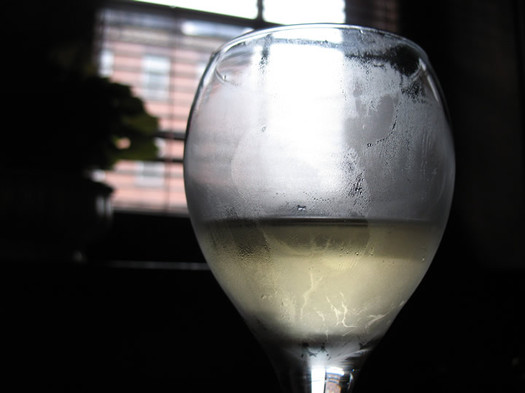 By Deanna Fox
We wrap up Following Food week with a few drinks.
I write frequently about the beer, cider, wine, and spirits industry, and to be honest it is hard to keep up with the frequency at which another craft beverage producer is launching, or when new craft products are being released. New York State is a hotbed for craft beverages, and it doesn't seem to be slowing down.
Just ask Andrew Cuomo. Last month, his administration held the third wine, beer, spirits and cider summit in Albany that brought together beverage makers, farmers, politicians, and bureaucrats to discuss the progress made in the beverage production in New York State.
"Our investments in the farm-based beverage industry have created a synergy of economic momentum for wineries, cideries, breweries and distilleries. That momentum is fueling opportunity for small businesses across the state, and we are going to keep it coming well into the future," said Cuomo, who then announced a series of investments and initiatives totaling more than $16 million to support the beverage industry's growth.
Here are some of the obstacles -- and opportunities -- that are still ahead...

Red tape
In recent years the state has passed a handful of laws that allow for "farm" distilleries, breweries, and cideries. These laws eased costs and requirements related to licensing and taxes for small producers, and opened the way for them to run tasting rooms at which they can sell a range of New York State products. In return, these farm license producers must use certain percentages of New York-grown inputs. (More on that in a second.)
But there are still some tangles of red tape. For example: Rick Sicari, co-owner of Albany Distilling Company, says that the state should work to "make an even playing field" for spirits and other beverage producers so that farm distillers could sell and sample their "non-farm" products (like rum, which is made from sugarcane grown outside of New York) at places like farmers markets.
At the summit in Albany, Cuomo again brought up the idea of starting over on a "blank of sheet of paper" to rewrite Prohibition-era laws to modernize regulation of the alcohol industry as a whole. "By cutting more red tape and encouraging creative investments, we are cementing New York's role as a leader in the craft beverage industry."
Distribution squeeze
The recent $104 billion bid by AB InBev (which makes Budweiser, Blue Moon, and many others) to acquire SABMiller (which makes Miller, Coors, and many others) could lead to one company having a more than 28 percent share of the beer market. (Some accounts say it would be one-third of the global beer market.) And many of the beer, malt beverage, or hard cider brands you find in a typical grocery store would be made under the umbrella of one company. Moreover, one company will dominate nearly 90 percent of the distribution channel, which all but squeezes out smaller distributors and gives the bigger distributors -- who rely on the "Big Beer" brand sales to create the majority of their revenues -- no incentive to promote regional breweries (like Davidson Brothers, Saranac, and Shmaltz).
New York allows craft beverage producers to self-distribute their own products, but many don't, simply because of the infrastructural and transportation costs associated with it. Craft producers just don't have the funds to buy a truck, hire a driver, and handle transport.
The squeeze could get even tighter if Big Bee" continues to buy up well-known craft beer brands -- as has happened to Blue Point, Goose Island, Lagunitas, and this week, Ballast Point -- in order to claim a larger slice of the growing craft beer market. That would make it even harder for smaller, regional brewers to fight for attention and distribution.
Ingredient crunch
One side effect of the farm license laws in New York State is that many of the state-grown agricultural products that go into making beer and spirits are now in higher demand because producers are required to use a certain percentage of them -- and those percentages are scheduled to grow. The problem is that the state's farms are having trouble keeping up.
"I will say my biggest concern in terms of a 'bubble' has to do with raw ingredients, especially hops," says Sam Pagano, brewer at Mad Jack Brewing in Schenectady. "The rising cost of ingredients will certainly put a strain on some businesses and breweries, especially the smaller ones. As for New York State farm breweries, under the current regulations they seem screwed. There's just no way farmers can keep up, at least not with a consistent, quality product. That takes time, and while people are jumping at putting hops and barley in the ground, they don't all have the background to do it exceedingly well."
There is currently superficial support for barley, malting, and hops production in New York State (once the largest hops grower in the country). But from a financing and infrastructure standpoint, there isn't much help. And as Pagano alluded to, some of these crops can be tricky to grow. Hops, for example, are a painstaking ordeal to pick, dry, and package. And barley calls for its own type of harvesting machinery.
It's possible that some sort of government-funded processing system -- like regional hubs that growers can bring their hops to for packaging -- could help resolve this issue.
Neighborhood beer
As Big Beer gets even bigger, there might be opportunity in staying small. And we're seeing signs of that in the Capital Region.
Small neighborhood brewers are emerging around the area. Recent upstarts like Rare Form in Troy, Green Wolf in Middleburgh, and longtime local fixtures like CH Evans/The Pump Station in Albany might lend their beers to taps across town, but most of their business happens in their pubs and tasting rooms -- just like it was before the age of Big Beer. And it's possible we could see something similar in the emergence of "neighborhood" cideries if the market for hard cider continues to grow.
Sam Pagano -- the brewer at Mad Jack in Schenectady -- told me recently he thinks the quality, ingenuity, and "drinkability" of Capital Region beer is on-par with beer across the country.
Even though these operations are small, they are creating jobs. Individually they're not on the scale of a producer like the Anheuser-Busch facility in Baldwinsville near Syracuse -- to which the state is providing $2 million via Empire State Development's Excelsior Jobs Program Tax Credits -- but all together they add up. And they keep money in local economies. That's something the state should keep in mind as it directs economic development money for the beverage industry.
It's also admirable the way local agribusinesses and beverage makers have been working together to support each other and fight for their interests -- the recently-launched Albany Craft Beverage Trail is one example. They promote each other's work, they advocate for themselves and for each other, and they aren't afraid take on "Big Bev."
Deanna Fox writes about many things, mostly about food. More can be found on her website, Twitter, or Instagram.
More from Following Food week
+ What did Albany eat in the 18th century?
+ How raising steer has changed the way I eat
+ Drawing: Capital District Food Tour tickets + Honest Weight gift card: If you had to pick one food item to represent the Capital Region, what would it be?
Hi there. Comments have been closed for this item. Still have something to say? Contact us.