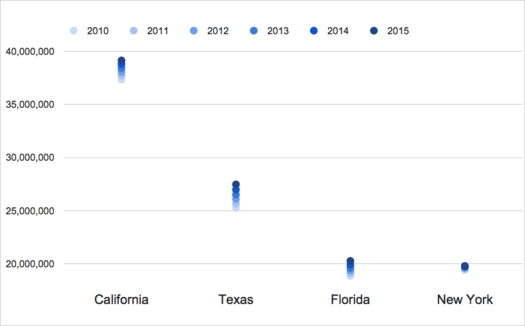 The Census Bureau released new state population estimates this week and the Empire State was pegged at 19,795,791 people as of July 1, 2015. That's up an estimated 46,933 from the same point in 2014, an increase of .25 percent.
But that small increase wasn't enough for New York to catch back up with Florida, which passed New York for the #3 spot in the national population ranking last year. Florida's population grew an estimated 1.84 percent between July 1, 2014 and July 1, 2015.
And that's the overall story for New York's population -- it's growing, but very slowly, especially compared to California, Texas, and Florida. The Empire State's population is up an estimated 2.02 percent between 2010 and 2015. But over that same period California is up 4.85 percent, Texas is up 8.81 percent, and Florida is up 7.54 percent. (The graph above illustrates the change for each state since 2010.)
The drag on New York's overall population growth is that it's losing a relatively large number of people each year to other states. It lost an estimated 628,672 people between July 1, 2010 and July 1, 2015 to what the Census calls domestic migration.
So, what's propping up New York's population? People coming to the state from outside the United States -- international migration to New York is an estimated +606,667 between 2010 and 2015. And New Yorkers are having babies at a much faster rate than people here are dying -- New York is an estimated +441,603 over that same period for births and deaths.
There are a handful of clickable national maps (and another graph) after the jump. Because of course there is.
Maps and graph
Above in large format -- click or scroll all the way up.