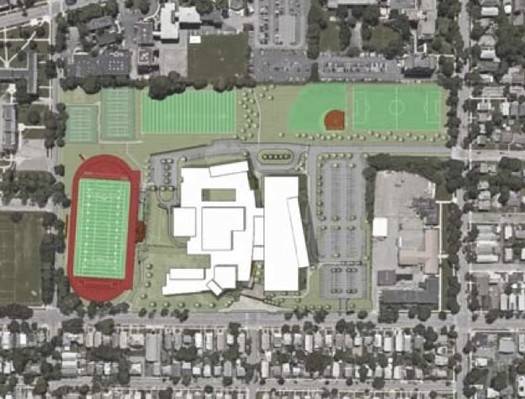 The vote on the reformulated plan for the much-discussed expansion/rebuilding of Albany High School is coming up February 9, and the school district has a series of public informational meetings and tours lined up between now and then.
One of those sessions -- a community forum -- is scheduled for tonight (Thursday, January 14) in the Albany High School cafeteria at 7 pm. A slide deck for the presentation is already posted online. The deck includes building plans and details about topics such as cost per square foot.
The overall price tag of the new plan is $179.9 million -- about $16 million less than the plan that narrowly got voted down in November. (A new auditorium and an expanded gym were among the items cut to shrink the cost.) Of the new price tag, the district would be paying almost $63 million (compared to $72 million in the former plan), with the state picking up the rest. For a home valued at $200k, the district projects taxes would go up $28/year from their current level, compared to $60 in the former plan. (That figure doesn't take into account debt that's scheduled to come off the district's books, which was a point of controversy leading up to the last vote.)
The rebuild plan is still scheduled for a 7-year timeline in order to maximize state aid. Roof replacement would start this summer, with main construction starting in 2018. The whole project would be completed by 2024.
The district says the current Albany High School is in significant need of repair and isn't large enough to accommodate projected enrollment increases. It says the cost of doing the necessary repairs and providing the extra space will be $100 million if the proposed rebuild doesn't happen.
Earlier on AOA:
+ Thinking about the plan for the next version of Albany High School
+ Capital Region high school graduation rates 2015
Hi there. Comments have been closed for this item. Still have something to say? Contact us.