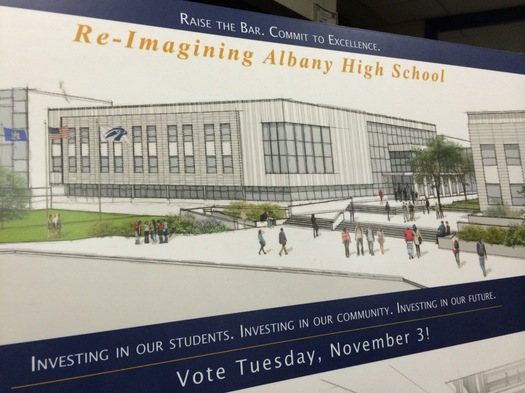 One of the biggest votes in the Capital Region on Election Day this week won't be about candidates, but rather a building.
Voters in Albany will deciding whether to accept or reject a $196 million plan for a major renovation and addition to Albany High School.
We've taken one of the public tours of the existing building. And we've listened to a lot of the arguments, for and against.
Here are a bunch of thoughts ahead of the vote...
The price tag
Let's start with the price tag of the project because that's probably the first thing that's going to catch people.
The Albany school district says the high school addition/renovation project will cost $196 million. That's a big number, so it's understandable it would make eyebrows rise a bit. It's also probably true that most people have little or no context for assessing whether that's a reasonable price for a project of this type. (We know we didn't.)
So we looked up data in an attempt to get some perspective. The proposed Albany High School project would cost about $344 per square foot, and $65,333 per student (assuming capacity of 3,000 students). According to the School Planning and Management 2015 school construction report, the median price per square foot of new high school construction in the region that includes New York State, New Jersey, and Pennsylvania was $333 per square foot last year -- and $63,120 per student.
So the AHS project is a little bit more expensive than a "typical" project in this part of the country, but it doesn't appear to be outrageously so.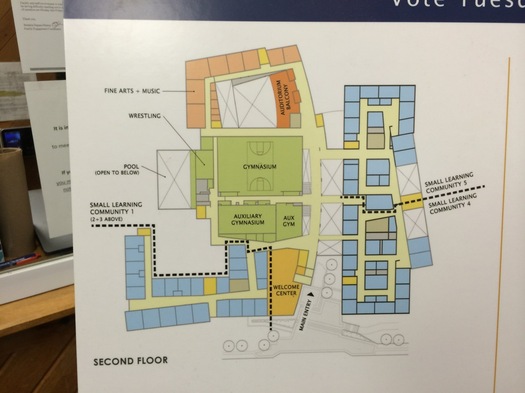 The taxes
Of course, the real issue for a lot of people probably isn't the total price tag -- it's the tax impact. About 63 percent of the cost of the project will be covered by the state, thanks in part to a strategy in which the district will stretch the construction timeline over seven years. That leaves people in the city of Albany to directly cover more than $72 million.
The district figures the high school project will have a tax impact of $60 annually for a home assessed at $200,000 (with a basic STAR exemption).
But as Chris Churchill has highlighted over at the Times Union, the district's math on this is just one interpretation of the tax impact because it treats what people currently pay as a baseline -- and that current level includes debt that will expire. When the increase is calculated assuming a baseline in which the debt expires and is not replaced -- so, there's no high school project -- the tax impact for a $200,000 home is $267 a year.
The district and supporters of the high school project have argued the tax hit -- under the district's calculation -- is a relatively small one for most people, just a few cents per day. So how can you argue against chipping in an extra $60 a year (or so) for something as significant as a new version of the high school?
Well, here's the snag: the city of Albany already has the second-highest combined property tax rate in the Capital Region (2013 numbers). And its school tax rate in 2013 was the highest in the region -- more than $2 per thousand in valuation higher than the next highest.
Saying it's just another $60 per year is a little like going up to a person struggling to carry a load of bricks and saying, "Hey, you wouldn't mind if I added another brick to your load, would you?"
That's not to say the high school project isn't worth it. People may very well decide the benefits outweigh the additional cost. But it's also understandable that people are wary of taking it on, no matter how relatively small it might appear.
The building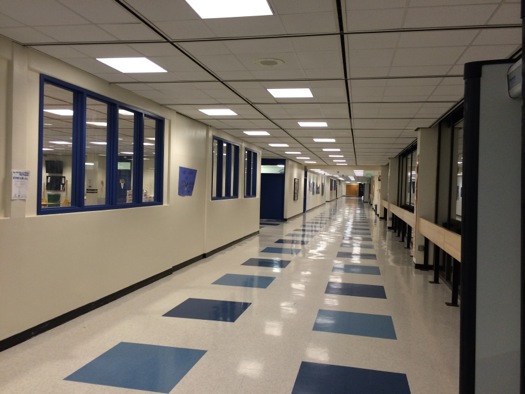 Many of the parts of the building we saw recently on one of the public tours weren't overtly dilapidated -- just sort of plain.
The current Albany High School building is no aesthetic beauty. A large portion of its classrooms don't get natural light. Many of its hallways are bent in ways that make the place feel cramped. (Officials say the layout of building makes security hard to manage.)
It is also, according to the district, currently in significant disrepair. A large wall is crumbling. The roof leaks in multiple places. The heating and cooling system doesn't work consistently.
The building isn't even that old. It was constructed in the early 1970s. And apparently planning for major renovations or replacement has been going on for at least a decade. So the current AHS won't be going down in the annals of great Albany architecture and infrastructure. Nor, for that matter, will the efforts of previous generations in making decisions about how to maintain the building.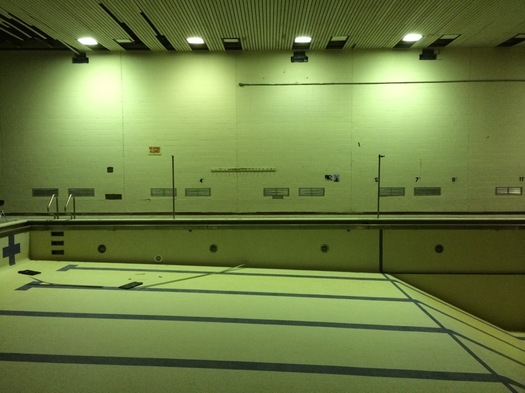 The crumbling wall. Apparently those holes at the top are covered by tarps.
The district says the high school renovation project would allow it to more effectively reorganize the school into six smaller "learning communities" -- in which students and faculty would have more consistent interaction -- by physically grouping many facilities for each community. It would also add capacity for enrollment that's expected to grow to 3,000 students (from about 2,500 currently); allow for the career and technical education program to be part of the main high school building (it's currently in a building off campus a few blocks away); and it would involve significant upgrades for classroom and lab technology.
The learning community idea sounds like a good one -- it's hard to argue against a setup in which students would theoretically get more focused attention. But we have to admit we're a little skeptical of folding the idea directly into the design of the building. Trends in any industry change over time. And if this building is to make it longer than the current version, it needs to be flexible enough to allow for adaptation for the trends. (And maybe the design will allow that.)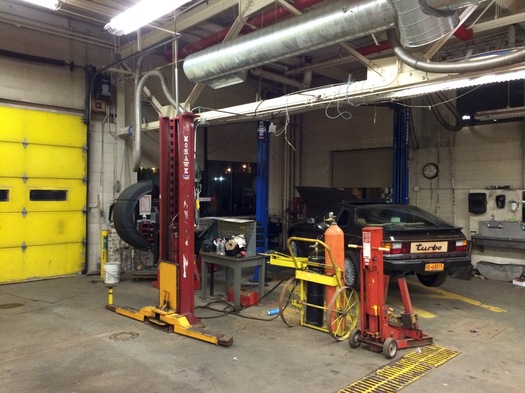 The auto shop at the current Abrookin Career and Technical Center.
To us, the most compelling reason for completely overhauling the current school might be the incorporation of the career and technical programs into the main building. The current setup -- in which students walk a few blocks off campus -- seems inefficient. And bringing these programs -- such as automotive, construction trades, culinary, and cosmetology -- into the main building would not only make them more accessible, but also maybe allow them to play a more central role in the curriculum.
Other plans
In response to the almost-$200 million price tag of the proposed project, we've seen some people ask if it really needs to be that much, and whether there are elements that could be dropped to get the price down. So we're curious if there could have been some way to present a range of options for a vote.
If voters don't approve the proposed major renovation of Albany High School, the district says the school will require roughly $100 million in work -- both to fix things that are falling apart, and to accommodate the projected enrollment increase.
Maybe the district figured it would aim for what it really wants, and be prepared to fall back to the minimum it needs to get by.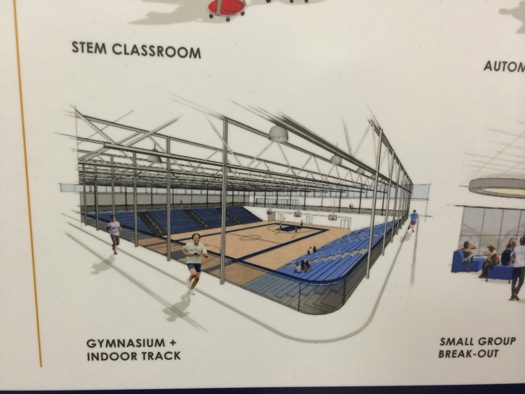 An indoor track would be nice. But some people might see elements like that as unnecessary icing.
Signaling
The Albany school district doesn't have the best reputation. A high school graduation rate of roughly 50 percent will have that effect. And the district's strong points -- some much-appreciated grade schools, an honors program that routinely sends students to top colleges, and what are apparently some really great teachers -- don't tend to get a lot of attention with the wider public.
One of the arguments proponents of the high school project have made is that building this renovated/new school would be a powerful signal to people that Albany values education. And it might even prompt more families to keep their kids in the district's schools.
We have to admit we're not sure what to make of this argument. It does appear there's a significant gap between the broader public's perception of Albany schools and the positive experience that many families have with the district. Maybe a shiny new high school changes the course of that public conversation. But unless some of the district's outcomes change -- especially the graduation rate -- it's kind of hard to see the building making that big a difference in wider public opinion.
The critical factors
To this point we've been circling around a core issue with the Albany school district, one that's connected to pretty much every other issue: the district has a lot of students who live in poverty. (More than half of the high school class of 2014 was considered "economically disadvantaged" by the state Education Department measures.) And growing up that way is playing the game on the hardest setting.
So, a person might say, the "problem" with Albany High School isn't really that its building is in bad shape -- the problem is that many of its students are facing tough odds before they even reach the front door. And no matter how much money you pour into the building, little is going to change until there's a way to help these families address their economic circumstances. In fact, that Albany High School already turns out a significant number of students who end up doing well academically is evidence that it's not really a problem with the building.
There's undoubtedly some truth to this line of reasoning. But it discounts the fact that a school district is one of the few ways the community at large can directly intervene in a kid's life.
People in the city of Albany (or any local municipality) have little or no significant influence over many of the social programs constructed to aid people living in economically disadvantaged circumstances. But every year they vote on a school budget. Every few years they elect school board members. And if you're concerned about building ladders to help people help themselves and their families, schools aren't a bad place to start because kids spend a lot of time there. (Admittedly, they're also not the only place.)
Can Albany High School be one of those ladders, as a place of structure and support, of opportunity and encouragement, a safe place for kids to do the things kids should be doing, like learning, playing, and growing with their friends?
The answer to that, like so many questions, is probably "it depends" -- on the people who run the district, on the teachers in the schools, on the families involved... and, to some extent, on the actual school buildings. And the degree to which you think the building itself matters on this question is probably an indicator of how you'll vote.
____
Earlier
+ How Albany can make its case better for why young families should stay
+ Comparing Capital Region property tax rates
+ Capital Region high school graduation rates 2014
Hi there. Comments have been closed for this item. Still have something to say? Contact us.