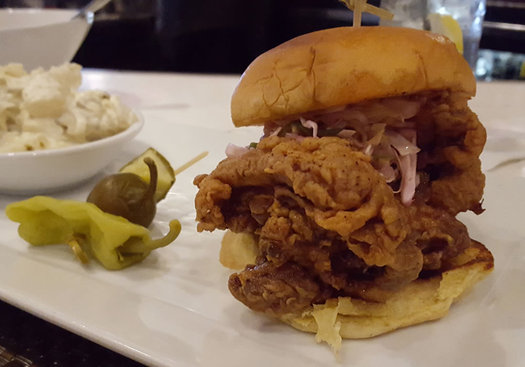 By Deanna Fox
Restaurants, for me, are like bad boyfriends. I take them back time and time again, even when they aren't that good for me. Disappointment looms, but sometimes things can change, right?
This bad habit has mostly waned, at least regarding restaurants. I realize anyone can have a bad night, but if a restaurant does me wrong by way of bad service, poor food quality, or lacking atmosphere, chances are good I'm not going back.
A relapse now and then can be good, though.
Case in point: The pickle-brined fried chicken sandwich at 677 Prime in Albany. I'm glad I went back for a second try.
A few people had mentioned the chicken sandwich to me, with pickle juice as the hallmark feature of the dish, and I knew I had to try it. I'm a sucker for fried chicken, especially on a bun, and any restaurant that innovates to curb food waste (brining chicken in leftover dill pickle juice for 24 hours) instantly has my respect.
On the menu, the sandwich is listed as featuring jalapeno, dill pickle and cabbage slaw, sesame seeds, and sriracha mayo on a toasted potato roll. On first take, that is definitely not what I received. Instead, I was served a rubbery piece of meat with a damp, soggy breading that pulled right off the chicken like a wet sock. The flavor was off -- almost sour -- and it was about the most underwhelming thing I've ever put to my lips.
A quick inquiry with the kitchen resulted in word that the dish was indeed prepped incorrectly, and I was asked to come back again to try again. (It wasn't a problem that could immediately be remedied.)
Come back again -- are you kidding? I'm not a masochist (I think). But try again I did, and thank goodness for the temporary lapse in judgement.
On second take, I received a small piece of heaven. The chicken was so flavorful and moist with a sharp, salty hit of dill pickle brine that brightened the dish. It was light and perky, not heavy and sullen like fried chicken so often can be. The slaw was crunchy and fresh and the potato bun soaked up any errant liquid that came from it. (I think some of that same pickle brine might had made it into the slaw's dressing, as well.) I didn't pick up any hits of jalapeno on the sandwich, but that sriracha mayo was spectacular.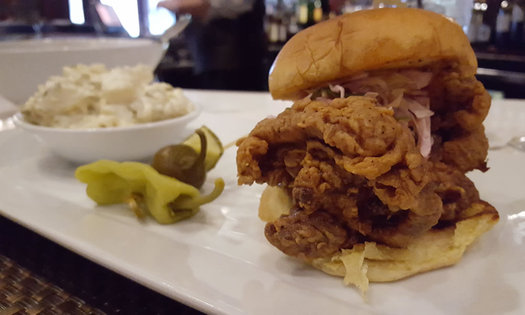 It felt like the kitchen paid as much attention to detail on that sandwich -- a bargain at $11 (and available only at lunch), especially in an upscale setting -- as they would on a $60 steak. It was a complete thought, splayed out on a bun.
A favorable mention must also be given to the potato salad I chose as a side. (Sandwiches come with potato salad, coleslaw, shoestring fries, or sweet potato fries.) Please don't tell my Aunt Laura this, but it might be the best potato salad I've ever had. Chopped pickles were folded in, along with a peppery kick. But the fact that the potatoes were cooked expertly (just fork tender, allowing for a firm texture without being under-boiled), would be enough to satisfy me. No one likes a mushy potato salad.
Moral of the story: You can't always judge a chicken sandwich on first taste. And it pays to speak up when something's off.
Deanna Fox writes about many things, mostly about food. More can be found on her website, Twitter, or Instagram.
More Eat This:
+ Rice Chicken Soup at Chontong Thai
+ Dutch drinking chocolate at Vischer Ferry General Store
+ Salmon BLT at Public House 42
+ Crepes at The French Press Cafe and Creperie
Find It
677 Prime
677 Broadway
Albany, NY 12207
Hi there. Comments have been closed for this item. Still have something to say? Contact us.