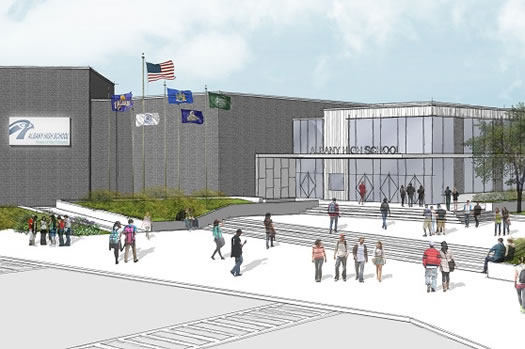 Updated Friday morning with better maps.
The vote on the reformulated $180 million plan to rebuild/expand Albany High School has gotten a lot of attention this week not just because it passed (unofficially) by a small margin after another round of contentious discussion -- but also because of problems at many polling places around the city.
Now there's talk of holding yet another vote -- with some local elected officials outright calling for one (such as Albany County exec Dan McCoy) and others (such as Albany mayor Kathy Sheehan and state Assembly member Pat Fahy) saying the state should look into what happened. So, stay tuned. [TU]
In the meantime... We were curious about the patterns of votes around various parts of the city -- and how the vote this time compared to the vote last fall when the first proposal was narrowly defeated.
So, we pulled the voting numbers and sifted them. Are there maps? Come on... you know there are maps.
Look up
This post is basically just a handful of tables and maps -- click or scroll all the way up.
Fine print
November 2015 vote totals are via the Albany County Board of Elections website.
February 2016 vote totals are via the Albany school district and are unofficial.
Votes from November 2015 were grouped by February 2016 polling location according to ward and election district assignments listed on the Albany school district website.
The maps above are unofficial. The map areas for each polling location were grouped by AOA, not an official governmental source. It's very possible there are errors.
Earlier on AOA
+ Thinking about the plan for the next version of Albany High School
Hi there. Comments have been closed for this item. Still have something to say? Contact us.